It's hard to beat waking up next to a river. It's better when you could cast to a fish from your tent if the mood struck you; and it's simply sublime to know that you've got kilometres of prime, backcountry water ahead all to yourself - remote isolation and fly fishing go hand in hand.
There's also the satisfaction of the hike in, covering ground on Shank's Pony, fully self-sufficient for a few days thanks to your mildly heavy pack. Unless you flew in by helicopter that is, then that's an amazing experience in itself taking in majestic aerial vistas and a valuable time saver for those that only have a short fishing window.
No matter how you skin it, this is how the New Zealand fly fishing experience has been sold to the world, and rightly so. It's the best of our rivers, in the best of our environments, with the best of our trout. And while it can easily be argued that we have plenty of roadside fisheries that are just as good, that would be missing the point of loading up the pack and heading to the hills in search of hard-fighting rainbows and wily, buttery brown trout.
This article is intended to be a helpful starting point for those who have yet to get their gear together and start planning their first NZ backcountry fly fishing trip.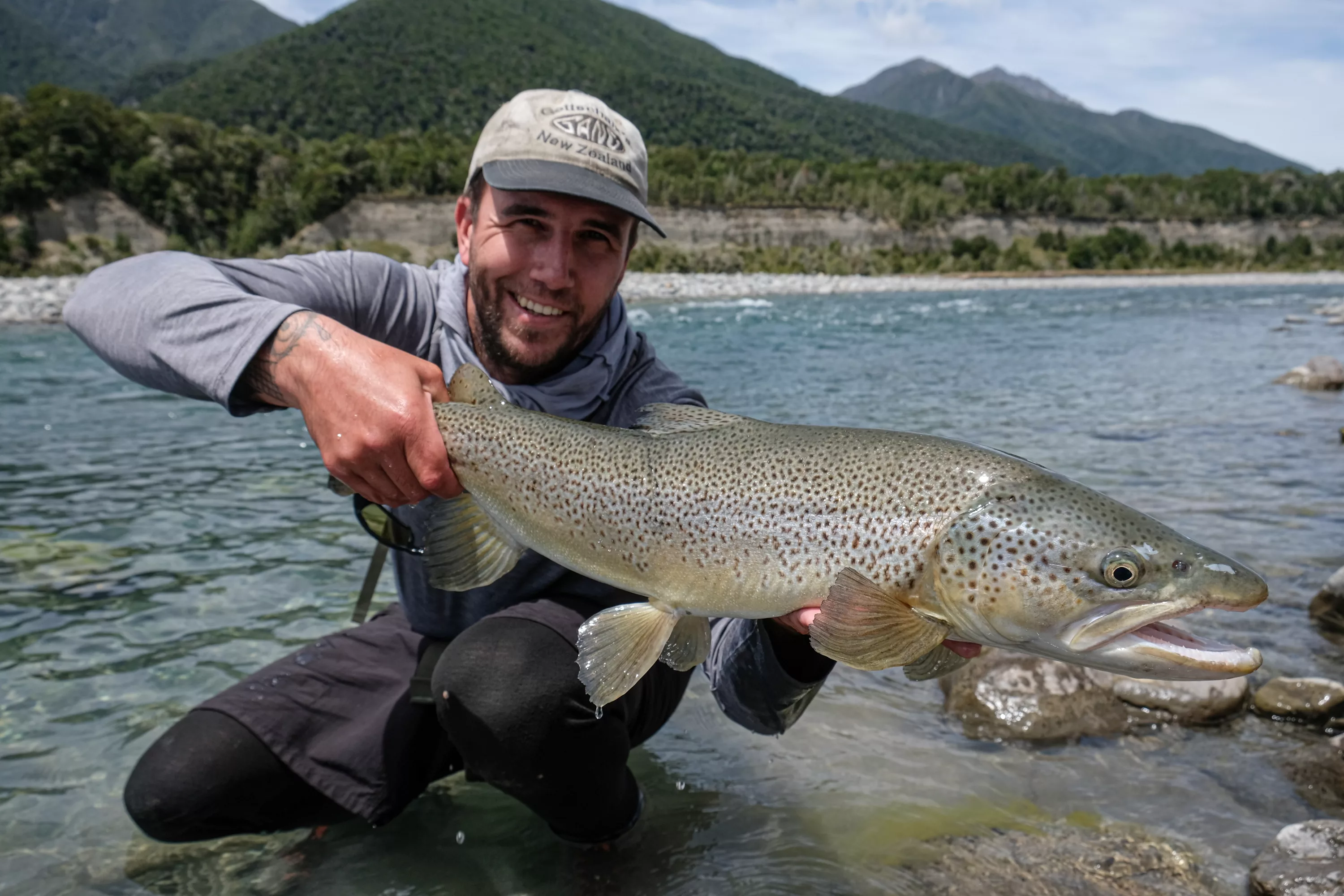 IS THERE A BACKCOUNTRY FLY FISHING SEASON?
In short, yes and no. There are a few dates you need to be aware of and while the majority of river systems close for winter there are still a few places open where you can still walk in and camp - but you'll have to figure those ones out for yourself, no free lunches here!
October 1st to April 30th is the general fly fishing season in New Zealand which opens up the majority of the backcountry fisheries to anglers
However, there are some specially managed backcountry zones that remain closed until November 1st but run longer through until May 31st. These require a special license endorsement on top of your standard season license and can be easily obtained
There are also high country opening dates and Taupo opening dates, along with others I'm sure, so do a bit of research before you go just to be sure you're working within the correct regulations for your chosen area
ACCESSING THE BACKCOUNTRY
This is the fun bit because I firmly believe that half the fun is getting there, whether it's quick and fun, or long and painful, it's all part of the experience of getting out the back of beyond.
BACKPACKING
This is what most people think of when you say you're heading off on a backcountry fly fishing trip. Living self-sufficiently with everything you need on your back and putting one foot in front of the other to get where you want to be. This is the most satisfying form of accessing the backcountry as you have to lose a little bit of sweat to get where you want to go and by the end of a long trip your body will definitely be feeling it
There's something liberating about fishing your way up a river and just stopping where you want to set up camp. And you'll feel as light as a feather once you drop that pack after a full day's fly fishing. Get that tent up, fire up the cooker for a Back Country dinner, build a small fire, and get those beers chilling in the river ASAP. Dream living.
HELICOPTER
The always divisive helicopter. Sure, if you've just hiked in for eight hours only to have a chopper land people two pools above you then you've got right to be a bit upset but this is why a lot of people target the no land zones for their backcountry missions, and you can always call ahead to the local heli operator and have a chat to feel things out.
If you're time-poor, looking for a special experience, or aren't physically able to hike in for hours then a heli is a great option. A ten-minute flight can save a five-hour walk, and if you can only get away for a weekend then this is a no-brainer. Don't knock it till you try it!
MOUNTAIN BIKE
Pick your battles here as there will only be a few tracks where you're allowed to use mountain bikes and even fewer where the ride is actually any better than walking. The central north island has a couple of great examples of tracks you're allowed to ride to access the backcountry but unless you like pushing your bike uphill a lot then we wouldn't recommend it.
JET BOAT
Again, consider the access potential and do your research on where you can and can't take a jet boat. Most of all, consider other anglers and users of the resource. It's one thing to jet boat up a wide-open braided river to get to a tributary, it's another to hoon up a smaller river on opening day when there are other people about trying to scratch that itch.
PACK RAFTS
Great fun for getting home and something we recommend trying at least once in your life. Just do your research, pick the right river, and travel with a crew for safety.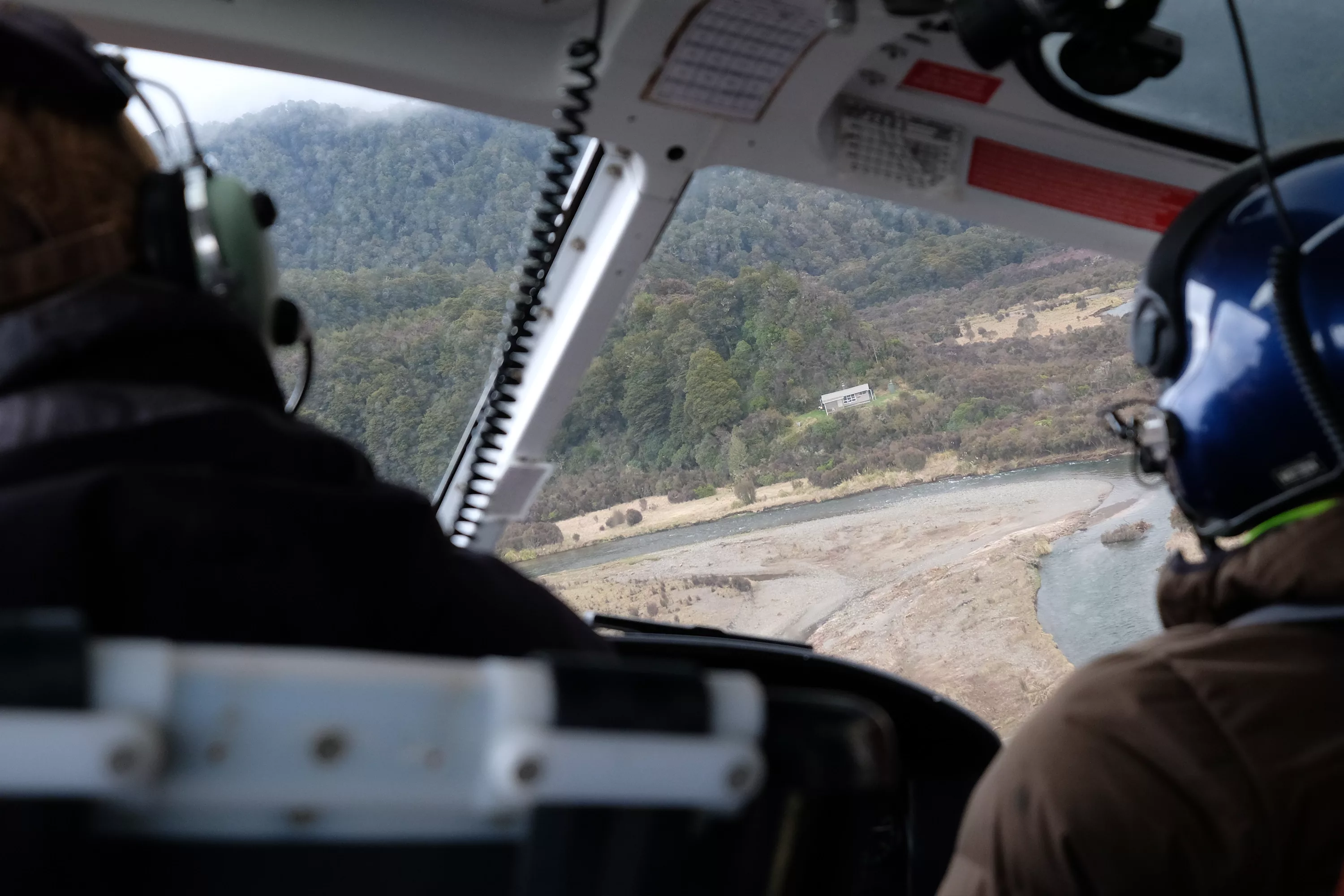 BACKCOUNTRY FLY FISHING GEAR
There's one rule we try to abide for our backcountry fly fishing gear and that's keep it simple. It's easy to overcomplicate things and try to accommodate every possible fishing scenario but the reality of it is most of the NZ backcountry fly fishing situations can be handled with the same gear and most of the same flies. You want to carry as little as possible and keep everything on hand so here's our list of what makes the grade and won't leave you in the lurch.
Check out this post on packing for tramping in the backcountry that covers off packs, sleeping systems, camp cookware, and other essentials, and then get stuck into the fly fishing gear below.
FLY ROD, REEL, & LINE
You're going to want to carry a spare, how bad would it feel if you had just broken the one rod you have and you're 15kms walk from the car to fetch your spare?
So this helps solve the main question everyone will have, which is, do I take a five or a six weight? Just take one of each and you're covered. Our suggestion is that the six-weight is a very fast action model like the Scott NZ Special - so that when the wind gets up, or you want to throw some big, meaty flies, you'll have a great tool on hand.
Otherwise a fast action five weight that has a bit of feel in the tip section is the go-to rod for the backcountry. You're going to want some power on-hand both for casting and playing a fish, but need that softer tip for delicate presentations to spooky fish. The Scott Centric is hands down the winner in this category.
Reels, let's be honest, they all pretty much do the same thing - but when you're hooked up to that 10lb+ fish of a lifetime you're going to want something with a smooth drag and low start-up inertia, and that won't fail on you and ruin your trip. It pays to invest at least moderately well in this case and the range of Lamson reels fits the bill.
On any given day you're going to need to cast a short line, a long line, into the wind, and land the fly delicately, so a fly line like the Airflo Ridge 2.0 Universal taper is ideal as it has just enough mass to get things moving without using blunt force to get the fly where you need it, and a taper built for presentation the fly nicely.
GET A LANYARD OR CHEST PACK
Chances are you're going to have your pack on for a lot of the time you're fishing and covering ground so a lanyard or chest pack are great ways to keep all of your consumables on-hand while being easily stowable in your pack when not in use.
Here's what you'll need to load them up with:
A few tapered leaders, 3X 14ft is a good start
Selection of tippet. Fluoro or mono is your personal choice but a range from 10lb to 4lb will see you covered for most backcountry situations
Floatant, again over to you and your preference
Some sort of sinkit, like split shot or tungsten putty
Indicator system
Nippers
Forceps with scissors
Flies; do your research on the area before you go and stock your box accordingly
And don't forget a net and polarized sunglasses
Those are the essentials and will be enough for you to get by and keep the amount of gear and weight on your back to a minimum.
FISHING CLOTHING & ACCESSORIES
Generally speaking, you can leave the waders at home and wet wade for ease of movement and heat moderation. The key to this system is making sure you have plenty of layering options and spare clothing to warm the core if the wind gets nasty or you end up in the cool bush all-day.
Here's our recommendation:
Lightweight wading boots like the Simms Flyweight Access boots
Neoprene socks
Merino socks
Quick dry thermal leggings, also good for beating the sandflies
Quick dry shorts or pants
Quick dry thermals base layer top
Long sleeve fishing shirt
Fleece layer
Micro baffle puffer jacket
Gore-Tex shell jacket
Sungloves
Cap
Beanie
This will have you covered (no pun intended) for multiple days fishing in the backcountry along with a spare set of thermals and camp clothes/shoes in a dry bag for after hours.
BACKCOUNTRY FLY FISHING TACTICS
Backcountry fly fishing is all about sight fishing so that's what we'll focus on here. Fish behaviour will change depending on the time of the season so keep this in mind. Early season fish have let their guard down post-spawning and not having seen a fly or angler for months means they are more willing to check out your offering, no matter how poorly it's been presented. Later in the season; and after seeing more people, more flies, and being hooked once or twice; the game changes as the fish move into defence mode and this is when the backcountry requires its own set of tactics for success.
Forget the alarm and take your time. You'll want to be active when the fish are, so enjoy that coffee and let the sun hit the water and get those insects moving
Go slow and, again, take your time when approaching a pool, riffle or backwater. Stop and observe for as long as you possibly can, and if you can't see anything try and find a little bit of higher ground and take a seat for a little bit longer, you'll be surprised how often a barren pool comes to life when you just give it time
Don't rush in when you see a fish. See a theme here? As long as you have kept your distance then feel free to observe the fish's behaviour and figure out your game plan. Is it on station or does it work a beat? Is it swinging to eat or favouring one side? What and where is it eating? i.e. does it seem to be locked onto subsurface nymphs, emergers, or taking off the top…or a combination of those. And how can you get to a good casting range with as few currents to deal with and without alerting the fish, because…
Most of the fish will be one-shot deals, and a fish isn't guaranteed to be in the next pool, or the one after that, or that…you might go kilometres before you find another fish that's out feeding again so treat each and every opportunity like it's the only one of the day. This also means vigilantly checking leaders, knots, and flies so you reduce the chances of rejections and bust-offs through careless riverside management
And make that first cast count. This is supremely important and means you should be practising your presentations before you are in the backcountry. Get out on the grass in a howling wind, set up a few targets, learn some drills, and get up to speed. It's not a great feeling when you've got a big, backcountry fish feeding happily, and your off-target first cast spooks it. There won't be many second chances….
FOOD IN THE BACKCOUNTRY
Much like our backcountry fly fishing gear, we like to keep our food simple, quick and convenient. Here's what we generally pack into ziplock bags for one day's energy needs. The daily weight is roughly 600gms so it's easy to calculate the weight cost for food each trip.
BREAKFAST
LUNCH
1x OSM Bar
1x Chocolate Bar
1x Bierstick
DINNER
1x Adult Beverage (maybe two, or three)
SNACKS
Chocolate Bars
Trail Mix
Biltong
And don't forget to constantly hydrate. You'll lose a lot of sweat, burn loads of calories, and be in the sun all day so replenishing fluids is essential. The quickest and easiest way to do this on the move is with a Life Straw water filter. You'll always have water in front of you and you won't have to carry any on your back.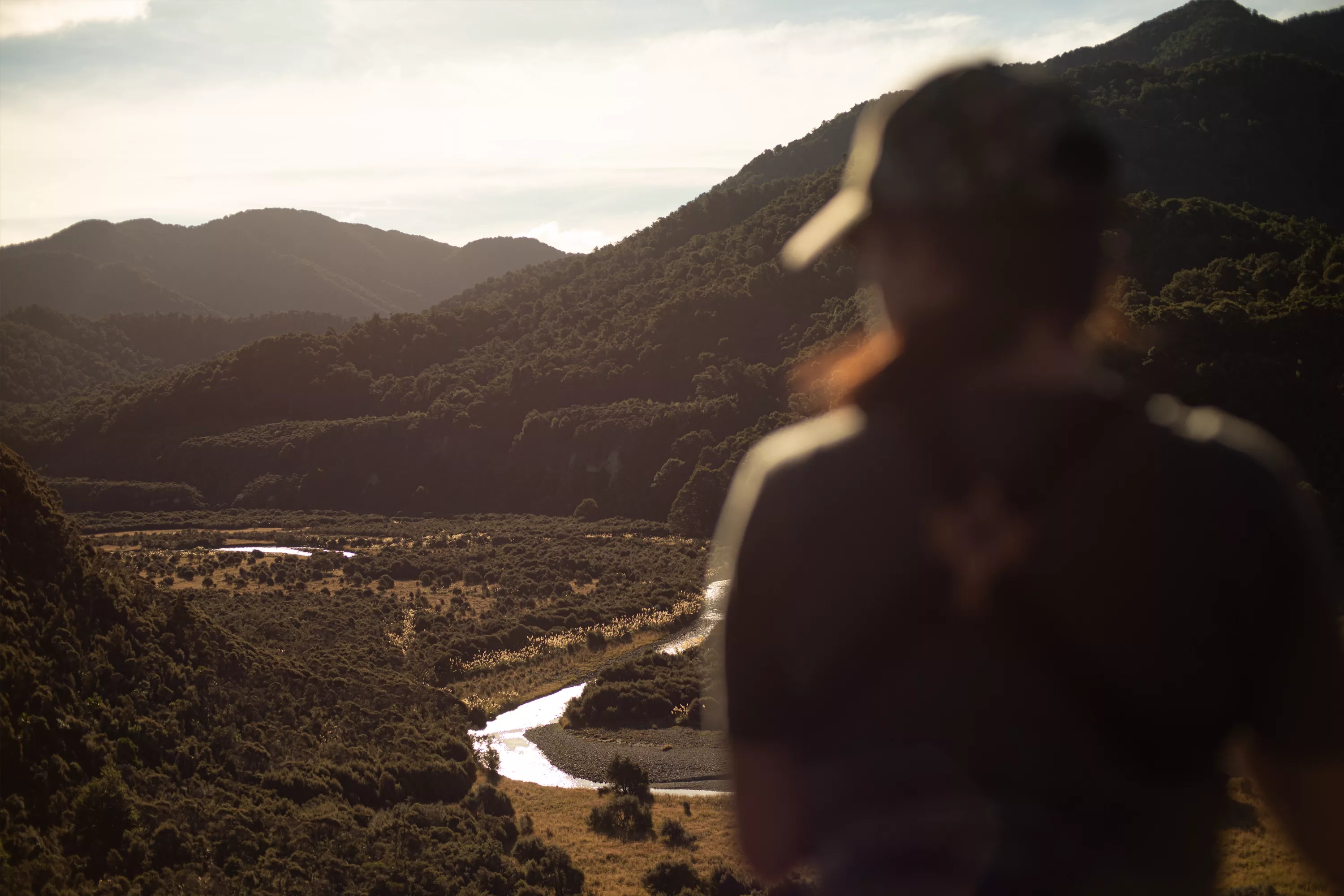 FINDING BACKCOUNTRY FLY FISHING LOCATIONS
This is the bit where we give up all of the super sweet backcountry spots so you don't have to do any of the work yourself. Yeah nah. Sorry. The search is half the fun, so we're not going to blow up anyone's special spots but we'll at least point you in the direction of a few resources so you can start looking and figuring things out for yourself. That's where all the satisfaction lives anyway.
Start with the Fish & Game site. You can dig down pretty deep here as well as checking regulations so you don't have any excuses for not knowing the rules when you get there
Next stop is NZFishing.com, which is basically an online guidebook to NZ's rivers
NZTroutapp.com is a paid platform worth checking out
YouTube, magazines, and adjacent outdoor media (like hunting shows and mags) are also platforms that can offer up a few ideas if you've got a keen eye for deciphering spots
We always recommend you spend a day with a guide if you're new to fly fishing or new to New Zealand. You'll get invaluable information on how to fish and they might just offer up a spot or two if you can keep it to yourself
Or, and this is our favourite, just grab a map like NZ Topo Map and/or Google Earth, pick a squiggly blue line, and go for it
CONDITIONS & SAFETY
Southland guide, Chris Dore, has already penned an excellent piece on safety in the backcountry so be sure to check that out, but in short:
If the conditions look sketchy, i.e. high water, impending weather systems, Godzilla; just don't go. Save it for a nicer weekend
Be wary of a long day in the sun. So stay covered and hydrated. You'll make better decisions this way too
Sandflies, stinging nettle, and allergies all suck – be prepared
Leave your trip plans with someone before you go, always
Always carrying a PLB as a minimum, but a GPS/In Reach is also useful
Fishing in a group is awesome fun and a lot safer
And don't forget to regularly check your first aid kit for essentials and have a safety kit for when things go bad
So even though we finished on the scary stuff don't hesitate to start planning that first fly fishing trip into the backcountry, it'll be a life-changing experience and is so much more than just catching a fish or two.