Bike Touring Tasmania
Tasmania may not be the first place you think of when someone says they are going to Australia...but in my opinion it should be. What a hidden gem. It completely exceeded my expectations. The pure diversity of terrain and landscapes in such a small island was impressive! It is heaven for any adventurer.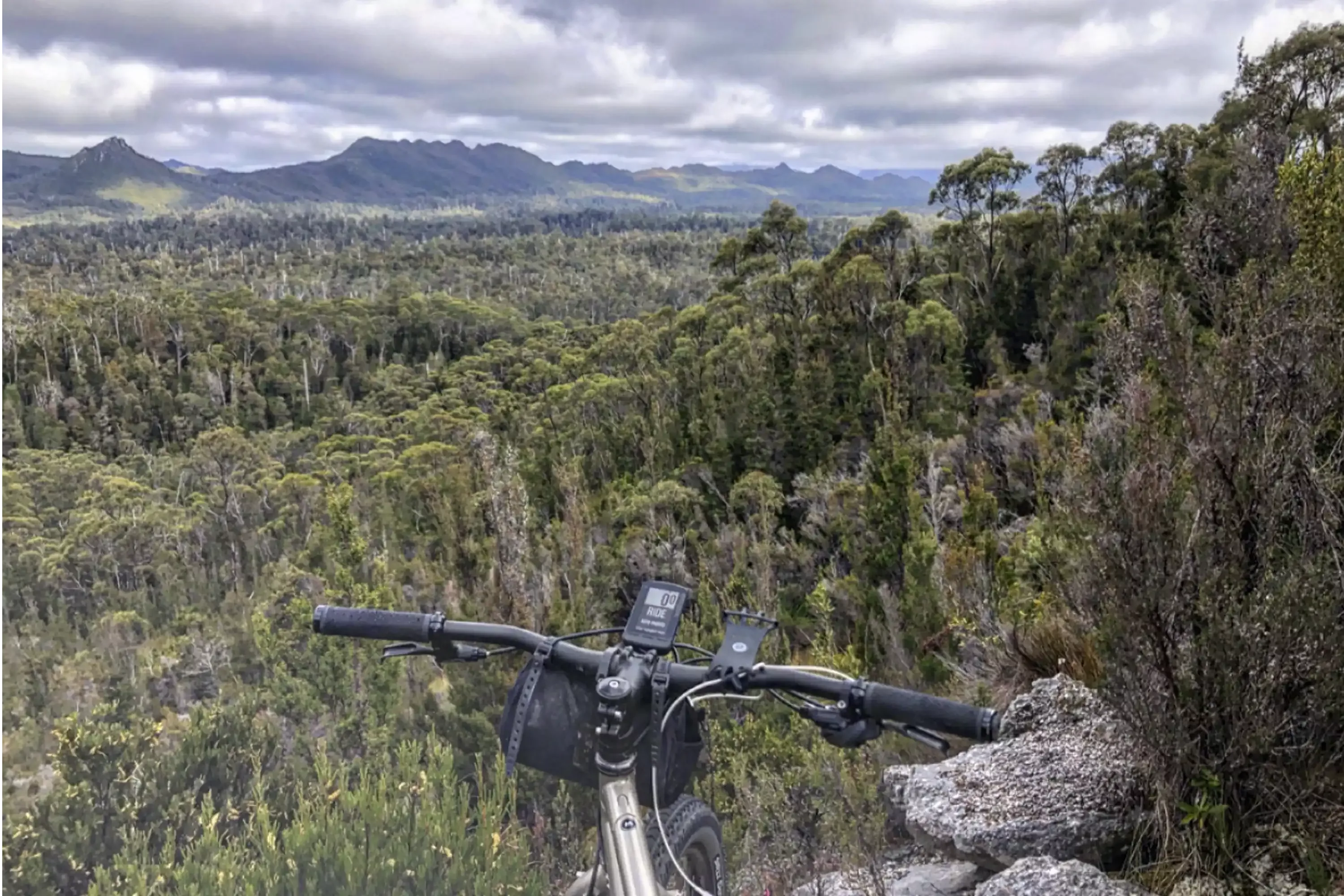 Luckily my best friend has moved to Hobart so I had a very friendly welcome to the amazing island. I did land in the pouring rain and it was six degree but it felt like home ( UK). I got my waterproof out of my pannier straight away.
Upon arrival to Hobart, I was anxious but excited to be reunited with my bicycle. I had it shipped to Tasmania. I ran to my friends garage where my bike was stored and nervously started opening the box. My precious Surly Ogre that I had saved a lot for had sadly been pretty severely damaged in the shipment. I was gutted as I had paid a lot for a service to deliver it over to Hobart. I decided not to let it ruin my touring and got it fixed quickly with the amazing guys at Silks in Hobart!
I started off my touring in Tasmania gently with some training rides, including South Arm and rides around Hobart. My first overnight weekend trip was out to Strathgordon. If you get the chance to go out here, take it. It was breathtaking.
Training Ride 1 - Hobart to Strathgordon ( 150km)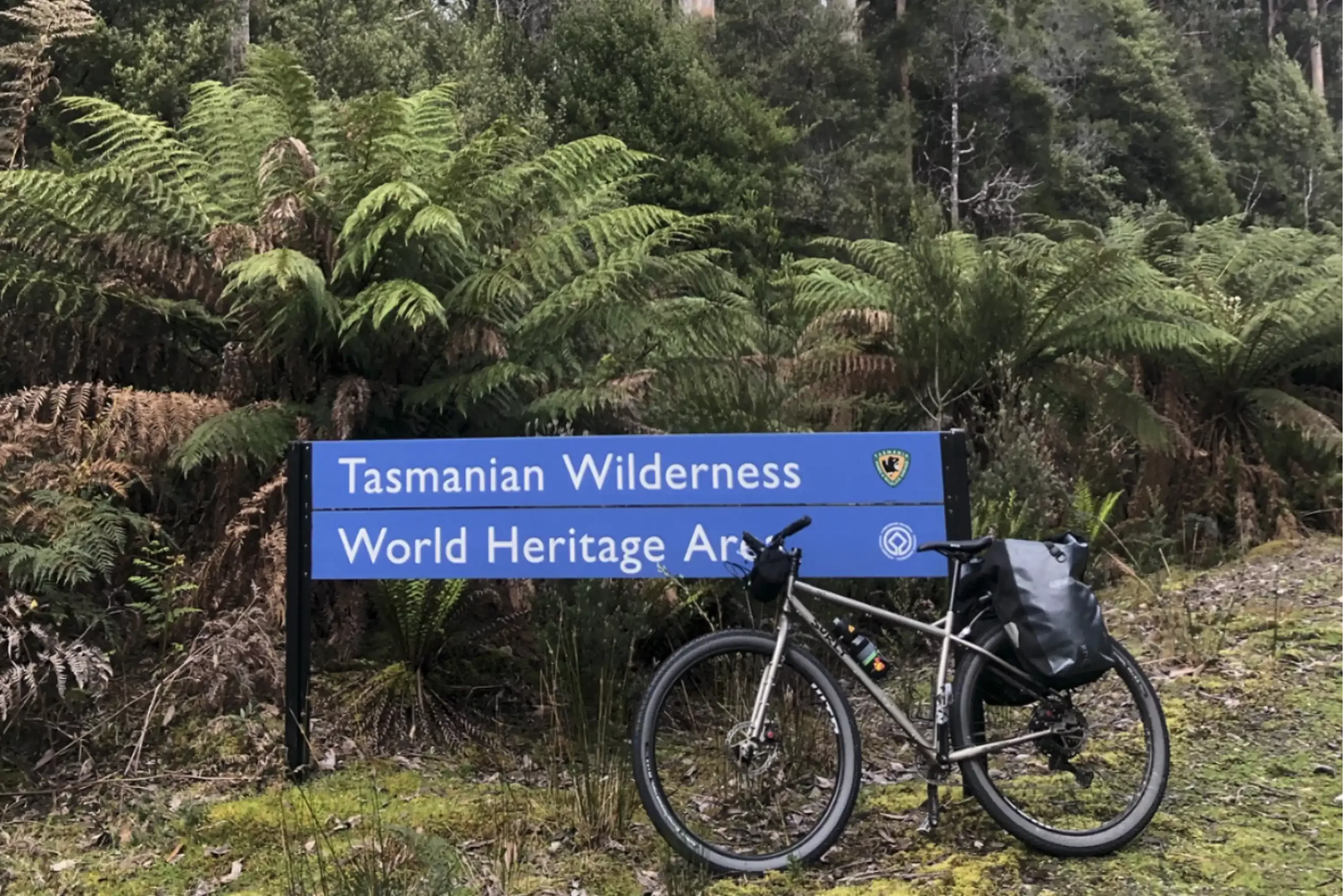 Little did I know I was in for one of the best rides I have ever cycled. A one way in , one way out situation. Very minimal cars and a lot of wilderness! The first day of this mini trip, I cycled from Hobart to Maydena. This was a great taste into the diverse landscape. I stopped at the beautiful Russell Waterfalls on the way , I made it just in time before they closed , that meant I had it all to myself. That evening , I had a Warmshowers host in Maydena next to the Maydena Mountain bike park which had an electric atmosphere going on as the last riders of the day finished their downhill section. I joined for a drink and felt a little out of the way as a bike tourer!! This is when I realised there really are different types of riders but at the end of the day we all ride the same thing!!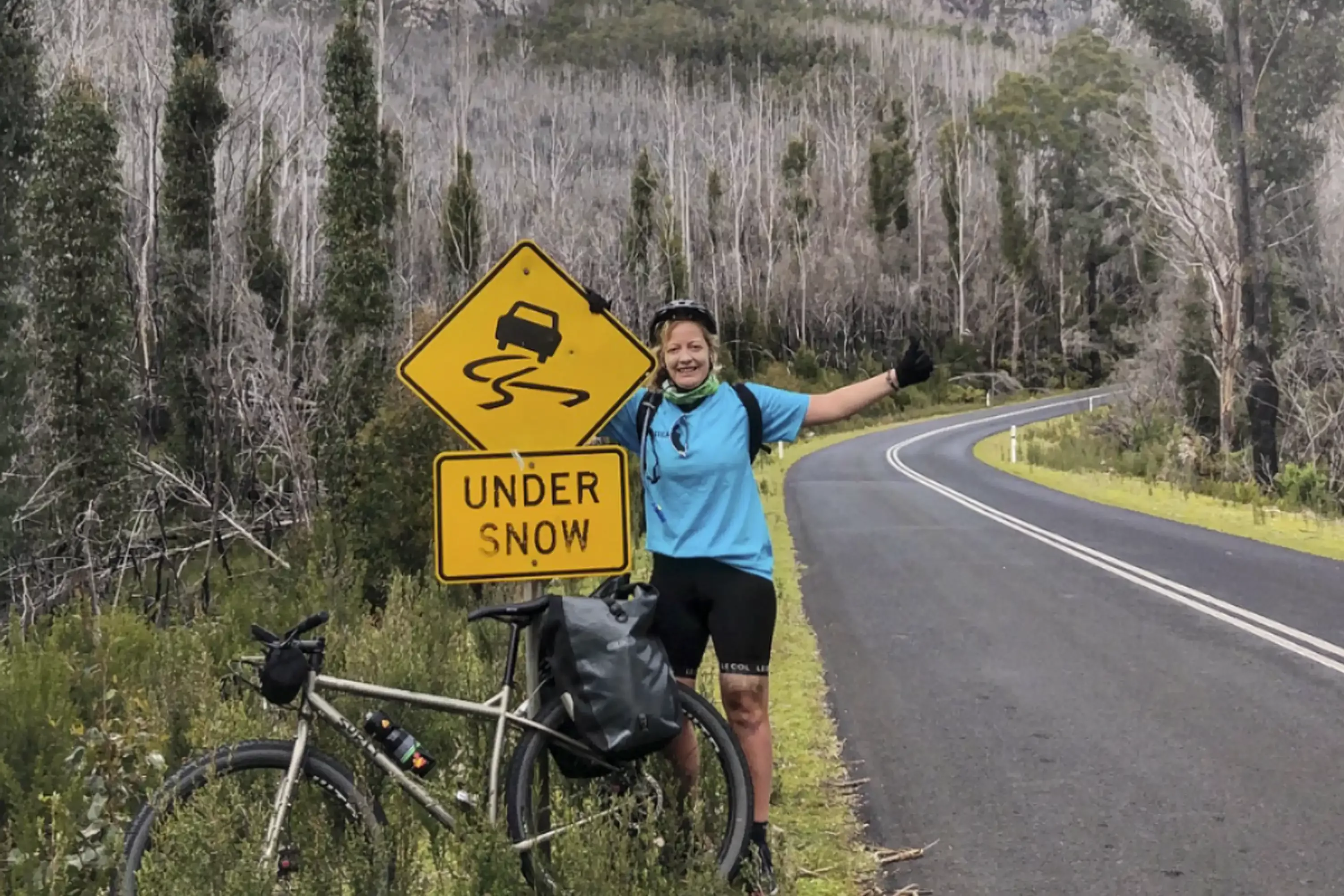 The next day was an epic day. 75km but over 1500m of elevation! With elevation comes views and adrenaline! I jumped on the bike early and cycled past a shop with grafted on it " last shop on this road". This was just one moment where I realised how vast Australia really is. The next six hours was spent gawping out at the scenery including the highest point on the road and Lake Peddar. I sat and looked out over the wilderness and felt extremely tiny next to nature. It had been a while since I had that feeling.
That night ended up at the Lake Peddar wilderness lodge, basically the only hotel on the road. I had lured some friends into driving out to come stay the night. It was a beautiful property overlooking the lake. The rooms were extremely basic but the view made up for it. If you are looking for a weekends cycling trip, this is a great option! You must also go visit the Strathgordon Dam if you have time!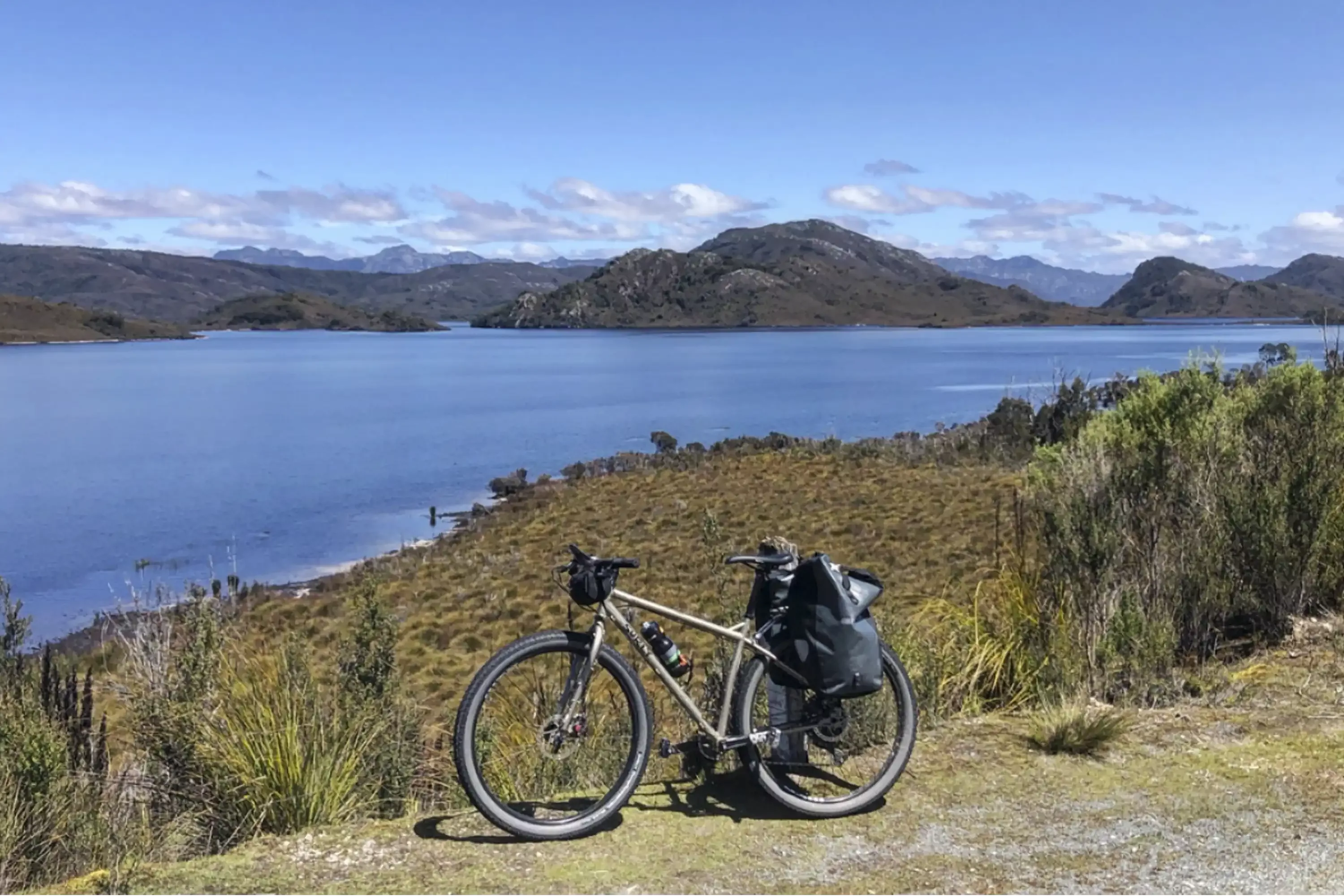 Training Ride 2- Hobart to Cape Raoul ( 120km)
This was a weekend trip I won't forget for a long time. Earlier I mentioned Warmshowers, for those who don't know, Warmshowers is a cycling hosting app- only for cyclists. I have used it all over the world and have met some incredibly interesting people.
I had seen a Warmshowers host's icon right at the end of the Peninsula at Cape Raoul and decided I had to get there. I was intrigued. Rew's place was incredible, located right next to the start of the walking track. It was a basic shed with no electricity, a compost toilet and a fire place. We went ice swimming which was an experience and I slept outside under the stars. It was a wonderful experience. The next day I hiked Cape Raoul and was blown away by the epic rock formations. I understood what all the talk about the Three Capes walk was about now!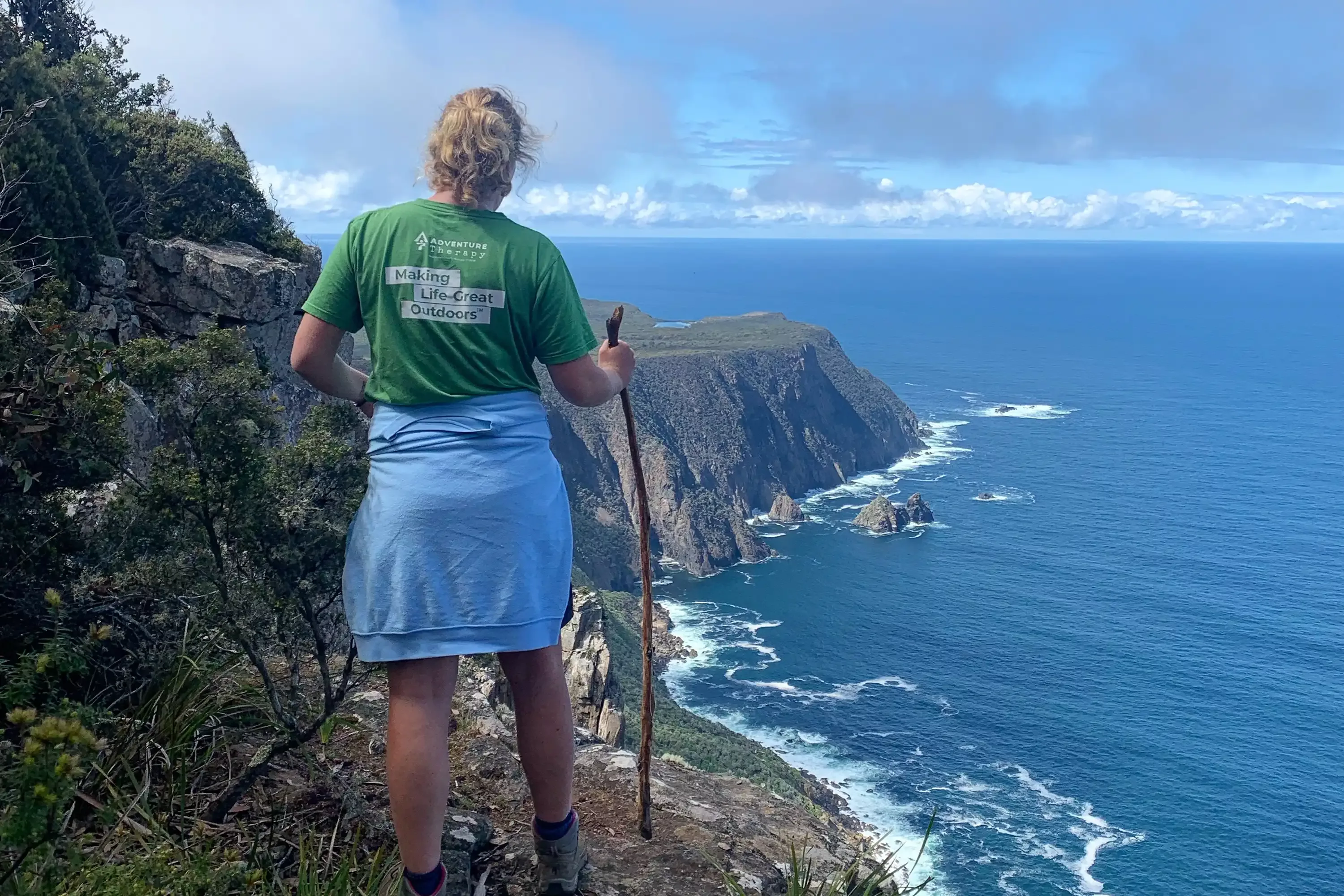 Heading to Devonport: Hobart to Freycinet National Park
Training rides done, it was finally time to leave the safety blanket of Hobart and head up the east coast to Devonport. It is important to note I arrived to Hobart very unprepared but over the last few weeks, I had invested in a tent, Jetboil , sleeping bag and a new rack for my bicycle.
I left Hobart with a big sense of excitement for the next chapter. A long and steady climb out to the stunning Richmond bridge was then followed by some headwinds. On the route I met Tomas from Ireland who was going the opposite direction. He is trying to cycle home to Ireland. What a chap! I saw him again later on the ferry over to Melbourne. That evening I made it to the free campsite at Mayfield campsite outside of Swansea. It was located on a beautiful beach and I enjoyed some bbq sausages with some friends who had joined , I was one happy cyclist.
The next day I cycled to Dolphins Sands, I had been recommended by a fellow cyclist to contact the local fisherman who collects you from the inlet at Dolphin Sands and takes you on a 90 second boat ride to the other side. This saves you from a 70km detour, I definitely took this advice. I was early and started to feel anxious that the fisherman wouldn't come, he did and I made it over the other side! Also , a great spot to mention is the Melshell Oyster Shack!
That evening I stayed at the stunning Freycinet National Park campsite, I think I was extremely lucky that schools still hadn't broken up and I easily got a space right on the beach. I hiked up to the Wineglass Bay lookout and had a wonderful evening watching the sunset. I cooked a Backcountry Thai Green Curry and life felt pretty good! That evening however a storm rolled in and my poor tent took a battering. The storm and the possums screaming were quite the welcome to Bike touring life in Australia!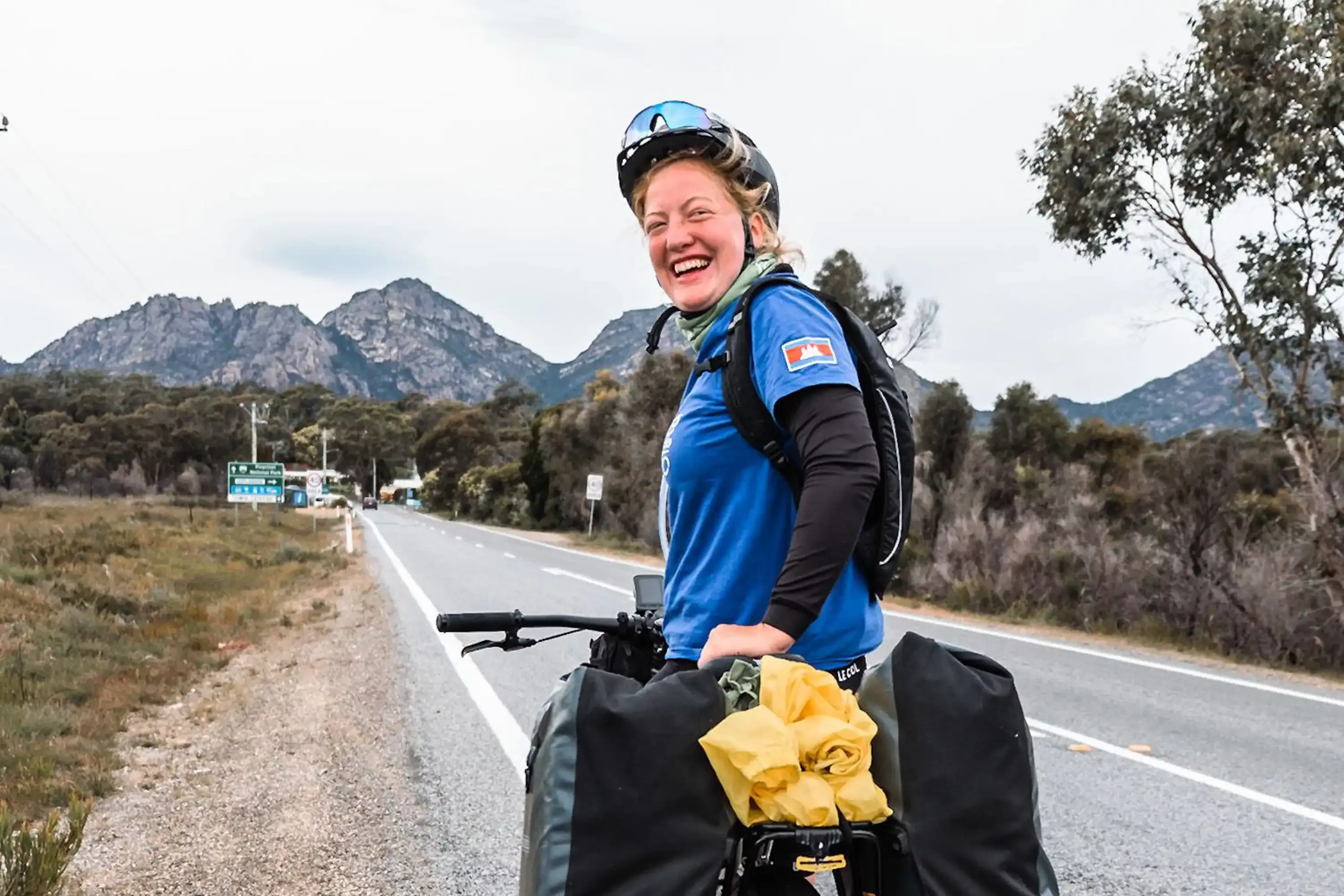 Freycinet National park to St Helens Bay of Fires
I was told to be extremely careful on this stretch of road. Many argue that Tasmania is not bike touring friendly but I have to disagree unless I was very lucky but I saw very little traffic and every car that went past gave me a kind amount of room. I stopped in Bicheno for a lovely coffee and also saw the Bicheno blowhole, it was the start of the orange rock formations that the Bay of Fires is famous for!
I made it to the Bay of Fires and sat with my tent door blowing in the bipolar weather that Tasmania has to offer. My tent door was propped open with my head and I sat very uncomfortably. You may laugh but you can't carry luxury items when cycling. Oh what I would do for a camping chair!! I had to fight for the incredible spot at Bay of Fires overlooking the idyllic waters. Tasmania is heaving with camper vans and I got here at 12, lucky enough there was one good spot left. There was a path from my tent to the ocean and I could see the ocean from my tent door. I remember being excited to wake up at 5am. 5am somehow has become my natural time of wake up! I think its an Australia thing!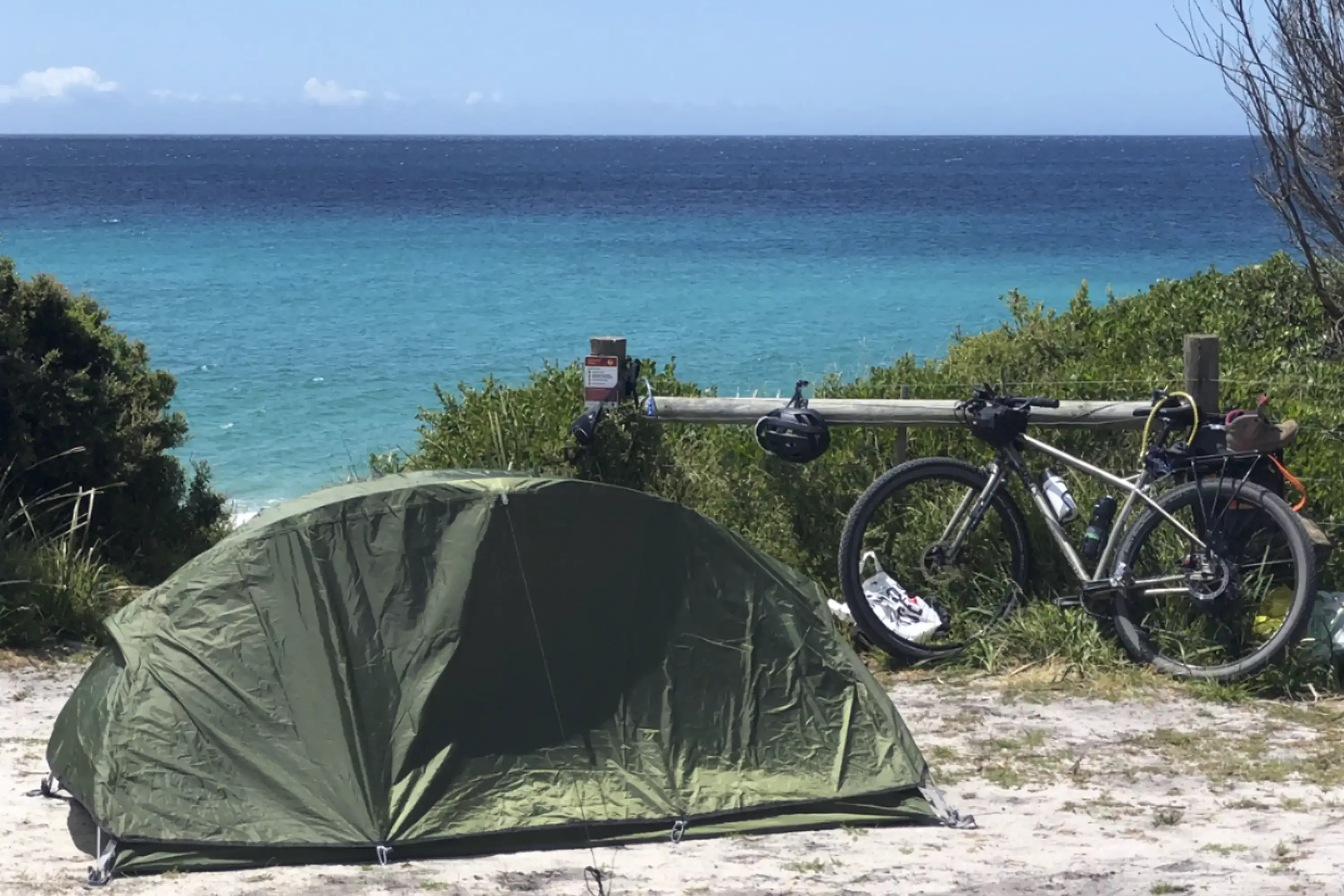 Bay of Fires to Devonport
After a few days of rest in the Bay of Fires, enjoying the views and swimming a lot, it was time to get back on the bike. The next few days flew by with some beautiful remote riding. I use Komoot to get me off the main roads and that it did. I remember being on a dirt road completely off the beaten track. I thrive off that feeling, the more remote the better for me. I made it into busy Launceston and had another lovely host but they lived at the top of Cataract Gorge , after a big day , the 200m climb up to there house was unbearable! I knocked on the door extremely out of breath but they were very kind about it and told me I wasn't the only one that turned up like that!!
The next day I left for the final day in Tasmania , it was a mission to get into Devonport and I struggled with the traffic but I made it. I was booked onto the Spirit of Tasmania! I got a text that day that Tomas the Irish cyclist was getting the same boat as me. I pushed my bike onto the lower level off the ferry and saw Tomas bike propped up. Here we go , I thought! Time for the next leg! Bring on Melbourne to Sydney!