The Great Queensland Rail Trail Adventure
I think it's important to address how I decided to do these trails. To be honest, JAMMY!!! I was googling routes, I was going to go along the coast but then I heard about some rail trails. Then I found a website where this guy called Andrew had linked 3 old rail trails together and ridden 500km off-road. I was sold. He called it the, "Great Queensland Rail Trail Adventure". There is still a lot of renovation to be done on the rail tracks but a few sections are open- in a sense, I was one of the very few to try it out before the work is completed!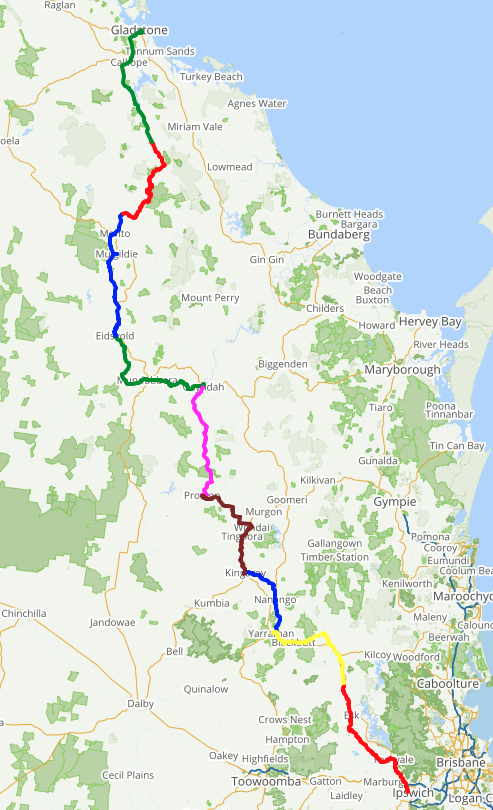 That is how it all started. I had no idea how epic and rural it was going to be!! Sometimes leaving this last minute and not having expectations is the way to go! I cycled to Ipswich outside of Brisbane to reach the start of the Brisbane Valley Trail. I booked a Hipcamp for the first time! I was the only camper at this great campsite. They also gave me the shower key especially as I was a cyclist, normally you have to pay extra. I put the fire on quickly, ate a Chicken Tikka Masala and Apple Pie and had a lovely evening, it was a great start.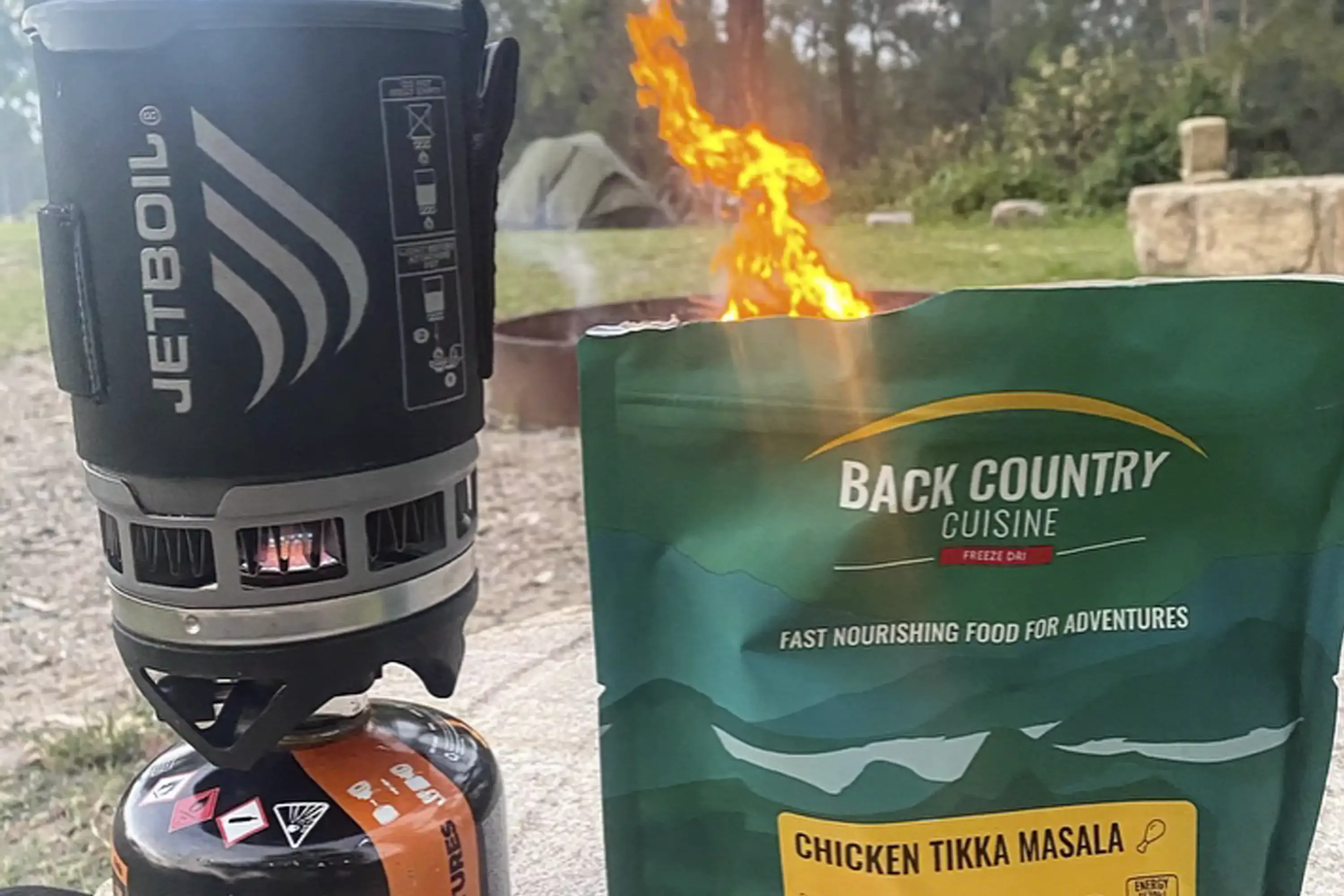 Day 1- Brisbane Valley Rail Trail – Wulkuraka to Toolgoolawah
Currently, the longest rail trail in Australia, the 161km Brisbane Valley Rail Trail (BVRT) follows the disused Brisbane Valley rail line that commenced construction at Wulkuraka near Ipswich in 1884 and was completed at Yarraman in 1913. The trail has council funding and was definitely the most accessible of all the rail trails I did. Lots of city people come out to do it. Weirdly, I only saw 2 other people on the trail but it was probably the heat as apparently only insane people go out at this time of year (who, me?!?!).
I was excited to see what the fuss was about! I was pleasantly surprised early on about what the trail had to offer. It was all off-road, gravel, grass, and stones! It was fun and I was excited that for 9 days I would be on this terrain. Each old station had a big board which had the history of the station. It was a great set up! The trails had a few spider webs (something I had to get used to), I would cycle straight into them and they would land on my face, quite a funny thing to see as I make weird noses , squeaks and screams! I put my mosquito net on as it got too much at one point.
The terrain got rougher as the old bridges came into sight, you can't ride on the old bridges so you have to go down and then back up. Steep paths normally with a creek at the bottom. it was fun. I met a couple doing a day ride. They were really friendly and I gave them a Clif bar (giving them away as my bags were so heavy haha!). They were lovely!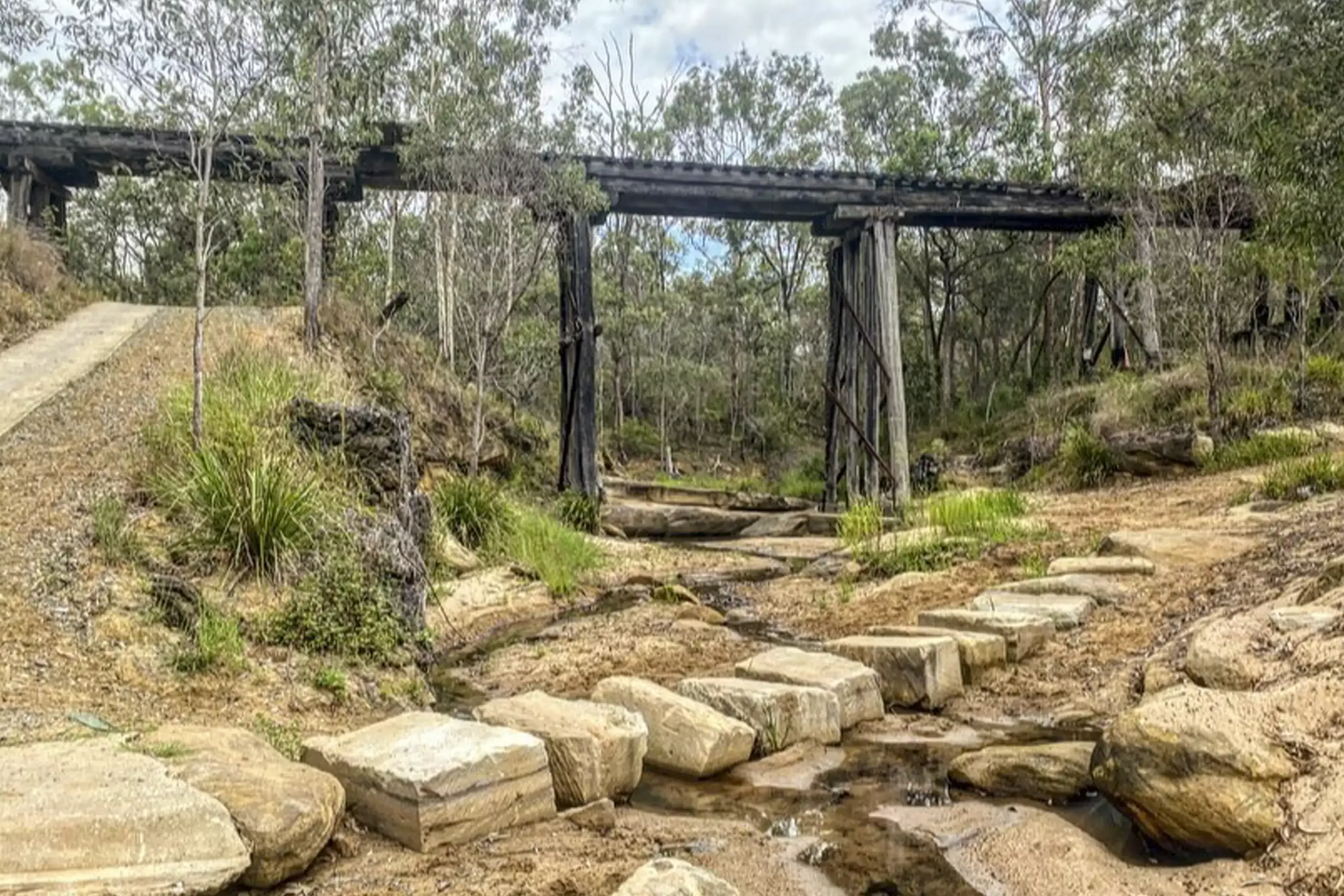 This was the day I realized not all was well with my bicycle. I run tubeless and the sealant liquid used to seal the tyres was leaking. HMMMM! I ignored it until I got a flat tyre, 5km from the small town. I got to a bike shop luckily, sadly it was a young boy in there who just was not confident enough to help but we pumped my bike up high and I was able to continue. I thought maybe the sealant hadn't had enough time to settle…I was wrong but it's a story for another day!
That evening I stayed at the Toogoolawah Showground! I snuck under their big warehouse shelter as it was supposed to rain. I conked out pretty quickly!
Day 2 – Brisbane Valley Rail Trail – Toogoolawah to Yarraman
I woke up with the sun and got on the trail pretty quickly. Trying to avoid the heat. It was about 35-38 degrees Celsius that day. Lots of zinc!! It was a beautiful day in the countryside. I had a great day in the rural countryside except for a few aggressive cows! I felt completely alone but extremely safe. No one could get me out there. I had a real sense of adventure and was loving it. I had a climb up to Linville and Blackbutt, but it had stunning views. The flies got annoying and I tried my hardest not to let them irritate me!! I noticed the flies would hitch a ride on my shoulder, they would cling on for as long as possible!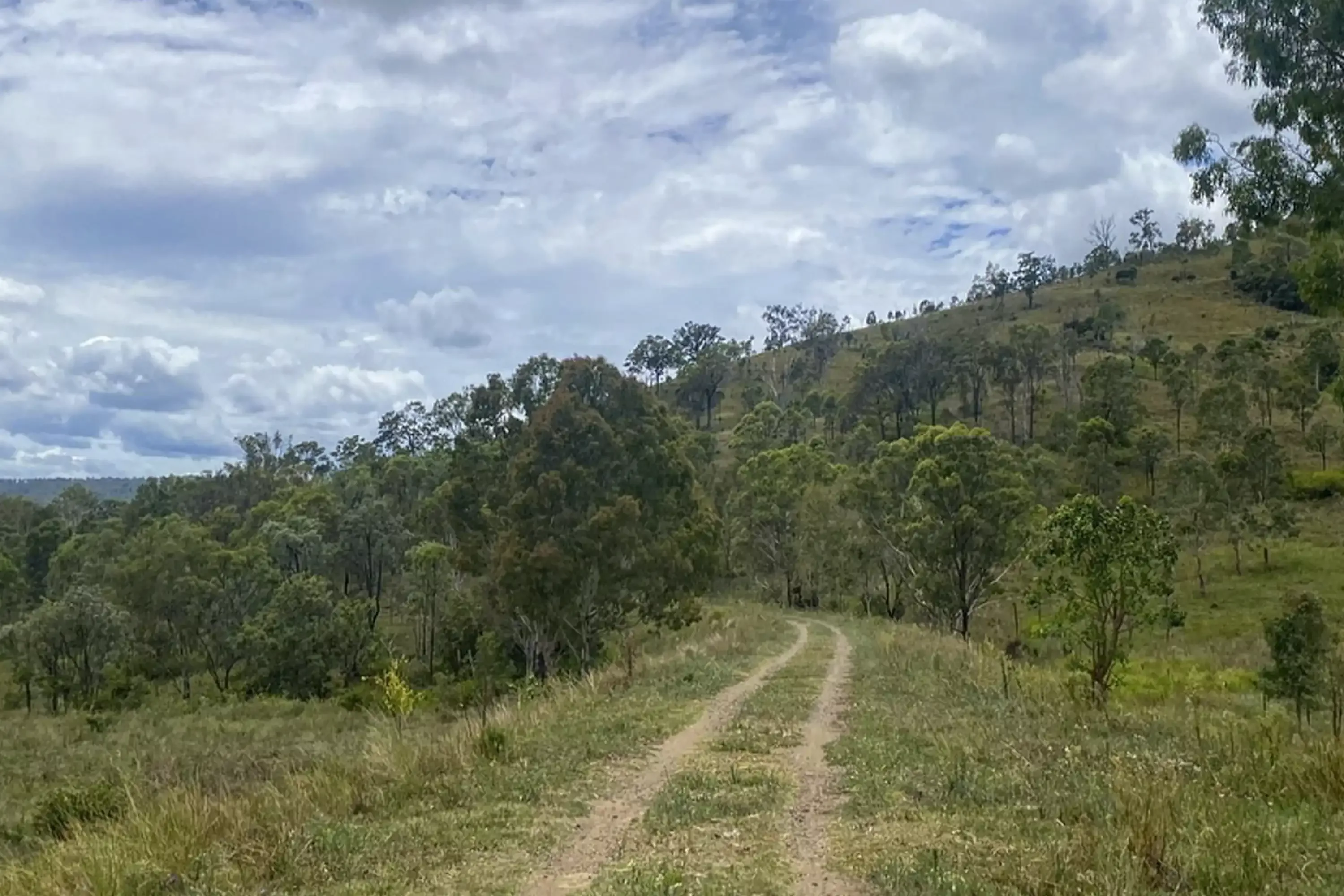 I had finished the Brisbane Valley Rail Trail and really thought it was excellent. Very well signposted and family-friendly. I was ready for the next unknown leg though!
I got to Yarraman Weir around 6pm and found a free campsite. I was a bit unsure whether to camp here but luckily there was one other campervan and I went over straight away to say hello and gauge what they were like. They were a lovely couple and told me it was definitely safe. I put my tent up, cooked my Creamy Carbonara and loaded the next day's route. I slept the whole night through until 4:30 am!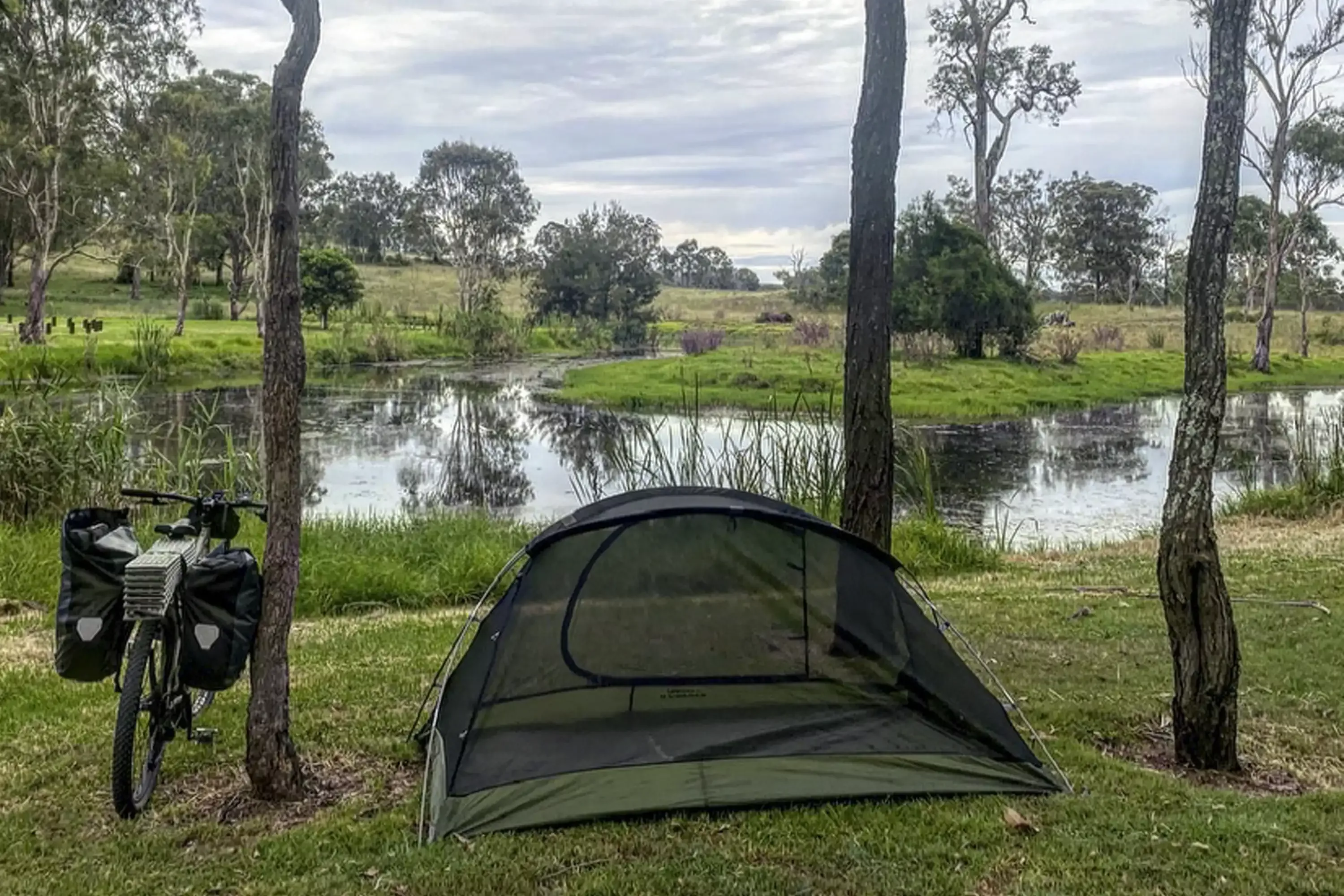 Day 3- Yarraman to Wondai
This morning had to be my favourite. I had finished the Brisbane Valley Rail Trail and suddenly it felt more of an adventure. I had a big day that I wasn't sure would be possible. I can ride 150km on road but off-road is such a different style of riding especially with luggage. It's tiring!!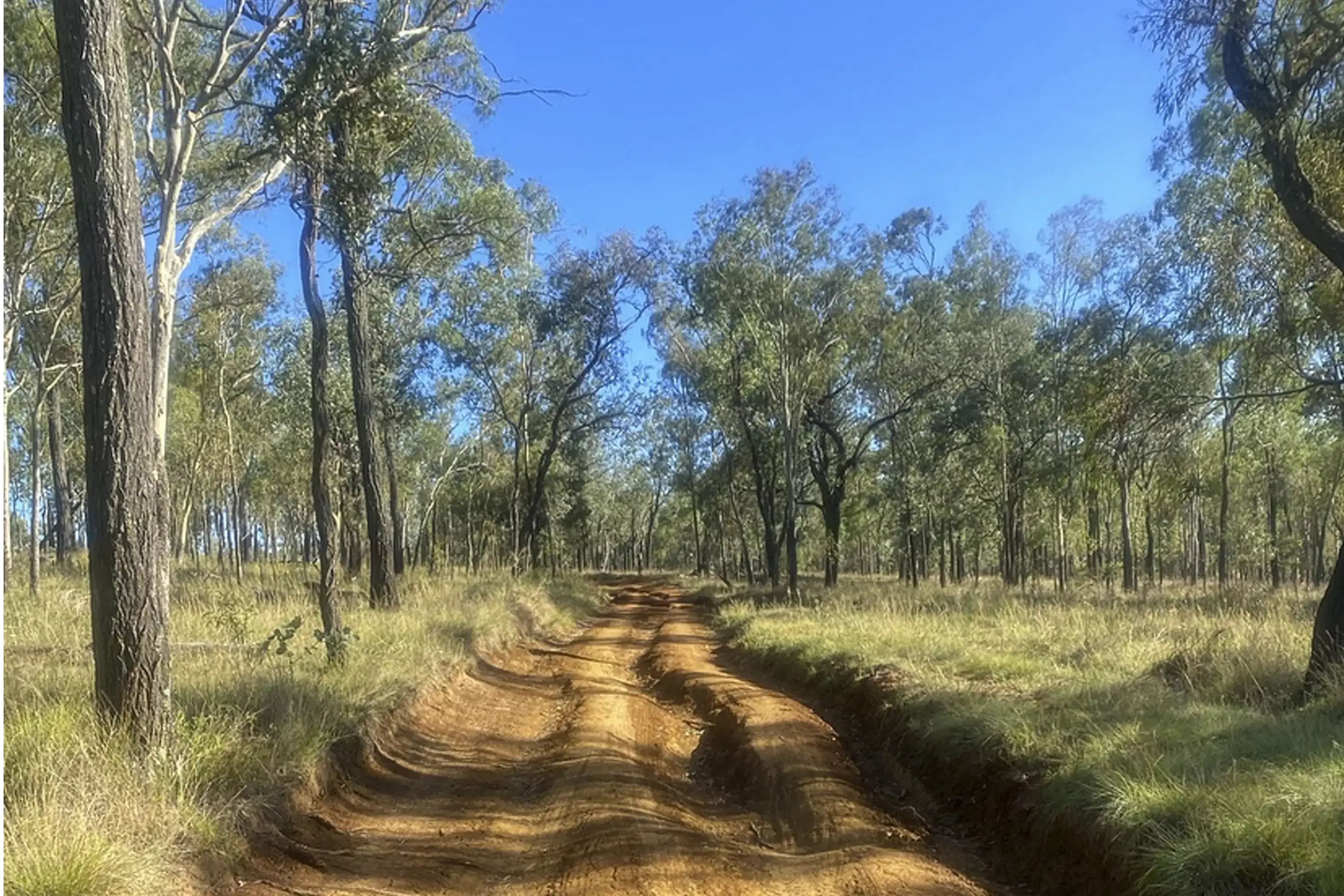 The first section of the " link trail" was a stock route, where they would cart the animals. It was wild!!! I couldn't believe I was riding somewhere like this. Dirt roads, cattle and dust!! It was epic. I felt alive. It was still well signposted, a group of riders are dedicated to the Great Queensland Rail Trail and have made sure signs are clear, even if it's just a painted sign of a bike! I was slightly worried about my bicycle, my back tyre was going flat A LOT! But I just kept pumping it up and pushing on! The road was getting rough and I crossed a big river crossing. It was fun but I kept having to remind myself I had bags and I was lucky my bike is a beast!!
During the middle of the ride, I had to jump back on road. This is where I knew a lot was wrong with my back tyre. It was dragging and it went flat again. I made some calls to the bike shop and they didn't really have an answer for me. I then realized I had a small cut in my tyre, I could see the cut and the sealant coming through. I thought to myself, just keep pumping it up and it should seal…it didn't, but every day I kept making it to the destination. A lot of swear words and about 10-15 pumps a day!! I then got to Kingaroy! Someone had put the newspaper in touch and I met Euan a young journalist. He asked lots of questions and took some pictures! I had been emailing Mike from the rail trail association, and he had asked me to help support the trails so I was more than happy to do the interview.
The last section of the day, 30km was pretty much downhill and the path was compacted so at least I didn't have to worry about rocks. I was flying!! I was very happy, too happy and I was listening to loud music. I was riding too hard and kicked down too hard and knocked my chain off and got it jammed. I was annoyed at myself as I had caused unnecessary issues!! It was hot and I was on my hands and knees fixing it! It was fine in the end!
I made it to Wondai, a lovely little town. The Rail trail went through the middle and there was a free camp in the middle. I had emailed a Warmshowers host to stay but she said she couldn't have me. I was just starting to put up my tent and a car comes up. It was Michelle, the lady from Warmshowers!! She asked if I wanted to stay!! How cool. She and Denise were wonderful and kind. We had a lovely evening with their friends too. I went to bed feeling extremely grateful for the good people in this world!
Day 4- Wondai to Proston
I was well-rested and grateful for the bed. I left at 5 am as the weather had gone insane. They were expecting 41 degrees. I had to leave at the crack of dawn. I made a decision to cut my distance in half. It was sensible and I had learnt from my previous sunstroke. The ride was hilly and my tyre was not coping at all. I arrived at Proston and the local coffee shop was open.
I sat outside and relaxed and listened to the locals who all knew each other. Everyone passed each other and jokes were shared. It was really sweet. Then the lady next to me asked if she could ask me some questions about the Proston community Facebook. Of course, I agreed! We shared a nice conversation and she told me to head to the golf club as it had free camping.
I had the decision to make… free camping or a $100 hotel. The only options are either or. Yup…I took the free camping!! It was soaring temperatures and the golf club was pretty exposed, it was closed and had nothing whatsoever to do. I sat under a veranda and slept all afternoon in the heat. It was pretty bloody awful!!!
I was drinking water like no tomorrow but still, a headache came. The night sleep was horrendous and I got up at 4 am in the dark and packed up. I just needed to move!! I had a big day of cycling the next day and I was feeling nervous.
Day 5- Proston to Gayndah
This day loomed over me for a while. It was another 40 degree Celsius day and I had around 75km of tough-off riding to do. I was nervous. I had a big hill to start the day and got to the top and my tyre was flat. I was really over it. I did have several options with the tyre but I was ignoring any responsibility haha! I have spare tubes and slug plugs but I was just happy pumping up and getting on with it. If I had just used the solutions I would have saved a lot of sweat pumping the tyre up but hey ho, I'm stubborn. I got to the top of the hill and couldn't get the valve open to pump. I hailed down a truck and a female worker got out. I explained and she had a look. She open it straightaway and I was very embarrassed. Like when you ask your mum to do something you've been trying to do for ages!!! Never mind, she was nice about it.
The rest of the ride was epic. Again 40 degrees, hot and sweaty but I was completely alone on these incredible dirt back roads. Kangaroos bouncing around!! I was head to toe covered in red dirt too!
I had been in touch with Mike ever since I decided to do the rail trails and Mikes' section was in Gayndah. He told me to text him that morning when I left and he would come out to see me. I actually thought Mike would be cycling out, then a car passed me and it's Mike!! Mike can't ride anymore due to medical reasons but he came out to meet me. He told me to follow his car for a couple of km, he had found a shady spot. Sadly I couldn't keep up and had to pump up again!! Anyway, I got there and Mike had set up a picnic table, cold juices, nuts, fruits and some water to wash my face. I was completely overwhelmed by his kindness. He then said I must stay with him that night. I was relieved so I didn't have to think about what I was going to do in that heat in the afternoon.
Mike is honestly one of the kindest and most thoughtful people I have met. He is extremely passionate about the rail trail and he is out there mowing the hedges and ensuring riders can enjoy it. I feel so grateful to him and the team.
That afternoon it got to 41 degrees Celsius and both Mike and I decided to sleep whilst it was at its hottest. It was so hot, nearly unbearable!! Mike had lived in Gayndah most of his life but also left for 20 years! He was such an interesting guy, he worked in weather patterns! His house had a country feel. All of Gayndah did, it felt set back in time but I absolutely loved it. While Mike was asleep I went down and decided it was time to stop faffing about and do something about my tyre. I stabbed the slug plug into the hole, worrying I was going to make it worse. You literally stab your tyre but then the material stays in and blocks the hole. MAGIC!! It worked. I put 3 plugs in as I had 3 holes. It actually worked I couldn't believe it.
Mike took me out for a guided tour in his car. We went to the Gayndah old railway station where he has a shed, it has all the Boyne Burnett Inland Rail Trail information and you can see how much work he has put in to try to encourage cyclists to come and use the trail. I'm utterly inspired. We drove up to Mount Debatable and Mike told me about the geographical history, ancient volcanoes and lots of facts. We drove to the top of the mountain and had a beer! We said cheers to a long-standing friendship! I promised I would come back to Gayndah when all the rail trails are finished! I will stick to that.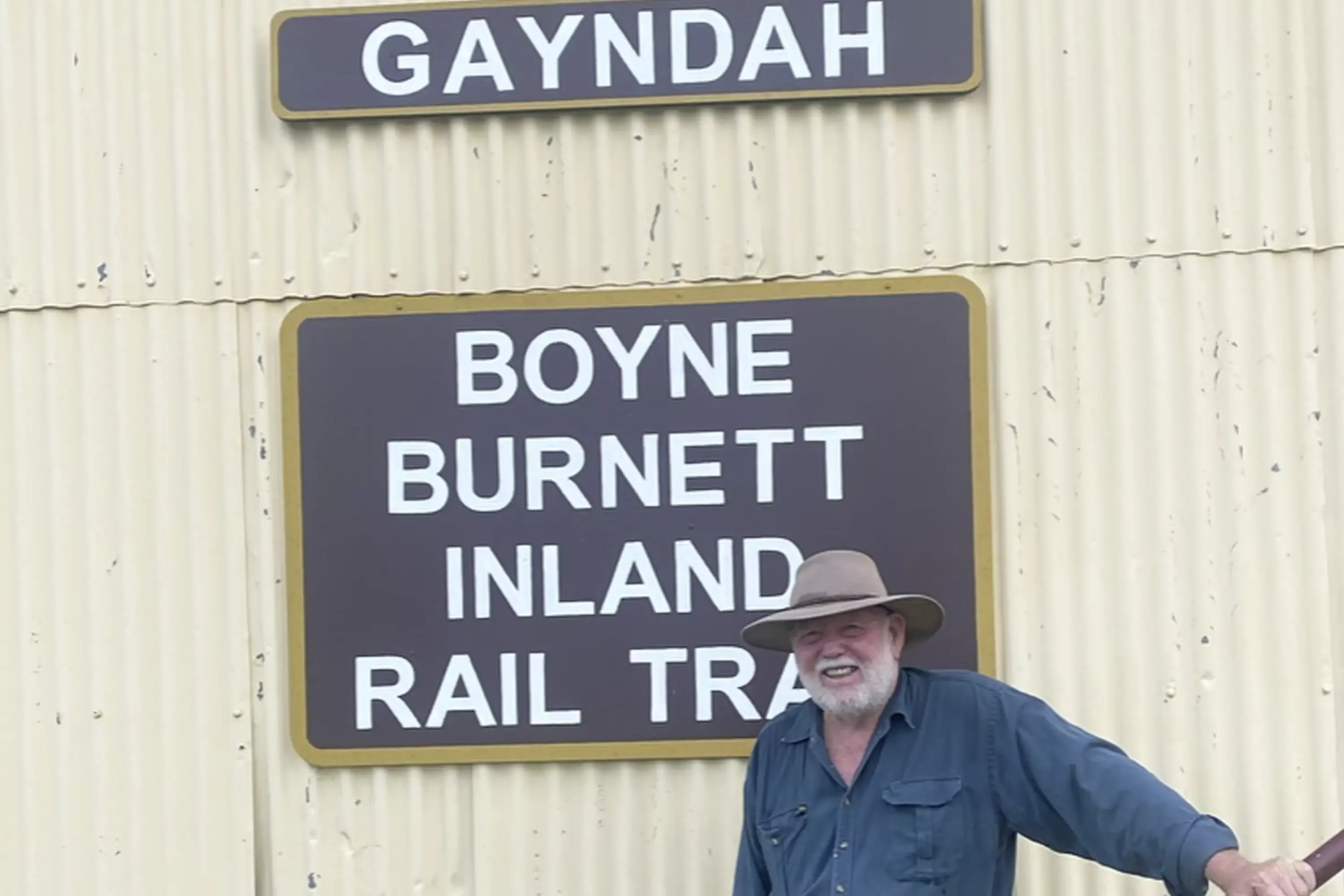 Day 6- Gayndah to Eidsvold
I told Mike not to wake at 5am but of course he ignored me and was up making me toast and tea!! What a hero. Today was Mike's section of the rail trail and I was very excited to ride and see his work. Mike followed me in the car, opened the gates, took photos and fed me fruit. I felt so welcomed and supported. The trail was epic. Way more adventurous than the other rail trails, Mike had said it was more of an adventure trail, with more pushing, long grass and tougher descents. I loved it. It was 40km of fun. The old bridges were epic and it was very well signposted. Even more inspiring when I knew who had hand painted those signs!!
I reached the end of the trail at Mudubbera and Mike was waiting of course. We went to the cake shop and I told Mike to choose whatever cake and coffee he wanted. It was the smallest of tokens to show him how thankful I was for his support.
It was time to leave Mike and carry on the journey to Eidsvold. I still had a very hot 4 hours of riding to go! The rest of the ride I was a sweaty mess but my heart was full and it was about to get fuller as my friend Elisha was driving her van to Eidsvold to meet me that night!! How awesome! We worked together in Cambodia, she is Australian and works/house-sits and travels in her van!
I got to Eidsvold, an extremely quiet country town! I see Elisha's branded van with her turtle sticker on it and jump up happily!! It was a special reunion and loved meeting her partner Kelly too. They kitted my panniers out with some epic Khaki and Ocean stickers (their t-shirt brand). Elisha runs eco-friendly tours and is passionate about conservation! We had a BBQ outside and then the girls had kindly booked a hotel for us as it was just too hot outside! We had some beers at the bowls club but called it a night in sleepy Eidsvold.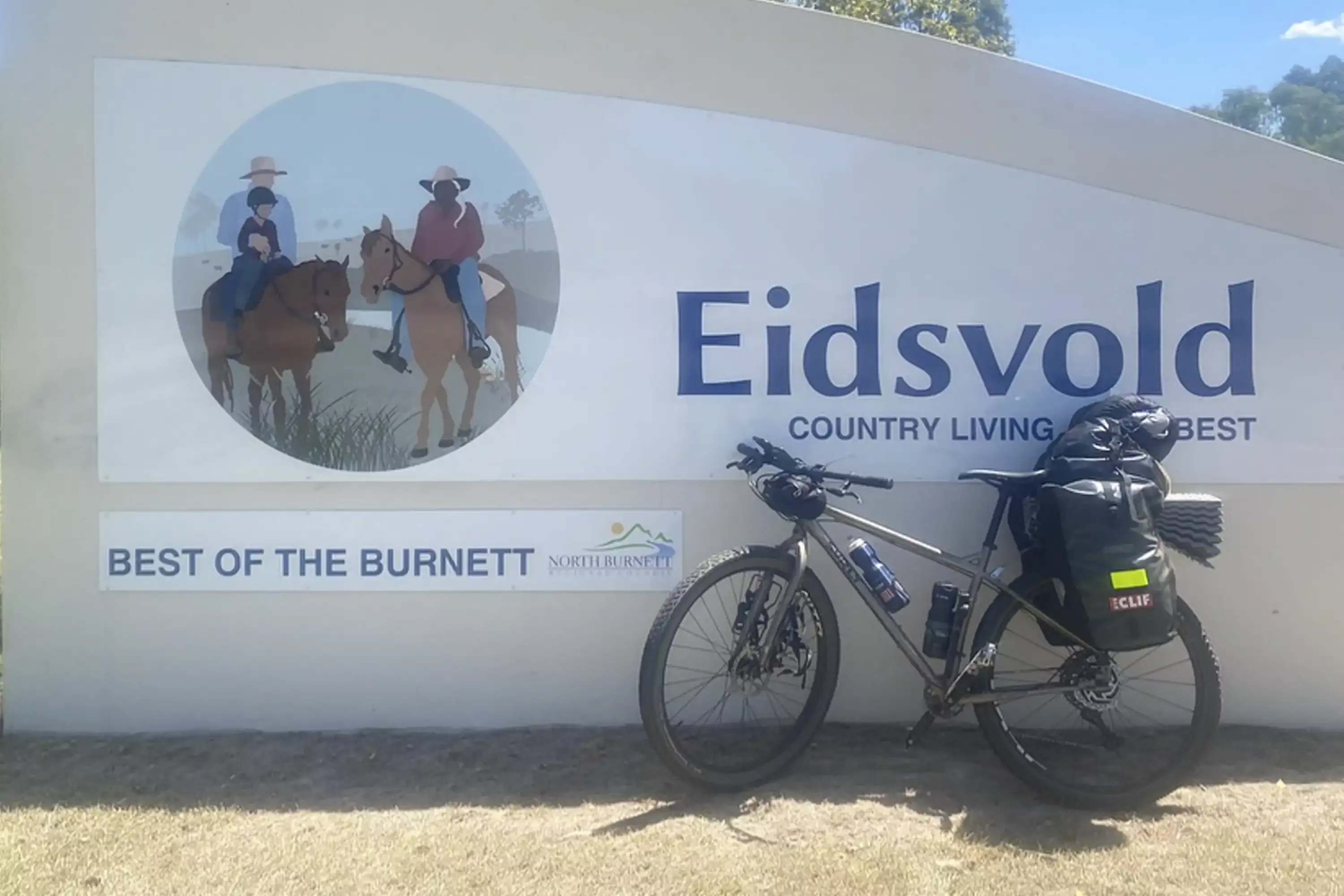 Day 7 – Eidsvold to Monto
Another early wake-up to avoid the heat, the girls woke up to wave me off! The ride went smoothly and I was on the highway – which is not a highway, I saw about two cars. It was a lovely ride and I stopped off at the Three Moons Silos. See below. There is a Silo trail in Australia where you can drive from state to state and find the art, they are very cool. At the silos, a lady gave me 3 mangos. I devoured two straight away ( greedy of me) but I can never get much mango off, it just goes all over me!!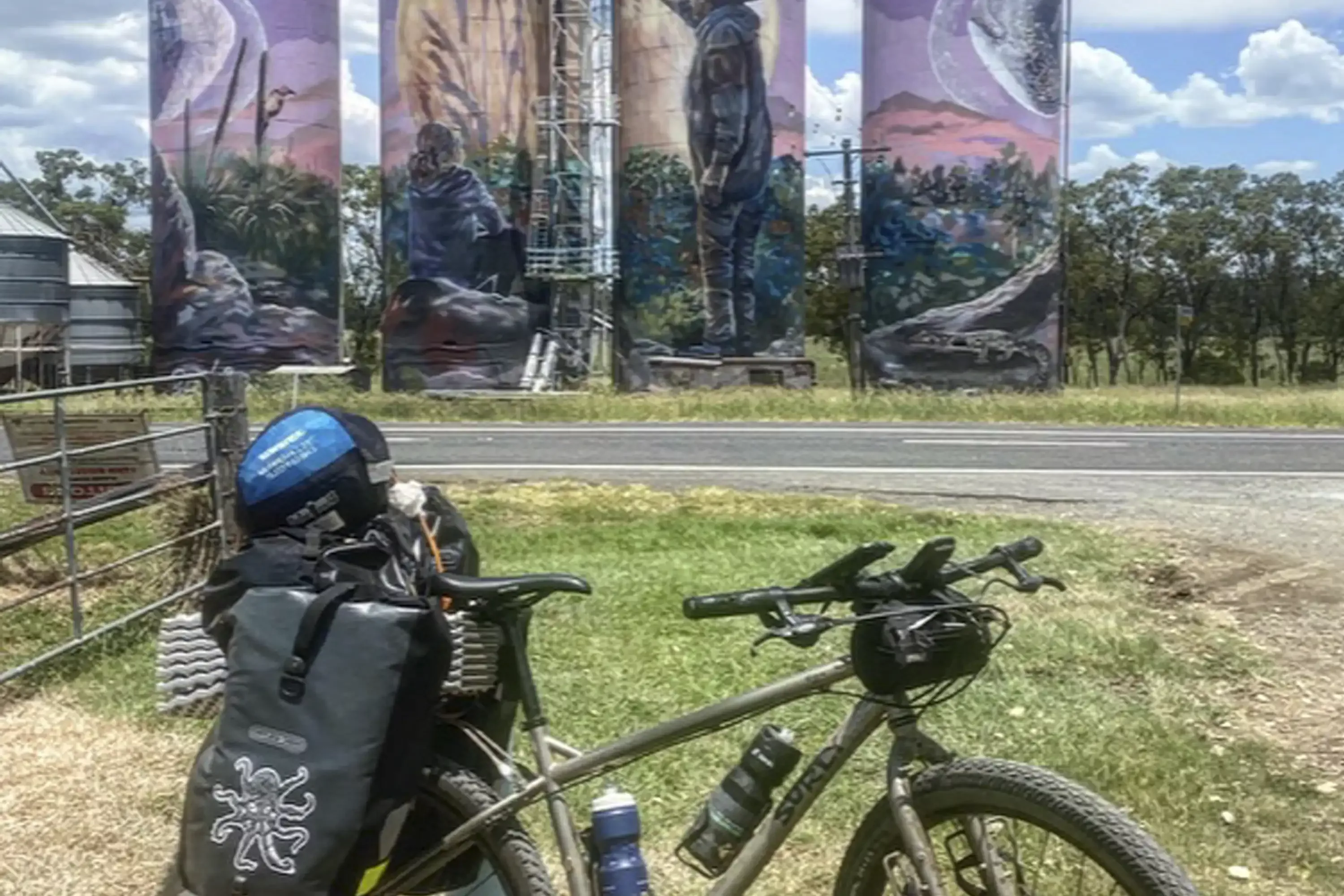 I got to Monto around 14:00! I was staying at lovely Emma's house. Emma knew Mike and was also on Warmshowers. They all know each other, the whole way people from the village have heard about my trip and have come out to say hello. It's been incredible. I got to Emma's house and she had filled an outdoor bathtub with cold water and told me to get in to cool down. It was heaven!
Emma has done some serious bike touring herself and we shared stories. She had cycled South America and the west coast of the states. I really connected with Emma! She said she loves a yearly challenge! I tried to persuade her to join me from Darwin to Alice Springs but sadly she has just broken her ankle!! She was in a boot. She had a lovely daughter called Dusty who was 10 and goes on cycle tours with Emma. The afternoon was chilled (again too hot to do much!). I had a wander round the town and bought the family some cake! We enjoyed cake and listened to Dusty's clarinet, guessing the songs… I got "when the saints come marching in".
Jennifer from Packs n Pedals came over. They run a tour company that take cyclists on the rail trail. Mike had called her to see if she could help with my back tyre, sadly they didn't have any tubeless tyres but we had a lovely chat!!
Day 8- Monto to Ubobo ( Boyne Burnett Inland Rail Trail)
Emma had told me she thought today's ride was definitely the best bit of the rail trail. I was excited! I had to ride 40km ish on road but it was stunning, then I got to the start of the rail trail and Kalpower. It is a part of the Dawes Range section. It had stunning mountain views and I got to pass through six rail tunnels. Yes, tunnels!! It was so cool. I was going downhill too so I was flying on the trail. There was a nice guestbook too for people to sign, another moment of realizing how much work the locals are doing. The trails were covered with big spiders and I had to keep ducking under the webs.
The tunnels were epic, kind of scary but epic!! How cool to be able to cycle in old rail tunnels. You would come out of the tunnels and see incredible mountain views. It was something else. The end of the rail trail was muddy and tough! They are still doing work to lots of sections! Sadly the mud got too much and I jumped back on the road to Ubobo! I stayed at the Discover Centre in Ubobo and met a lovely guy who gave me one of his comfortable chairs for the evening. He was a sweetheart. I slept insanely well!
Day 9- Ubobo to Gladstone (ish)
The last day of the trails, I was ready if I'm honest. It had been the most incredible 9 days of riding but extremely tough!! I had been put in touch with Desley, she is on the council and a keen bike rider. She has been a big part of pushing the rail trails renovation. She had offered to meet me and take me to the bike shop. I needed the help and very happily accepted her help…most of the time I politely decline but after 9 days of hell with my bike tyre, it was time to get in a car and go to a bike shop!! A huge thank you to M1 Cycles who fixed me up with a new tyre straight away! They were surprised my slug plugs lasted so long!!
Desley was so kind and also took me for a guided tour around Gladstone introducing me to a lot of people. We went to the Gladstone tourism office and they invited me and fed me cheesecake!! People are SOOO nice!!! We also went and got me a high-vis vest and a new hat for my helmet!! That evening I was staying with Karen! A mutual friend of a friend of mine who lives in Nepal. Karen went on tour with Kate and Amrit in Nepal and Kate shared my route on Facebook and Karen offered to have me stay!! How cool!! It was a lovely evening and I felt like I had known Karen for years. Her kindness was off the charts and another day passed with a very full heart!! Thank you thank you!!
What an adventure. There were moments of hell, mostly heaven!! People blew my mind with their kind actions and hospitality. These local communities are so passionate and inspiring. I have finished this Great Queensland Rail Trail Adventure with a complete sense of awe for the country's land and its residents.