Road tripping and camping are the things we all look forward to at some point on our travels. Combine the two and you get an awesome adventure out of it! Do yourselves a favour, plan a road trip, take a long weekend to escape the loud, bustling crowd and journey to the unknown (or known) to unwind.
WHY YOU SHOULD PLAN A ROAD TRIP
You're stuck in one spot for the duration of the trip – which means not stressing about the next stop or trying to plan activities for the day after. This is 24/7 relaxation and down time
You get to see all the little things in and between the drive – find hidden gems, come across cultural sites, spot native wildlife and meet new friends along the way
You get to choose your own pit stops – chance to top up snacks and water
It's your own little tiny house on wheels - sleep in the car, pitch a tent, or throw up a tarp, do whatever works for you
Last but not least, road trippin' music - sing as loud as you want, scream as loud as you want, no one is going to tell you not to apply for the next talent show
Pro-tip, the warm Creamy Mushroom and Potato Soup will help soothe the muscles in your mouth

ROAD TRIP FOOD IDEAS
Most of you might agree with us when we say meal prep is probably the most challenging thing to plan and pack when heading away. Some of us may not have portable fridge/freezers and therefore steer towards the esky or cooler route. Taking these factors into consideration, we will always have a dry pantry and some perishable goodies in our camp kitchen.
Back Country Cuisine has a variety of freeze-dried meals that you can store without need of refrigeration, a huge bonus for those long remote bush camps with mates. These pouches come in various sizes to suit different needs; small for individuals and substantial portions to cater for larger groups.
To make things a lot easier for you explorers, we have created a simple Back Country Cuisine weekend getaway meal guide, that you can follow on your next adventure when you plan a road trip.
DAY ONE
BREAKFAST - Porridge Supreme topped with fresh fruits
METHOD: Rehydrate the pouch, top with preferred fruits such as bananas, strawberries, blueberries and more.
METHOD: Rehydrate pouch, whisk eggs then put on pan and par-cook, add carbonara, flip frittata when slightly firm, serve with mixed salad.
DINNER - Beef Bourguignon Jaffle topped with Instant Mash
METHOD: Rehydrate the pouch, fill the jaffle with mixture and cook, top with instant mash and whatever sauce you feel like.
METHOD: Rehydrate the pouch, enjoy!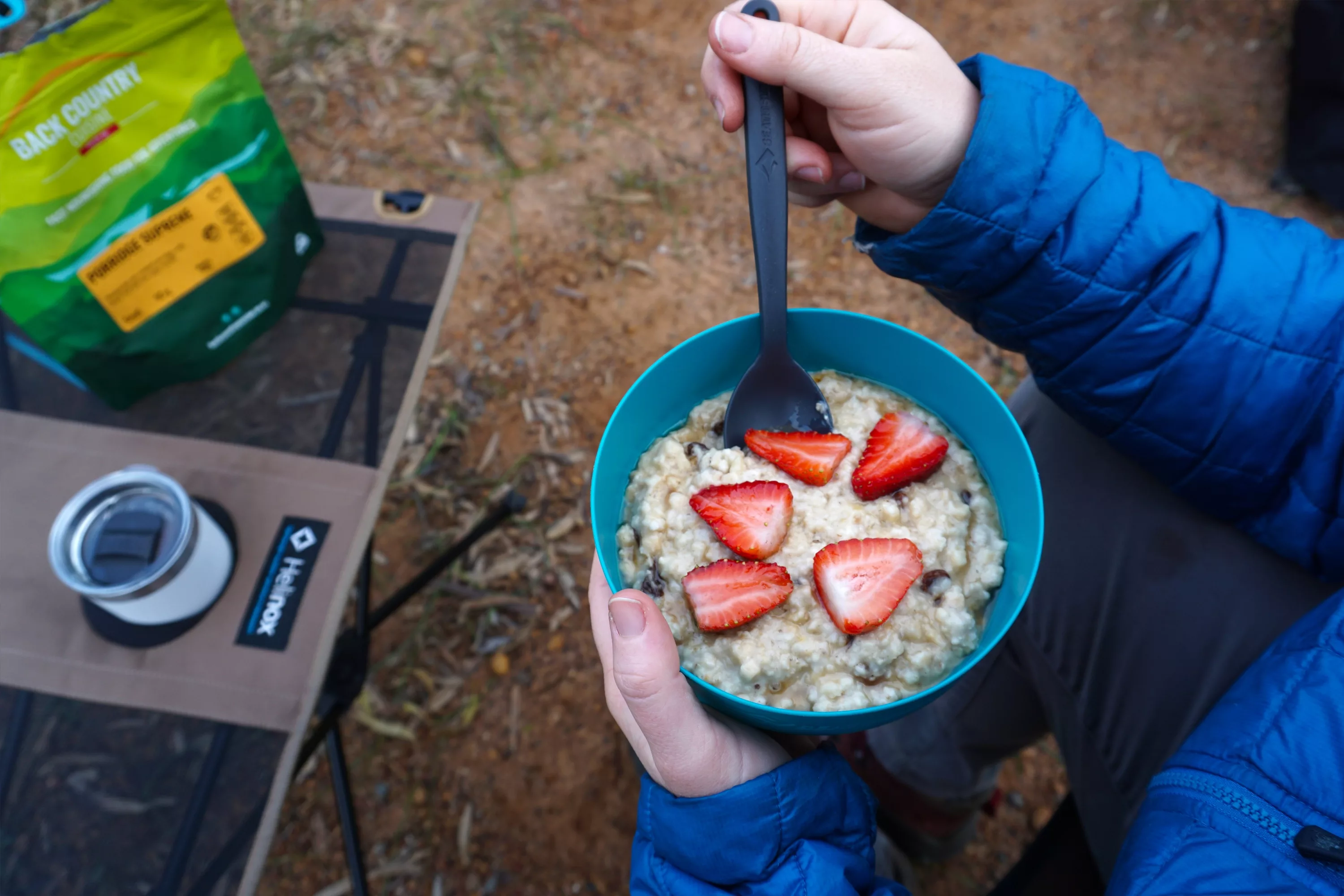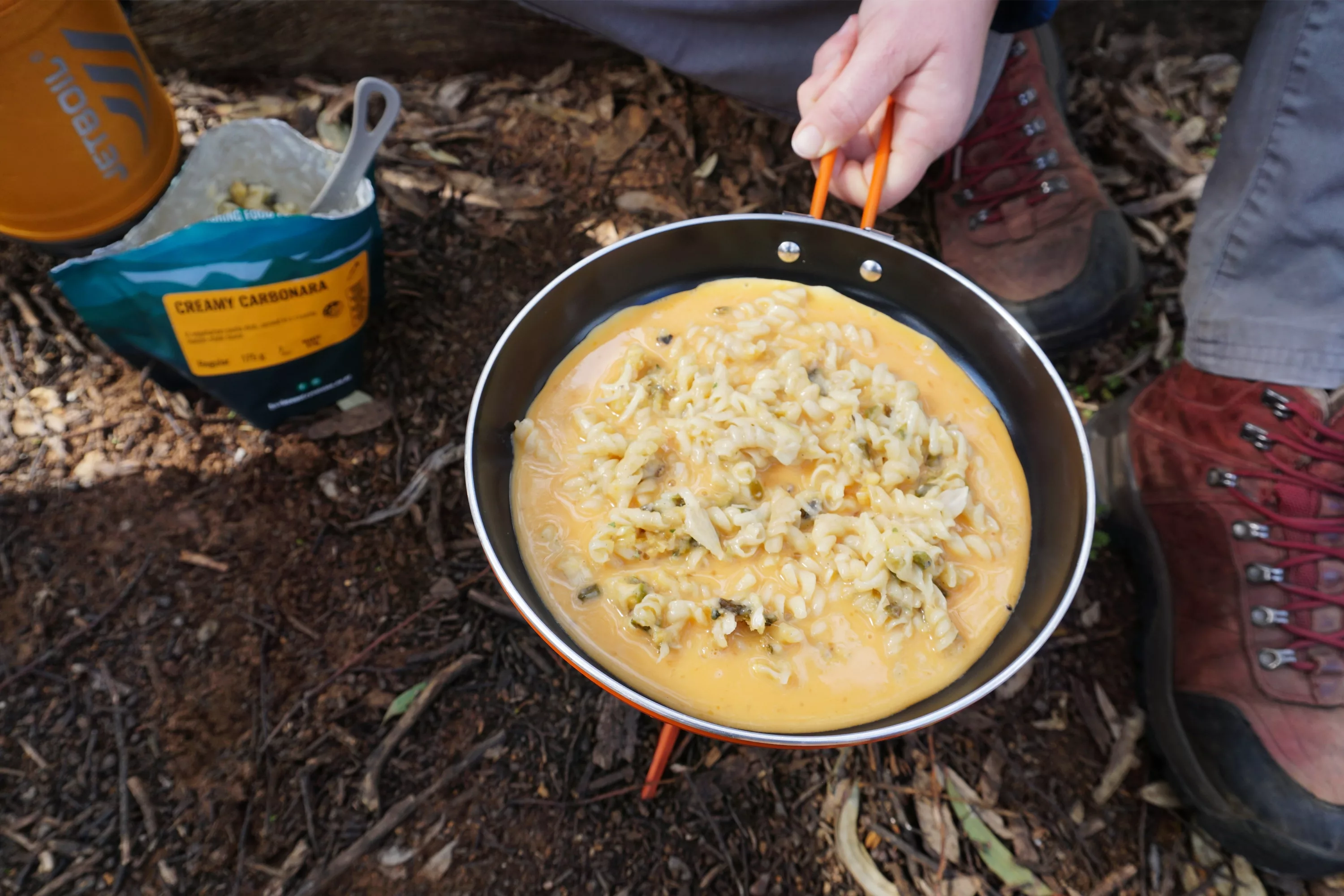 DAY TWO
METHOD: Rehydrate pouch, top with fresh herbs and serve with buttered toast.
LUNCH – Thai Green Curry with soft boiled egg and chilli oil
METHOD: Rehydrate pouch, boil egg for 3 minutes, serve with a generous drizzle of chilli oil.
DINNER – Asian style noodles with Instant Mixed Vegetables
METHOD: Rehydrate pouch, pan-fry noodles with preferred Asian sauce, stir in vegetables and top with fried garlic. Tip: If you prefer meat in the recipe, add Instant Beef Mince or Instant Chicken Dices to the mix.
DESSERT - Stacked Apple Pie with sticky syrup
METHOD: Rehydrate pouch, cook pancakes, assemble with apple pie mix, top with crushed biscuits and maple syrup (or butterscotch sauce if you're feeling fancy).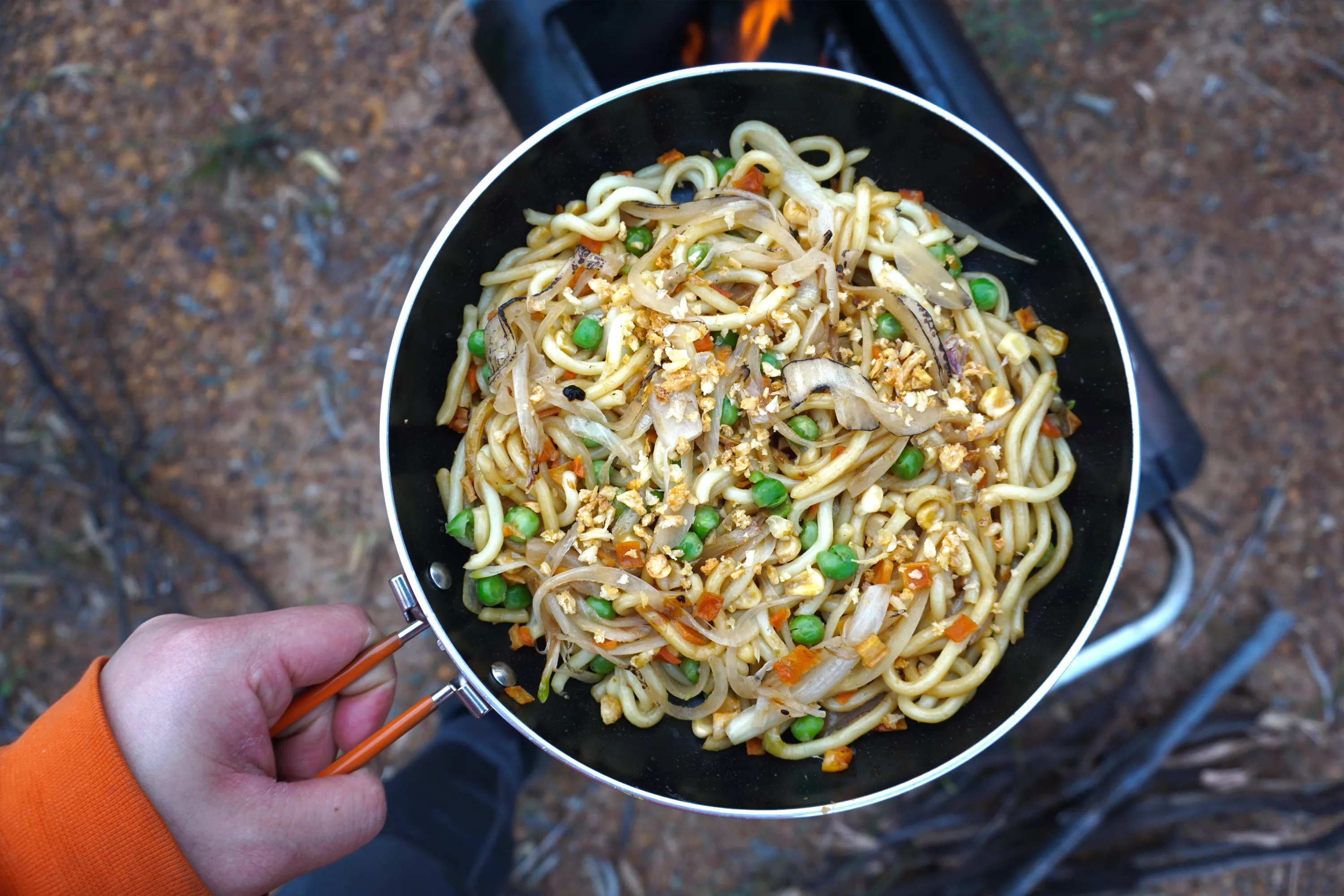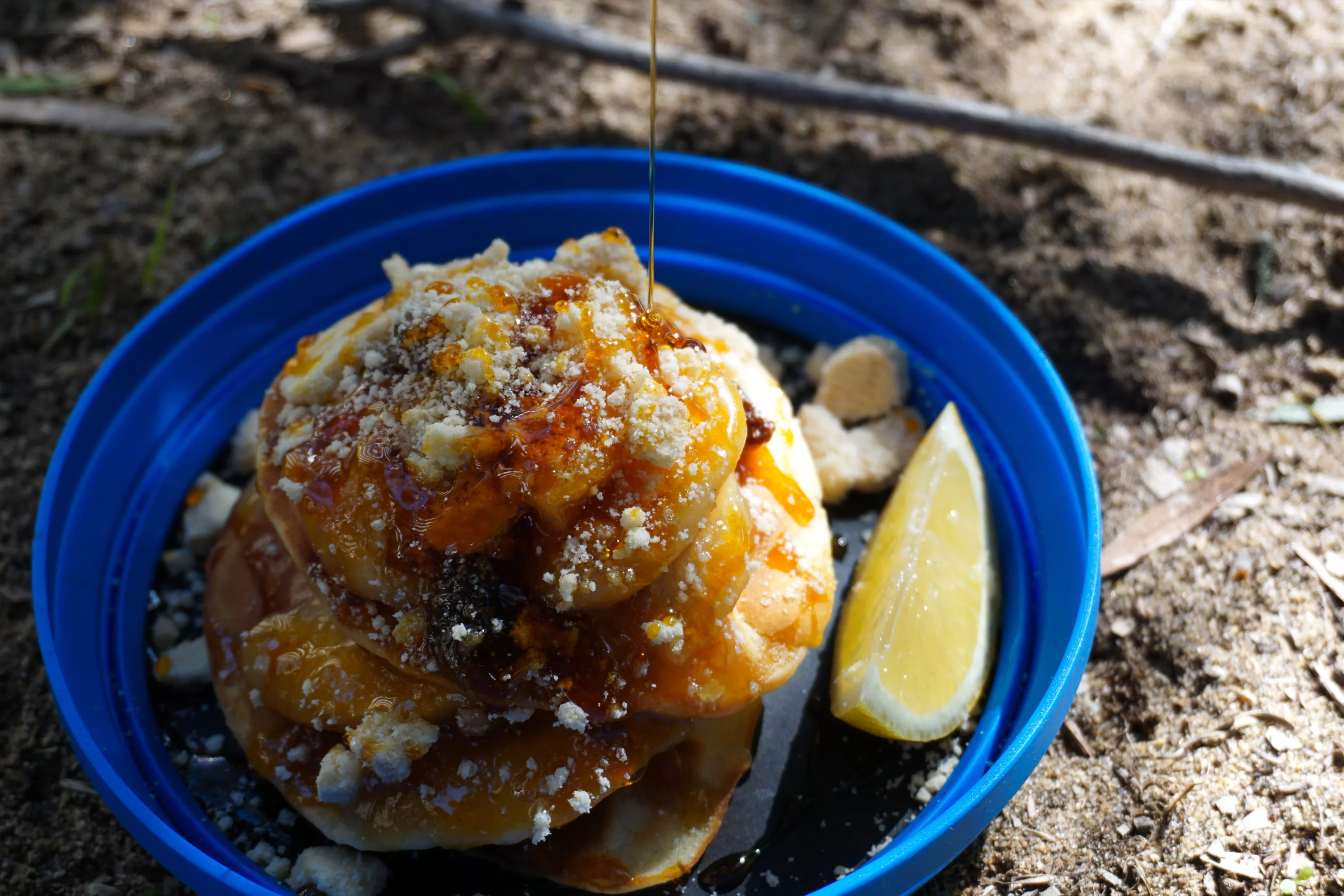 DAY THREE (keep it simple!)
CAR CAMPING FOOD TIPS & TRICKS
These Back Country Cuisine pouches are recyclable. Scan the QR barcode for more info!
When it comes to cooking, all ingredients are interchangeable to suit dietary requirements
If you have leftovers, chuck the rest in the pouches and seal. Trust us, they come in handy!
The pouches serve as a bowl, so less dinnerware to carry and wash on the trip
Don't stress about crushing the pouches when storing, they can get bashed and bruised unlike fresh foods
WHAT TYPE OF ROAD TRIP COOKING GEAR TO PACK
Don't we all wish we could bring our entire kitchen outside? Unfortunately, for some of us it can be tricky fitting everything in the car (especially when you have fur babies too). Here is a list of some camp cooking gear we recommend that can save space and time when you plan a road trip.
You can't go camping without something to heat up water – Our JetBoil Sumo is our favourite piece for this as everything can be stashed into the unit, as well as being super efficient
A pan is a must if you want scrambled eggs on toast! – Try and go for a non-stick fry-pan, you won't need to scrub dishes all day long. We love our JetBoil skillet, it is on the heavier side, so great for car camping! The base is also rounded, which makes it very easy to flip pancakes, omelettes and mixing sauces
A good cutlery set – Titanium is a good option, most likely won't break on you when stirring viscous things
Collapsible bowls and plates – Perfect for storage and easy cleaning
Why not also add a pot to the list – The nifty Sea to Summit Sigma Pot range is great, perfect for soups, stews and pastas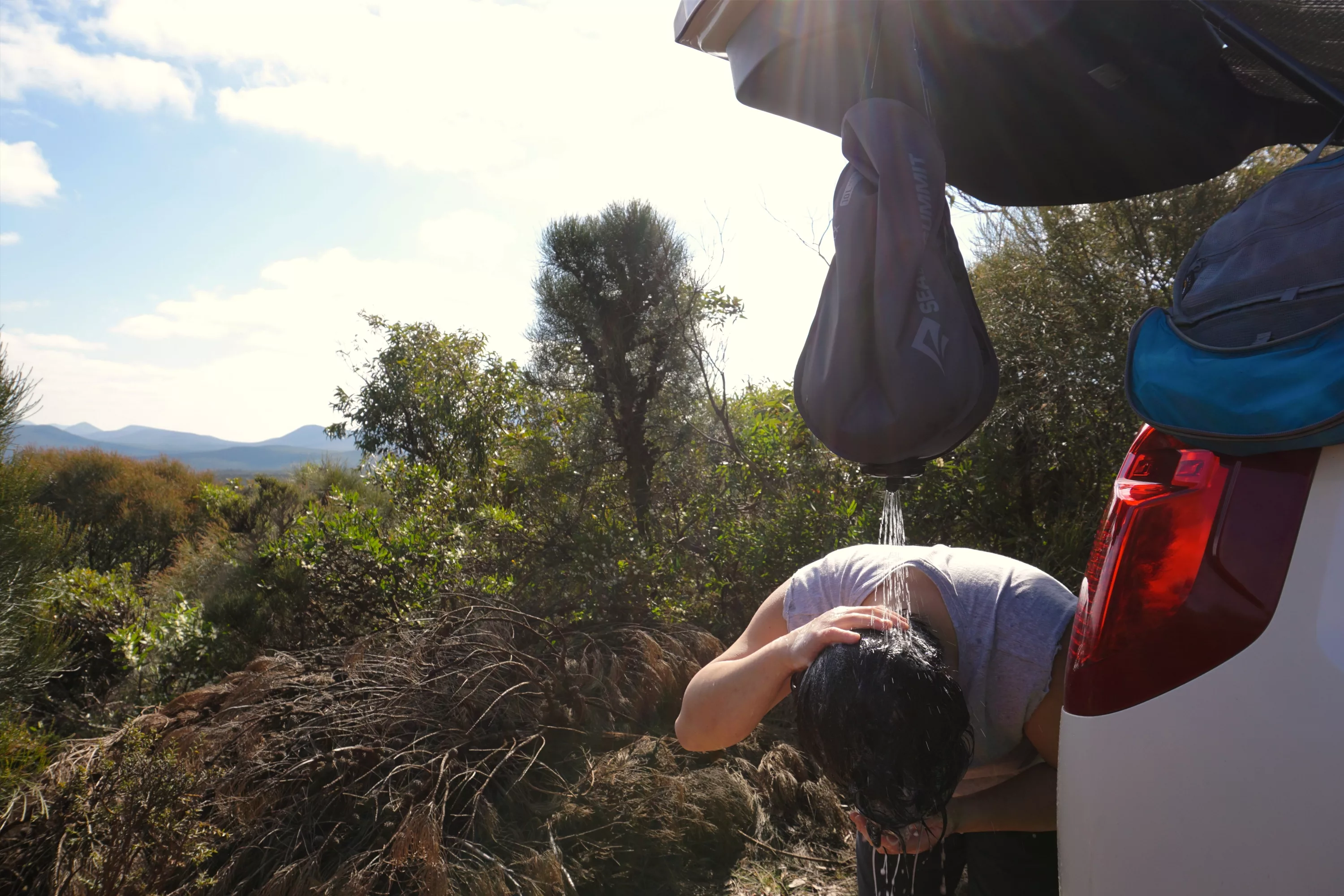 HOW TO BETTER CONSERVE YOUR WATER SUPPLY
Whether you are camping in the bush or along the coast, water sources can be difficult to locate as well as finding space on your vehicle to store it. Being self-sufficient and being able to manage your water supply is paramount in order to sustain hygiene practices in the wild whilst enjoying the adventures you create in the outdoors. We have made a short list of hacks that could help you on your next trip.
One pot meals are a great way to use less water when it comes to cooking and washing dishes
Reuse dishwashing water (making sure it has no food scraps) to put out the campfire
Invest in wilderness wipes, as showering is probably the one thing that consumes the most water when you're in the bush
If you're next to a water source, purify and conserve (please be mindful of the environment and its surroundings)
The Sea to Summit Watercell X series is a winner in our books when it comes to conserving water. Having different attachments for showers and regular use is pretty neat, as we can control the amount of water coming out
Sometimes getting out of your daily routine and habits can take a toll on your mind and body. For some people, camping gear can be quite uncomfortable (especially when it comes to sleeping). A good sleeping mattress, sleeping bag and pillow can do the trick.
For us car campers we take our comfy Sea to Summit Comfort Deluxe Mattress, really quick to inflate and deflate. When it comes to pillows, we are quite hard to please, in this case we generally bring a pillow case and stuff it with synthetic or down jackets to suit our preferences. If you prefer inflatable pillows, they are also great to bring because they pack down small (just be careful of sharp things that could puncture the material). Lastly, The North Face sleeping bag has a comfort rating of -4 and is great for camping during autumn, winter and Spring (we will usually adjust the temperature with specific liners, heavier or lighter mats and clothes when needed).
You will know your body better than anyone else, bring what makes you comfortable.
PLAN A ROAD TRIP TO KICK BACK & RELAX
Bring a book to read – Most of the time we don't have enough hours in the day to actually sit down and get deep into a story. We find it to be very therapeutic and is one of our luxuries when we plan a road trip
Card and board games – What a way to keep the family and group of friends entertained on those warm cosy nights. If it starts to turn wild, just keep in mind your fellow campers
Set up a hammock – Take a break and have a nap in the sun, soak it all in!
Go for a hike and explore nature – Nothing better than discovering unfamiliar territory
Stargaze – It's not often you get to experience a place with or without very little light pollution. Make it a challenge to spot all the constellations (even make your own) or the International Space Station in the night sky. We even saw XENA the warrior princess up there