THE ULTIMATE CROWD PLEASERS
Ever wonder how to cater for larger groups or picky eaters at camp? We know making large portions can be quite a painful in the bush without having a lot to work with, don't stress because we've got the answers to all your problems. These Back Country Cuisine pouches are a lifesaver – it saves fridge space, time and stress.
The foodie in us, have created a triple threat menu that will take your camping spread to the next level with these easy finger licking bites.
GAME ON!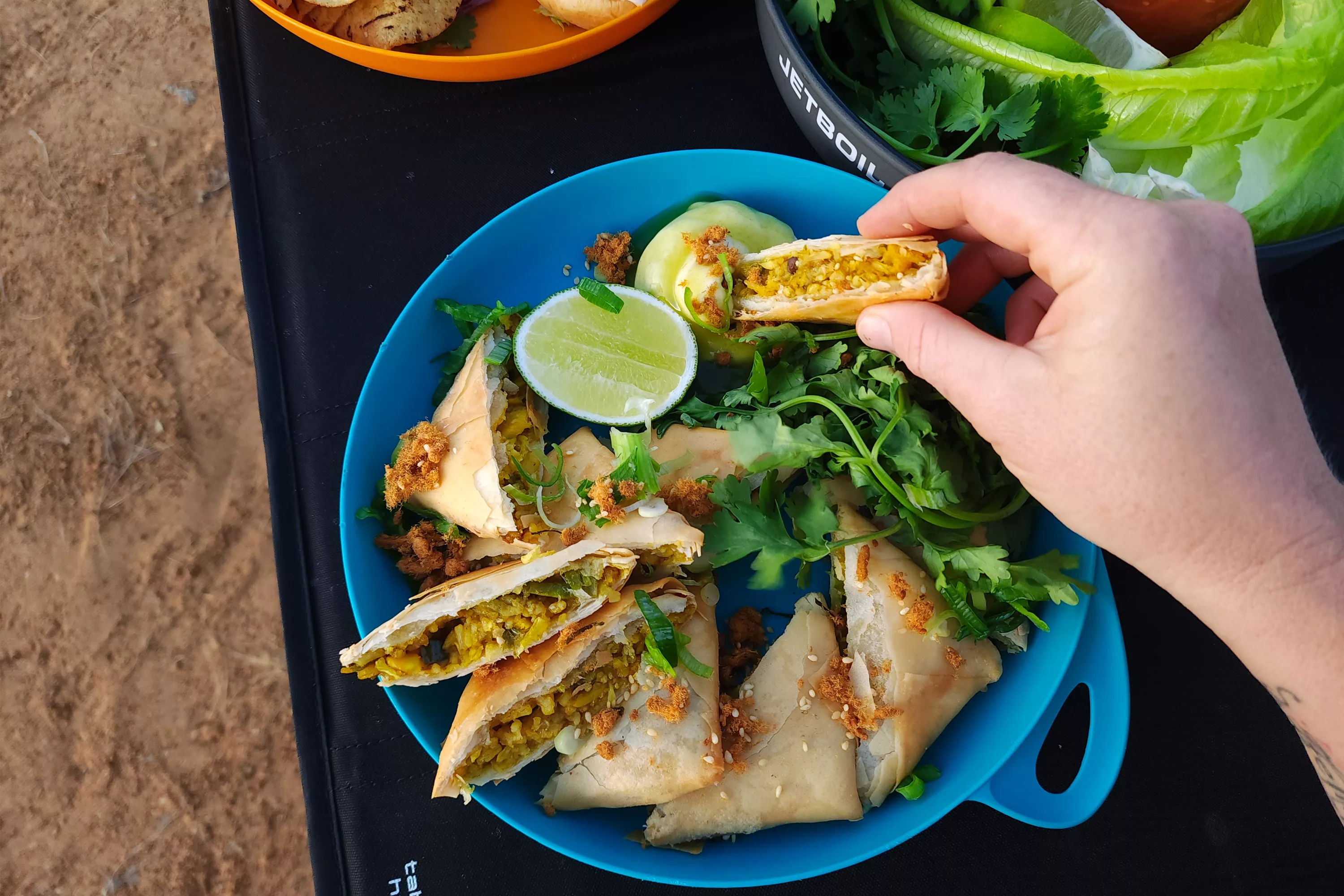 Thai Chicken Curry Samosa

Crunchy on the outside and bursting flavours on the inside, yes! This pouch does wonders in your mouth, you've got the heat from the spices, saltiness from the pork floss and the tanginess from the lime, it's all happening!
These scrumptious Thai chicken curry samosas are a crowd pleaser and won't let you down on your next camp cook up. Pair this with a crisp cider or beer, you'll be begging for more.
Time: 45 minutes
Makes: Approx. 6
Ingredients:
1 Thai chicken curry regular
6 Spring roll pastry
½ cup coriander
1 Egg
¼ cup Kewpie mayo
¼ cup Green chilli sriracha
Handful pork floss
1 Lime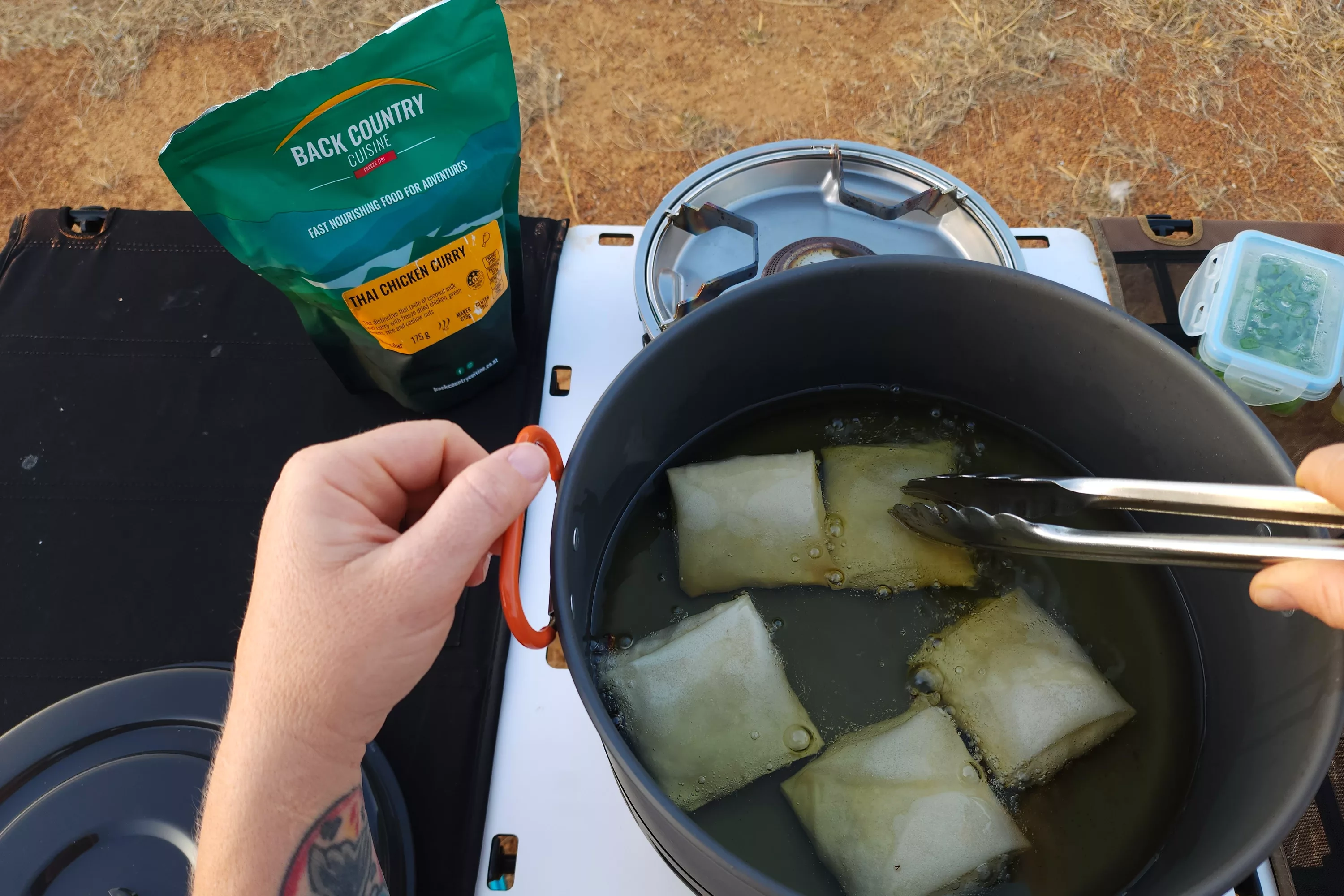 Method:
Rehydrate Thai chicken curry – (fill water to line – Mt Cook)
In a large pot, heat up 1L vegetable oil – aim for 180 degrees Celsius for deep frying.
In a separate bowl, crack the egg and whisk until beaten.
Peel off single spring roll pastry to begin wrapping.
Once Thai chicken curry mix is cool, fill a sheet with 1 tbsp of the mixture in the middle, fold bottom corner pastry up and flatten mixture until a square is formed, then fold left corner in and then right corner. Fold the parcel up, brush egg wash on top corner then fold down and stick.
Repeat for all until mixture is all used.
When oil is ready, deep-fry samosas (being careful not to overload the pot) until golden brown.
Remove from oil and absorb excess oil with paper towel.
Once slightly cooled, cut in halves and serve with mayo, sriracha, pork floss and lime.
Hot Tips:
You can substitute mayo for labneh which gives it more of a fresh and lighter vibe.
You can find spring roll sheets at most oriental supermarkets and as well as local supermarkets.
Spring roll pastry is easiest to use when slightly defrosted from the freezer.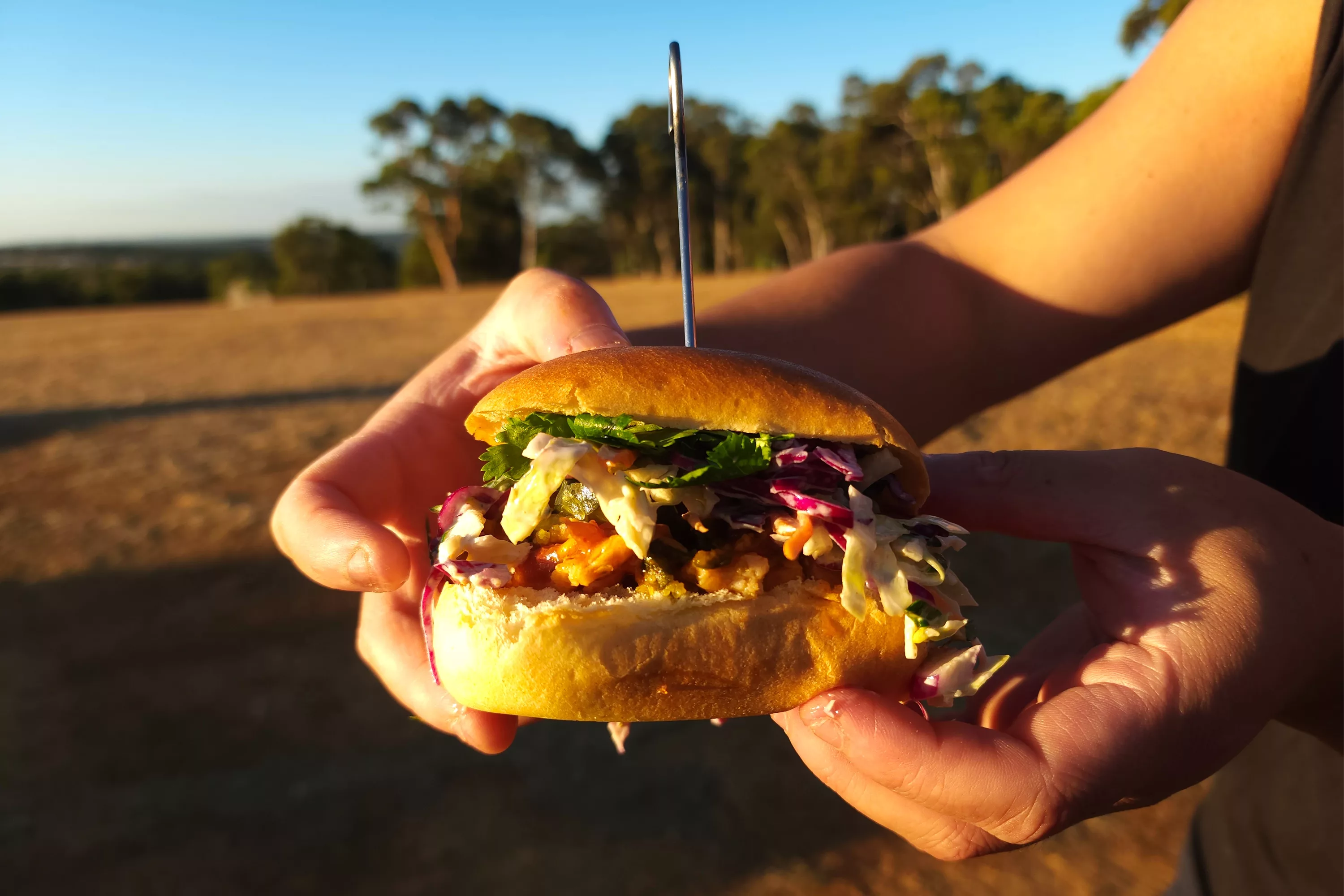 Mexican Chicken Sub
Did someone say pub feed?
This is perfect for the small and big kids; trust us, they will work a treat. The great thing about sliders, is you can turn them into anything you want them to be. This recipe is our camp version of your typical pulled pork slider. Juicy spicy beans, sweet and sour pickles, creamy slaw and corn chips to top it off. Sounds good hey? It's time to get messy!
Time: 30 minutes
Makes: Approx. 6
Ingredients:
1 Mexican Chicken Regular
6 Brioche sliders
2 cups Coleslaw Mix
3 tbsp Coleslaw dressing
½ bunch Coriander
¼ cup Bread and butter pickles
½ cup Hot sauce
1 Lime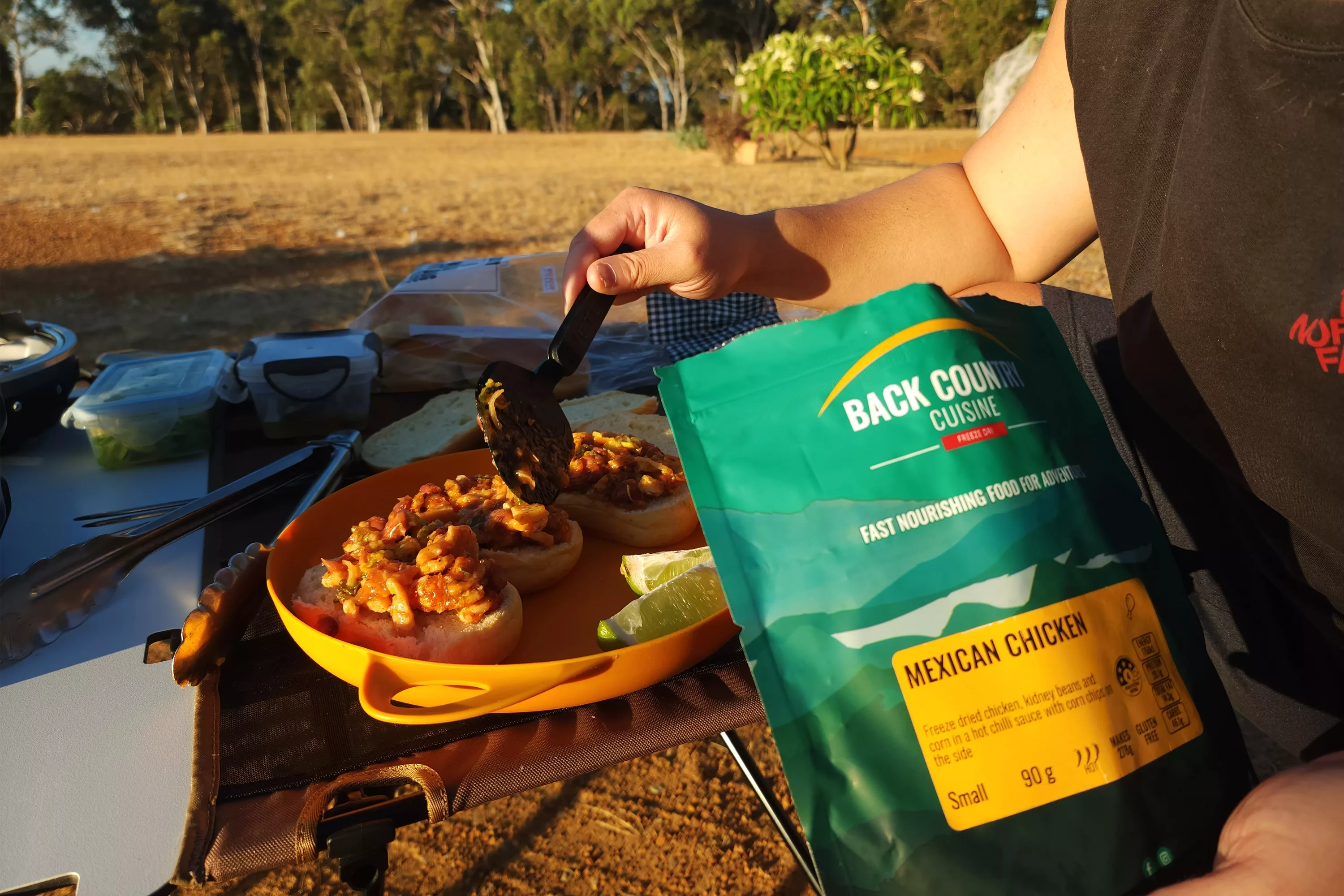 Method:
Rehydrate Mexican chicken according to pouch – (fill water to line – Mount K2)
In a bowl mix coleslaw and coleslaw dressing and set aside.
To assemble the sub, first layer starts with the Mexican chicken mix, followed by pickles, coleslaw, coriander, hot sauce and a squeeze of lime.
Serve with corn chips on the side.
Hot Tip:
You can opt to use any type of bread or bun.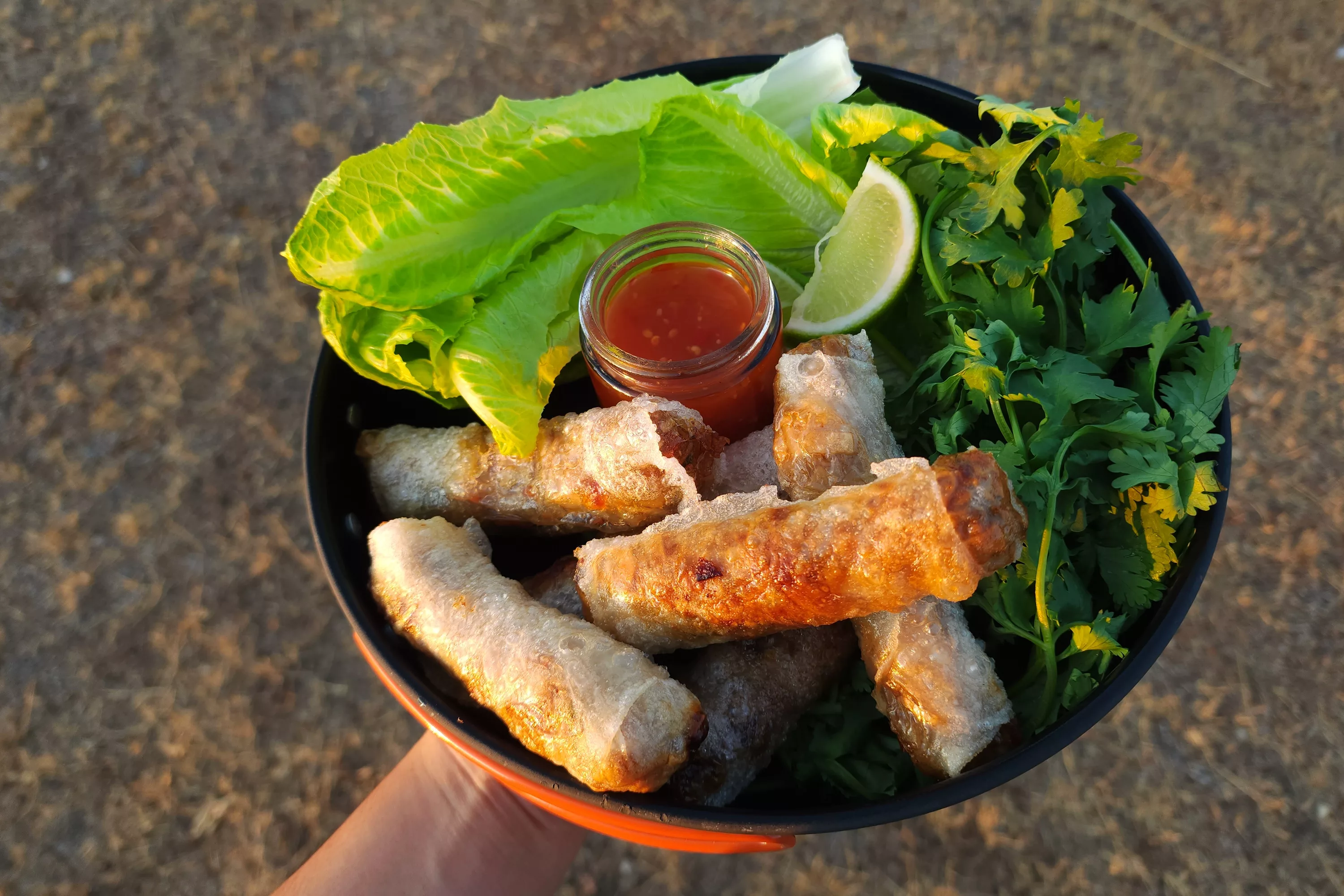 Vegetarian Spring Rolls
Many of us have eaten fresh rice paper rolls, no doubt they are delicious and keep us wanting more. The question is, have you tried deep-fried rice paper rolls?
These vegetarian spring rolls were inspired by one of many trips to Pho noodle houses and Vietnam itself. A traditional Vietnamese spring roll is generally filled with pork, mushrooms and vermicelli noodles. We have put our own Back Country Cuisine spin on this popular feed and we're going vegetarian!
There are many ways to serve these spring rolls, from changing up the dipping sauce to maybe something with a little more umami (hoisin sauce), or wrapping it with a leafy lettuce, pickled carrots, herbs to give that extra bite a bang, the list goes on. Let us blow your mind!
Time: 45 minutes
Makes: Approx. 10
Ingredients:
1 Vegetarian Stir-fry Regular
10 Rice paper sheets
¼ cup Sweet chilli sauce
½ bunch Coriander
1 bunch Cos lettuce
1 Lime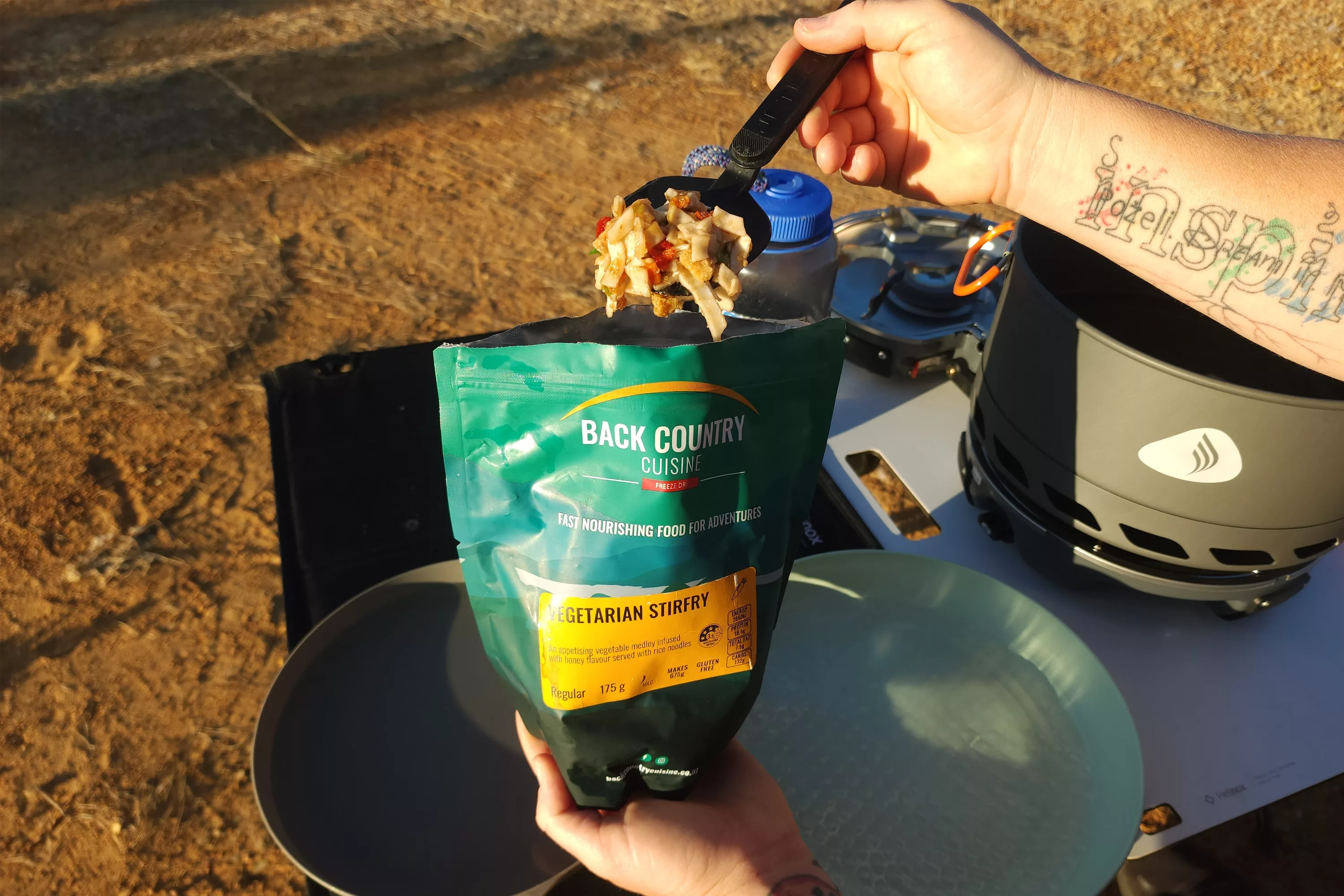 Method:
Rehydrate Vegetarian stir-fry (fill water to line – Mount Kilamanjaro) and set aside until mix has cooled down.
In a pot, heat up oil until temperature reaches 180 degrees Celsius.
In a shallow large bowl add water (enough to slightly hydrate the rice paper sheet).
Quickly dip rice paper sheet in water and immediately take out and drip off excess water, then place on plate to roll (to prevent it from getting too sticky).
For the filling, add 2 tbsp of vegetarian stir-fry.
Firmly roll bottom corner over filling, then left and right sides, then continue rolling upwards to make a spring roll – the tighter the better.
To deep fry, gently place spring rolls in oil, being careful to make sure they do not stick together at the beginning, remove once brown colour starts to form and outside skin has crispy bubbles. Let it rest on paper towel to absorb excess oil.
Serve with coriander, lettuce, sweet chilli sauce and lime.
Hot Tip:
You can find rice paper sheets at most oriental supermarkets and as well as local supermarkets.
We recommend using the standard size (larger) rice paper sheets, as they are much easier to roll and give extra crunch.