AMURI PASS
The Amuri Pass is one of the historic routes between the Canterbury and the West Coast. It was first walked by Europeans in 1861 and by 1863 stock were being driven over the pass from Canterbury to West Coast farms. As well as a walking track there is still a horse track over the pass today.
You may be wondering what the SSAANZ is in the title of this blog. Well, SSAANZ stands for Soldiers, Sailors and Airmen's Association of New Zealand, which is a community support organization started by ex-service people and staffed by veterans which is committed to improving the way serving and ex-service people interact, socialize and support each other through outdoor pursuits, adventurous activity and sporting endeavour. Their aim is to grow and foster support, friendship and Esprit De Corps of their respective units and the New Zealand Defence Force community as a whole, recognising their unique bond and rewards those who have served for their sacrifices.
I first found out about SSAANZ from one of its founders Dave Benfell, NZ Rod & Rifle's editor. Dave told me at its core SSAANZ is a 'thank you' to all who have been prepared to put themselves in harm's way for New Zealand. Who wouldn't want to be involved in supporting that, so I offered to supply Back Country Cuisine for their annual Southern Traverse, which we've been doing for the last five years. A couple of years ago Dave invited me to come along on the Southern Traverse, but I couldn't go, so when I got a second offer, I jumped at the chance to tag along.
The Trip Prep
I was a bit apprehensive about hiking with people who have spent countless hours training with +25kg packs as part of their military service, even if was many years ago – would I be able to keep up? John was our leader for the trip and I'm not sure Dave had told him I was coming until fairly late in the piece, but John took in his stride and included me in a series of excellent briefing emails (Check out his packing list and sage advice at the end of this blog). All the military jargon in John's emails didn't help my anxiety levels though! So, I upped my Wilderness Walk 1200 training and tagged along for a bit of my friends' GODZONE training. Keeping up, just, with Grant and Will for a half day 22km hike gave me a bit of confidence that I'd be okay. Now all I had to do was drive up to the Ahuriri Conservation area with my gear and the teams' Back Country Cuisine, stay the night and complete the drive to Lake Coleridge in my trusty old Ute.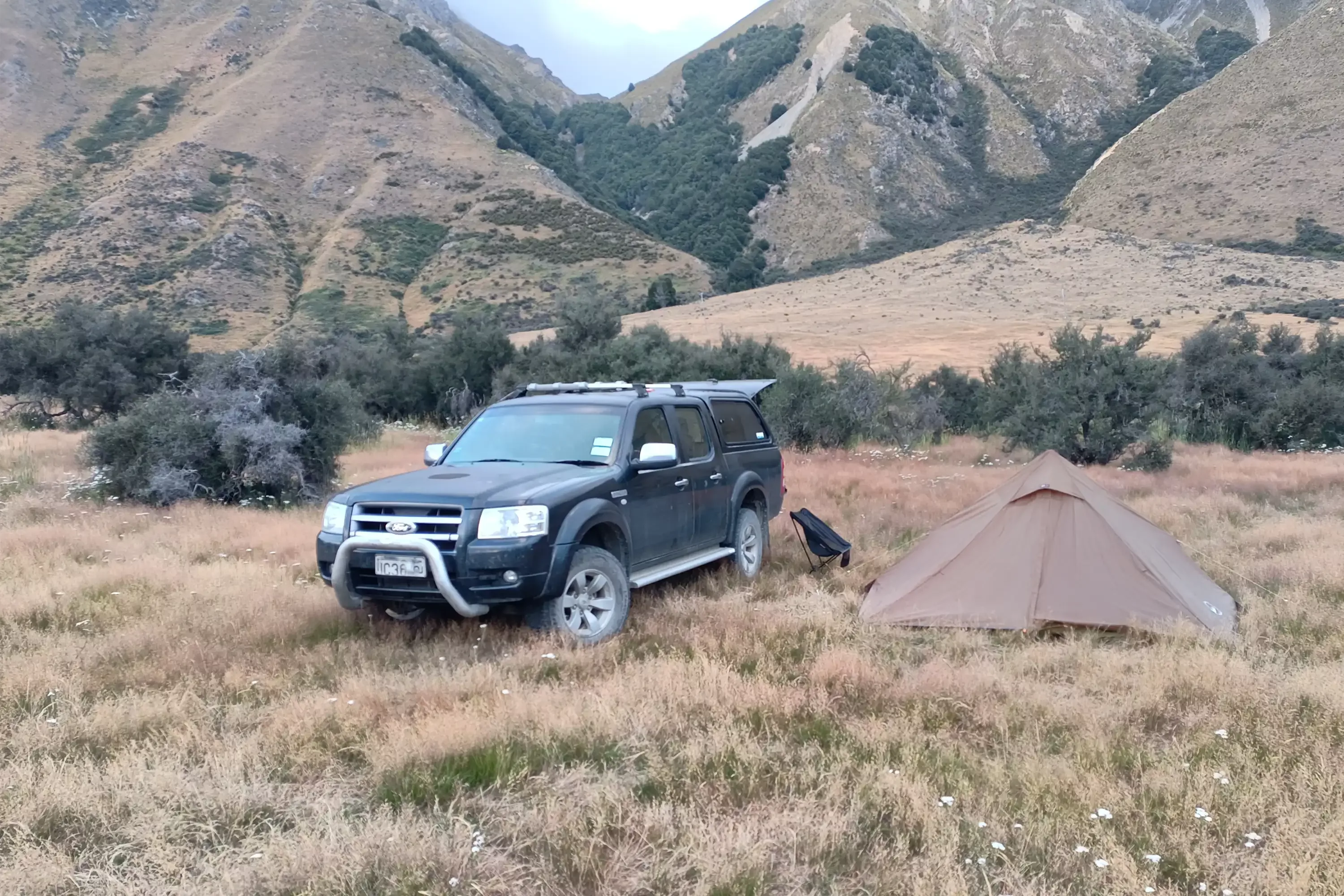 SSAANZ SOUTHERN TRAVERSE 2023: AMURI PASS TRIP REPORT BY MICHAEL (HOOKY) WALKER
The Southern Traverse this year brought together 15 personnel from across the Motu. From Auckland to Invercargill, Australia and everywhere in between, the team started to assemble Friday 10 the February at Lake Coleridge and were accommodated at the Powerhouse Lodge.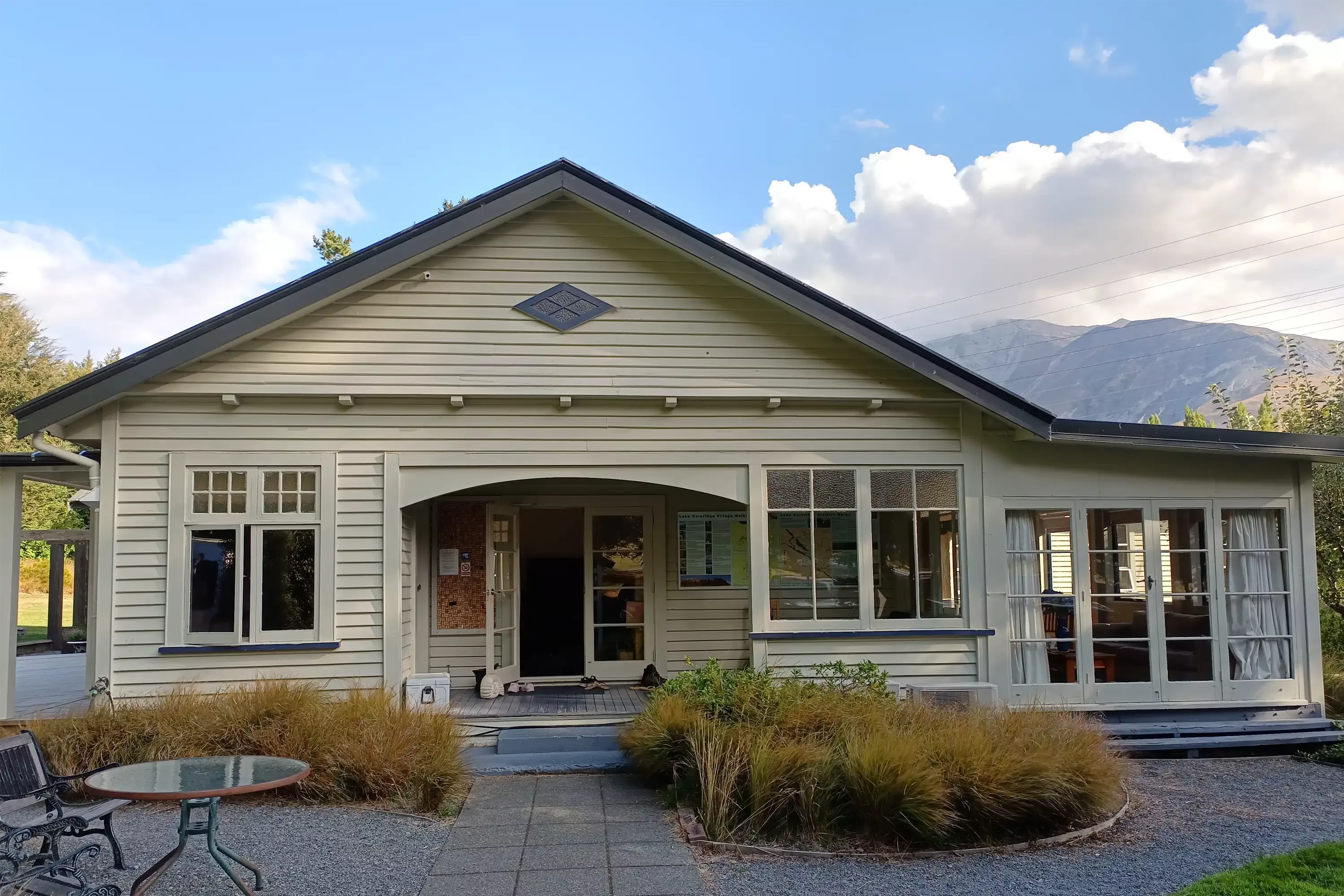 Friday evening saw the guitars come out, the team start to get to know each other and the mickey taking commence. Travis - our Royal Australian Navy veteran, turned out to be an amazing guitarist with a voice and repertoire to boot, the standard had been set. The team at the start line consisted of two of our supporters, current serving police, Royal NZ Air Force and current serving soldiers and Ex Royal Navy. As always whanau is always with us on our events with Mark's son Nathan and Chris's partner Renae part of the team.
Saturday the 11th saw the remainder of the team arrive with gear checks getting underway in earnest. Dave officially opened the traverse with some kind words and a lot of humour, introductions by team members and some serious discussion re safety, expectations, roles and responsibilities by the instructors. The coveted "Ouncehole" award this year went to Mark Passey with a pack weight of just over 12kg. With gear checks done and time on our hands, the hunters headed up river to check zero their rifles and the remainder heading to the swimming hole to socialise with the locals. Michael Han proved his shooting prowess by connecting with every shot out to 480m, again the standard had been set.
With everyone dialed in and relaxed we retired to the lodge to enjoy a cold beer, some dinner and more guitar sessions. With Cyclone Gabrielle baring down on the North Island, the leadership team assembled for one last look at every website dedicated to weather forecasting. Thankfully and with supporting data, the decision was made to green light the traverse 2023. With full bellies and excitement at a peak we retired to bed, excited for the following days trip to our drop off point on the West Coast.
Day 1
Sunday 12th dawned clear and following a quick breakfast and brief the team gripped up equipment that would be transported to Hanmer Springs in 6 days' time and started to load the bus with their packs. The bus and our Driver Sgt Stuart Whitehouse (Whare) were kindly supplied by 2/1 Battalion Burnham. The journey got underway to Arthurs Pass pie shop were the team carbo loaded (an excuse to eat crap food) before getting back on the bus for our final run into Waititi Station and our start point.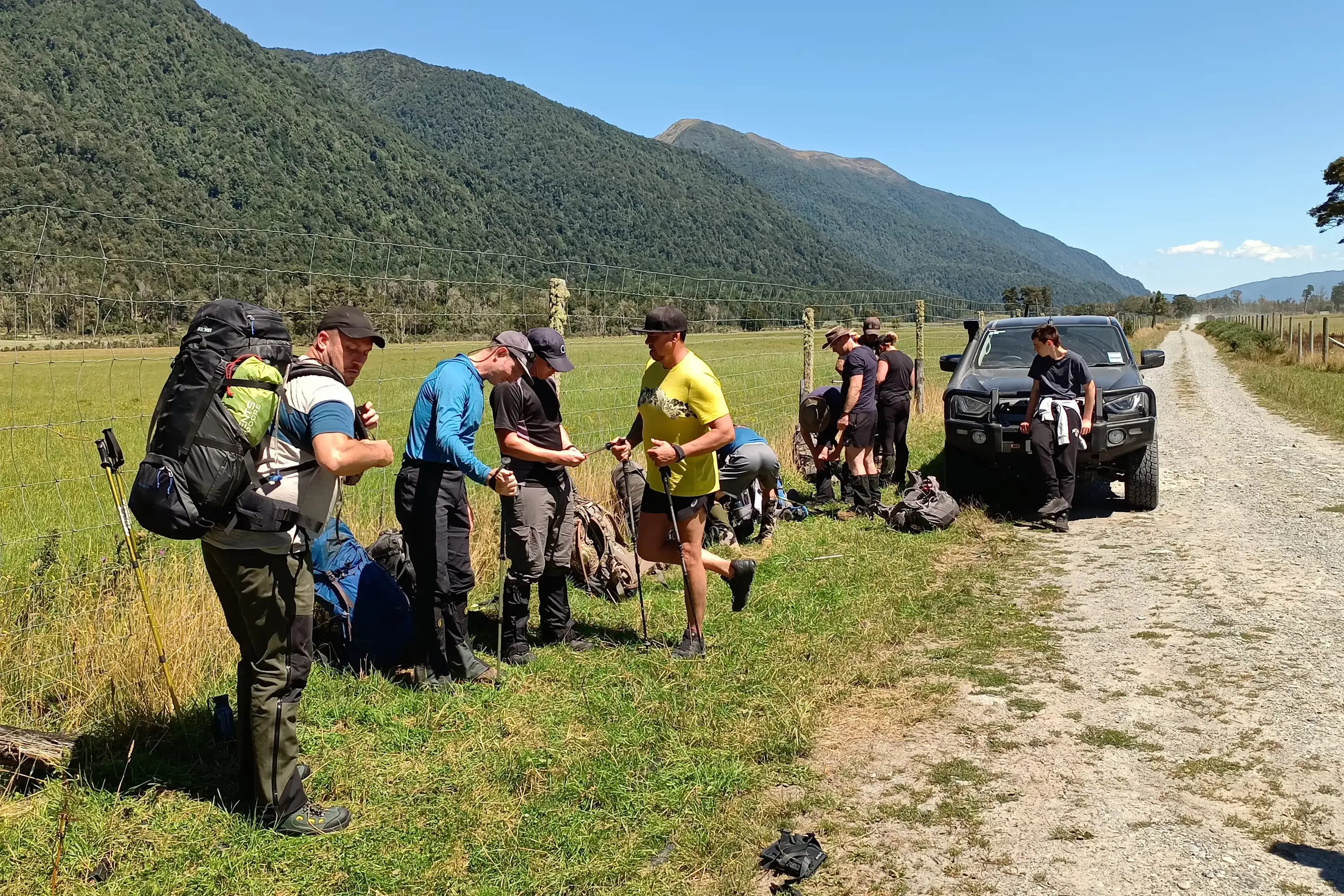 Our arrival at the drop off point was hectic, with a helicopter dropping in and picking up hunters the entire time we were there. This presented an opportunity to have a korero with one hunting party re the area they had hunted and how many animals they had seen. The feedback was promising with the group having just come out of the Amuri Pass region having seen plenty of animals and shot a couple of representative Red Stags. The trip up the valley could not have got underway any sooner. Following a final brief by our traverse I/C John Harris and a Karakia asking to imbue our traverse members with courage and protection we stepped off.
Our direction of travel was up the Waiheke River to the Tutaekuri River crossing and onward to Slaty Hut, the distance for the day was 12km as a crow flies however we had the option to camp along the river at any time the team needed a break. Our first issue for the team came 30min up the river at the Tutaekuri River crossing. Keighlib let us know he had a problem, both of his boot soles had separated from the main boot! Some quick thinking and MacGyver like skills saw him under way although only briefly before the soles separated again. Donning his back up pair of footwear the team was underway.
The trip up river was beautiful, with stunning weather and scenery, trout being sited at river crossings and the team getting their trail rhythm sorted, by the time we made it into Slatey Hut the group was on cloud nine. With shelters erected, water bottles filled and kai on the go, sleep came easy to those who turned in.
Keighlib and John however stayed up fixing his boots by effectively drilling holes through the rubber sole and lashing/taping the soles back in place. This repair would go on to allow Keighlib to finish the traverse and also allow him to have an amazing story to share by the end. A take away for me was how Keighlib saw this situation as an opportunity to adapt and overcome and also seeing this situation as an indication he needed to slow down in his life.
Day 2
Monday 13th dawned a cracker and with everyone up and ready to go we set out for Driftwood Camp a mere 5km up stream but by no means a walk in the park. The river track is not actually a recognised or maintained DOC track. The lead walkers had to work hard to keep us on trail with lots of up down left right adjustments, that being said we found our way into camp just after lunch time and set about erecting shelters and getting kai on the go.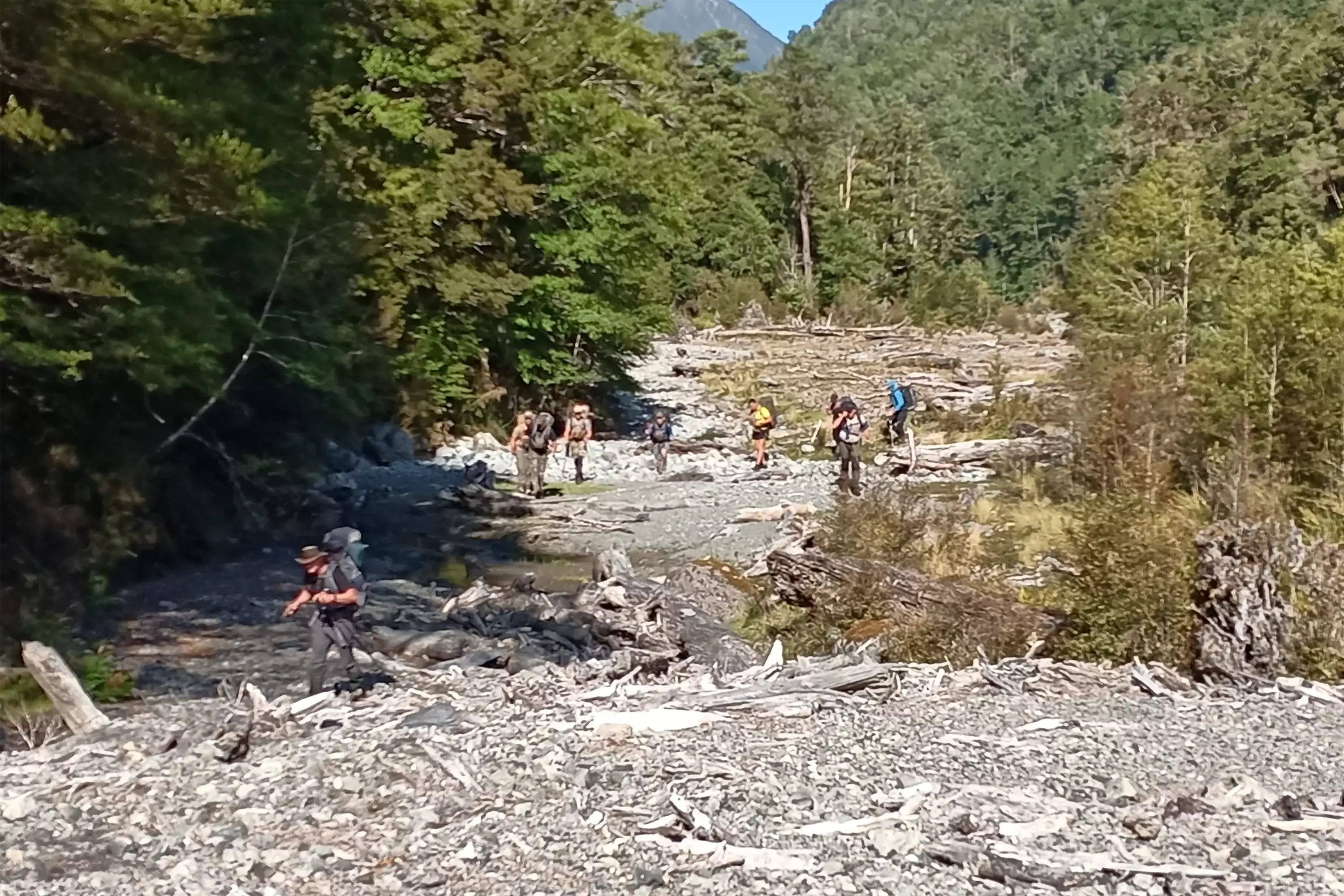 The hunting group lead by our Trustee Chris Morris set out to explore the tops and hopefully secure some fresh venison. Chris, Tim, Nathan, Michael and Keighlib set out just after lunch to return just before dark having had an amazing experience. The group had made their way up river a couple of kilometres before turning their sites on the tops and an opportunity to see some animals. In no time the team had spotted a fine red stag and the group split to allow a stalk to be initiated. Radios allowed Chris the opportunity to stay in touch with stalking party. Tim and Keighlib made the final push on the animal only to have the light fail and the animal not present a humane shot. The correct but difficult decision was made to withdraw from the tops and return in the morning hopefully with the animal still in the same area and presenting a shot. The group returned to camp excited and full of stories as they debriefed the afternoons events. Tim and Keighlib decided to get away at a sparrows fart and make their climb up the Amuri pass ahead of the main group. Radio contact with the hunters ensured we would not disturb any animals they were stalking. Turns out it would work a treat.
Day 3
Tuesday 14th dawned with light drizzle and as expected with Cyclone Gabrielle smashing the North Island our weather for the day was not to improve much. Regardless we awoke to find the boys on the trail and headed to the tops in pursuit of a stag or two. Breakfast consumed and packs shouldered we hit the trail anxious that today would be the crux of the traverse for the team, the Amuri pass at 996m although not the highest pass, makes you work for every meter. A couple of the team had picked up niggling injuries which slowed their progress up the bush clad approach to the pass however respect where respect is due, they never once complained and got on with the task at hand. The beautiful thing about bringing veterans together is their willingness to support each other both emotionally and physically when required, offers to lighten loads and carry equipment was graciously declined, the mongrel coming out and pushing through the pain, the order of the day. A couple of hundred meters shy of the pass we encountered the main group holding on the track having a brew and some lunch. John was in touch with Keighlib and Tim and it turns out they were stalking a wonderful animal high above us, apparently the same stag as the night before, the decision to turn around the evening before had paid dividends. We waited anxiously for some time before the quiet was shattered by the sound of a shot high above us. The boys had got their animal! The radio crackled to life with Tim explaining they had indeed dropped their stag only to have an even larger animal 14-16 pointer erupt from a gully and run high. The chase was on for stag number two. Not wanting to spook the animal by breaking cover at the pass, John kept us on the track in the bush until we heard otherwise from the hunters. Another cuppa tea and some muesli bars later we got the call the big boy had slipped away, (they don't get big by being stupid). Onward to the Amuri Pass. We crested the pass with high winds and a steady drizzle falling, not to be deterred we took the obligatory photos and made our way down into the east coast and the Doubtful river valley.
Past Phantom flat and crossing the doubtful river we arrived at the Doubtless hut and a hot cup of tea. The team had broken the back of the traverse and it showed, spirits were high and the piss taking in fine form, tents up, brew on we now awaited the safe arrival of our hunting group all eager to hear their account of the days successful hunt.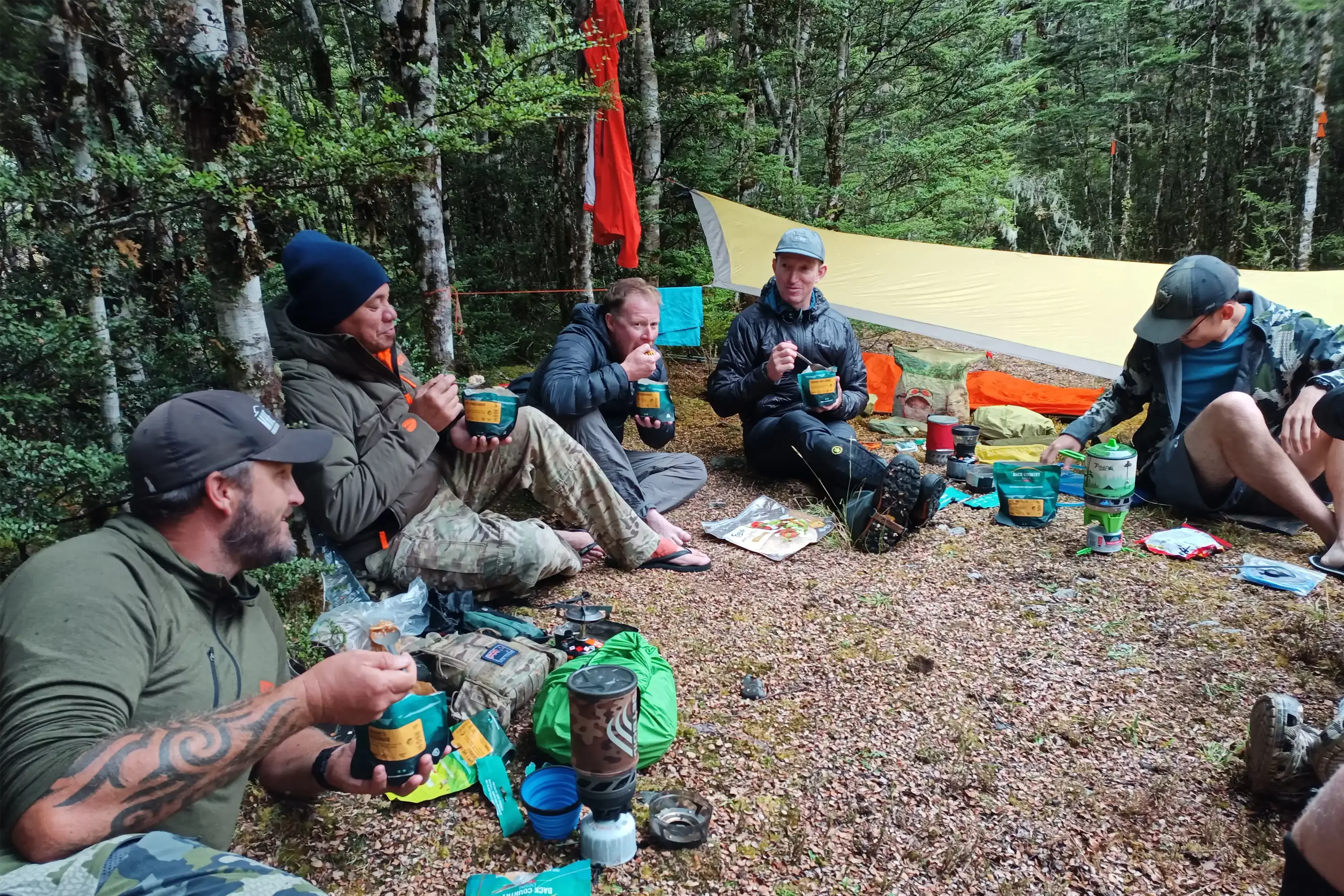 We didn't have to wait long with Tim and Keighlib arriving in camp all smiles and a beautiful set of antlers (more importantly packs full of meat!) to show for their efforts. Their plan, the day and their results all spoke for themselves, it was a couple of happy but exhausted hunters that fell into bed that night but not before Tim prepared some venison jerky over the fire for tomorrows sustenance (by the way it was beautiful).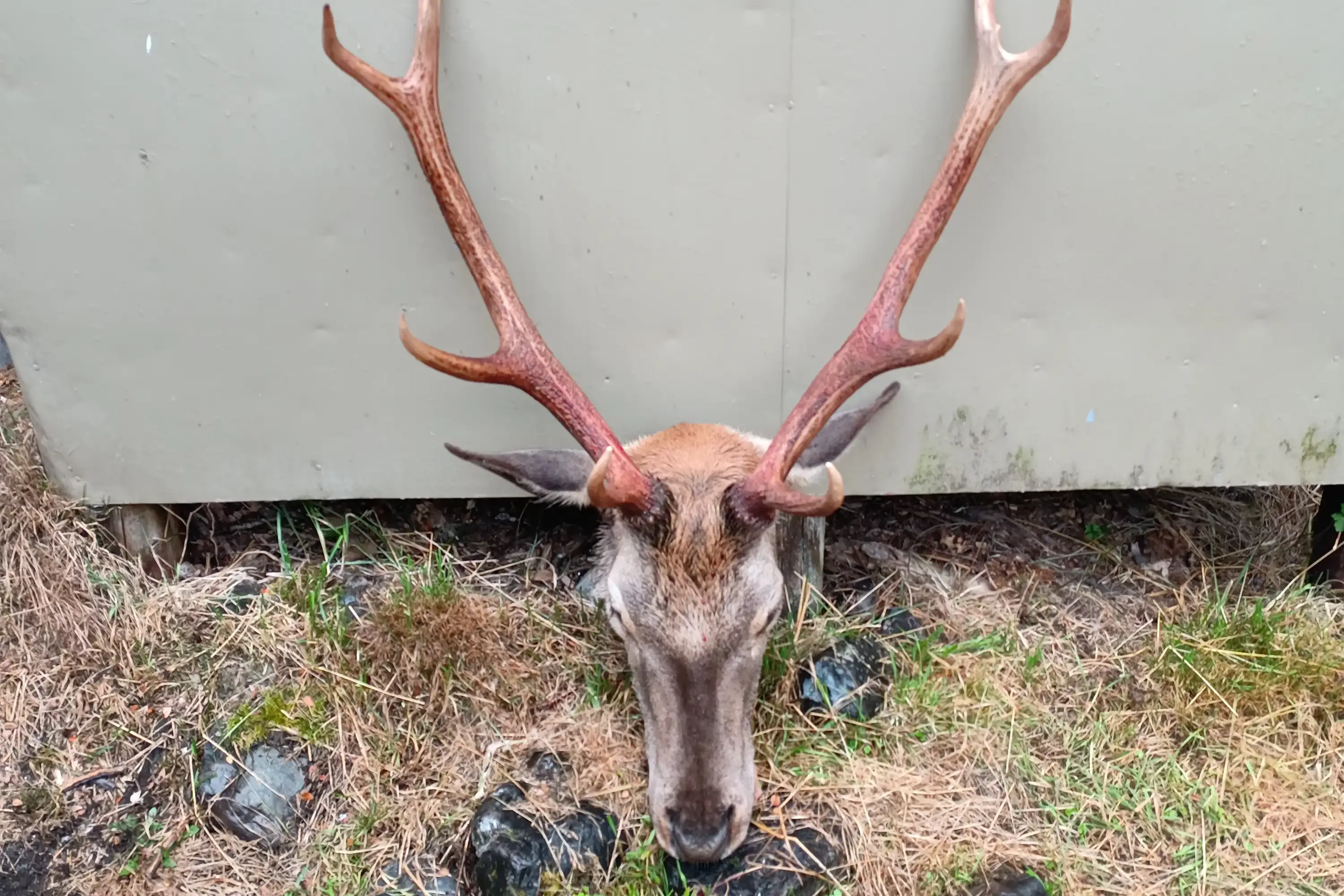 Day 4

Wednesday 15th dawned clear and with breakfast (fried kidney and venison for some) and brews on board we settled into our rest day at the Doubtless Hut.
Tim and Keighlib plus Mark and Tony all planned to head up to the Lake Man Bivouac some 1200m above us with Tim and Keighlib staying the night to hunt and Mark and Tony day tripping back to Doubtless Hut.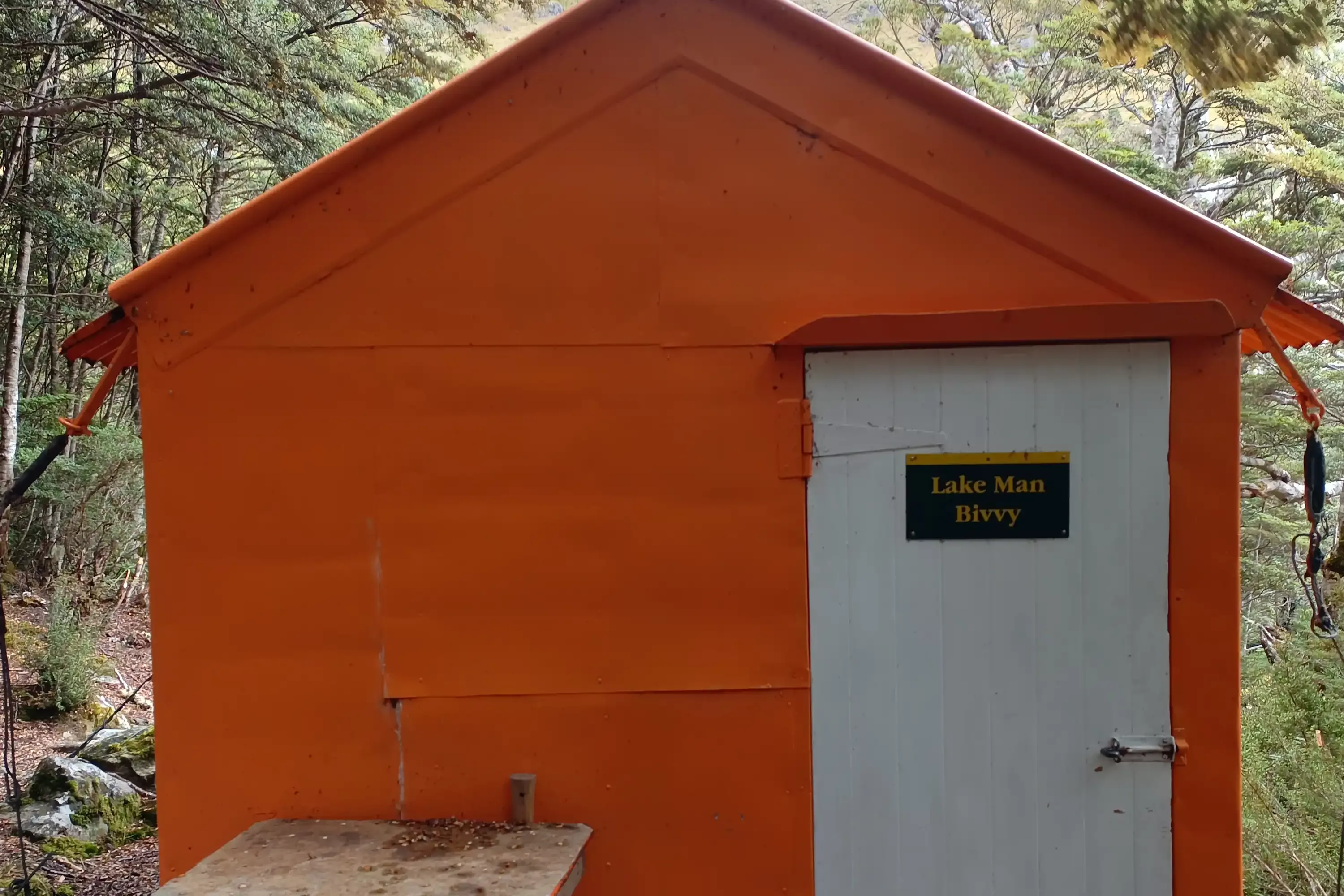 Chris and his partner Renae also decided to break away in the morning and head to the tops in search of a deer, their efforts were well rewarded with stunning views after a big climb through the monkey scrub and Chris dispatching a beautiful young red stag spiker for meat. Renae showed herself to be an absolute machine, eating up the altitude and the carry of meat back into camp. With the rest of the team kicking back in camp and mowing through the cups of tea, life could not have been better when we were reunited with Tony and Mark, Chris and Renae and more beautiful meat for the fire.
Day 5
Thursday 16 th saw us break camp and say goodbye to the Doubtless Hut, after a thorough clean up and double check no gear had been left behind, we set off for the Doubtful hut and a reunion with Tim and Keighlib. Radio comms had been scratchy but we knew they had been successful with their hunt so it was with this reunion in mind, that hit the trail. The distance down river was approx. 5km and the track an absolute delight to traverse, hats off to DOC for their efforts maintaining this asset. There was extensive predator control (traps) in situ along the track and the team cleared a number of dead possums from the head hold traps, resetting them in the process. It was nice to know the team in our own small way was helping with conservation efforts along the Doubtful River Valley.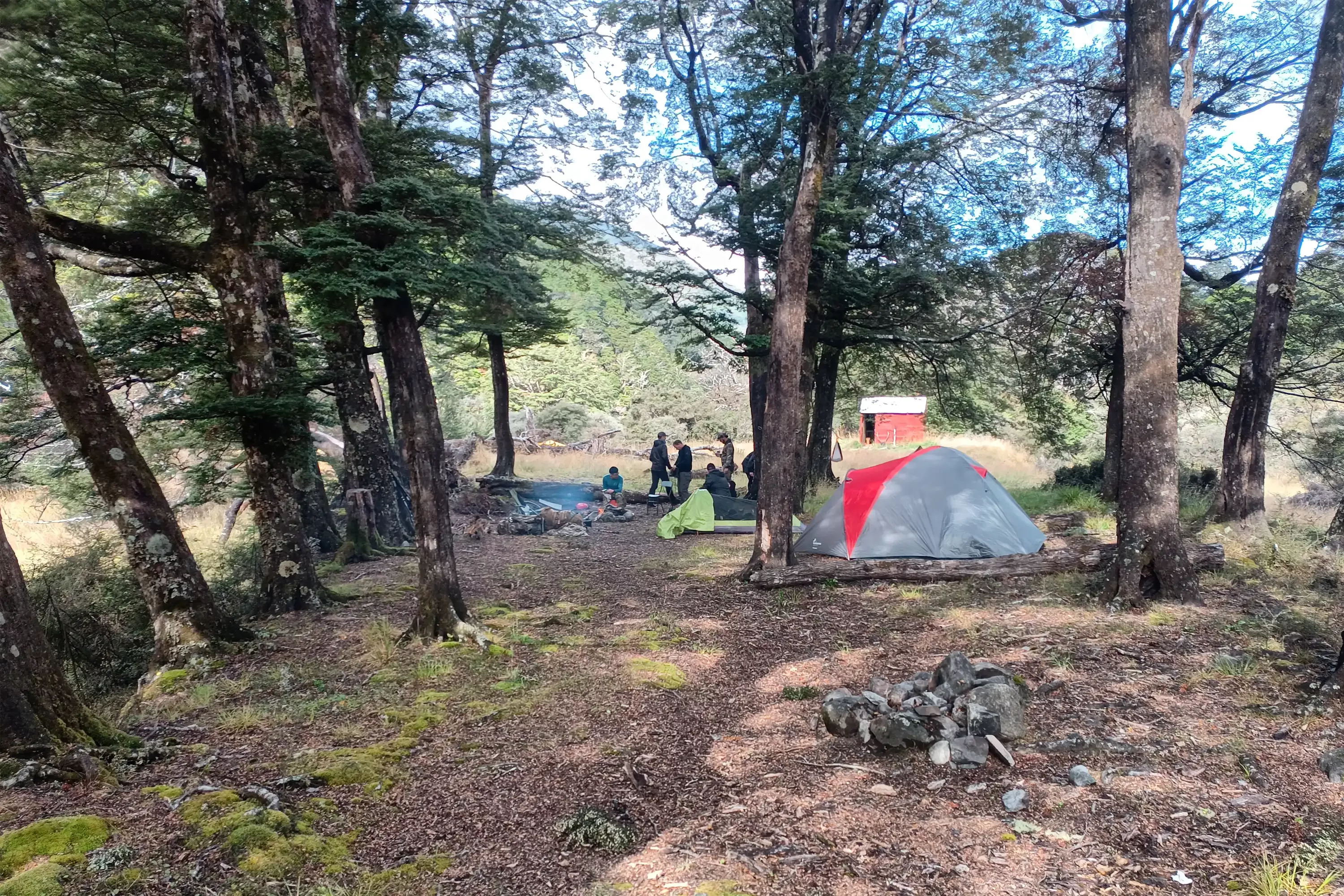 Arriving in camp just after lunch Tony set about establishing a fire pit fit enough to feed a king and his army. With appropriate flat stones positioned to cook on once hot, we keenly awaited the arrival of our hunting group. In no time Tim and Keighlib arrived with tails of securing 2 more red spikers for the fire, they were elated with their efforts but more importantly elated with their stay at Lake Man Bivouac. The hut, scenery and hunt absolutely recharged their wairua (spirit) and this feeling goes to the heart of why the charity (SSAANZ) exists. Chris and Renae set out again for a hunt down river with Michael setting off up river to hunt also. Michael was targeting a flock of Canada Geese that flew over camp with the hope of securing one for the pot. Chris and Renae returned not long after setting out with another red deer yearling in great condition, Michael unfortunately lucked out having got a shot away but not connecting. This miss ignited the fire in Michael and the following day he would be rewarded for his perseverance. That evening with the whole team in camp, we sat around the fire into the wee small hours with John Harris doing an amazing job cooking venison back steaks on the hot rocks. A little bit of butter, some of Tim's Kawakawa rub and salt on the meat and life couldn't be any better. This evening was definitely a highlight of the traverse for me personally.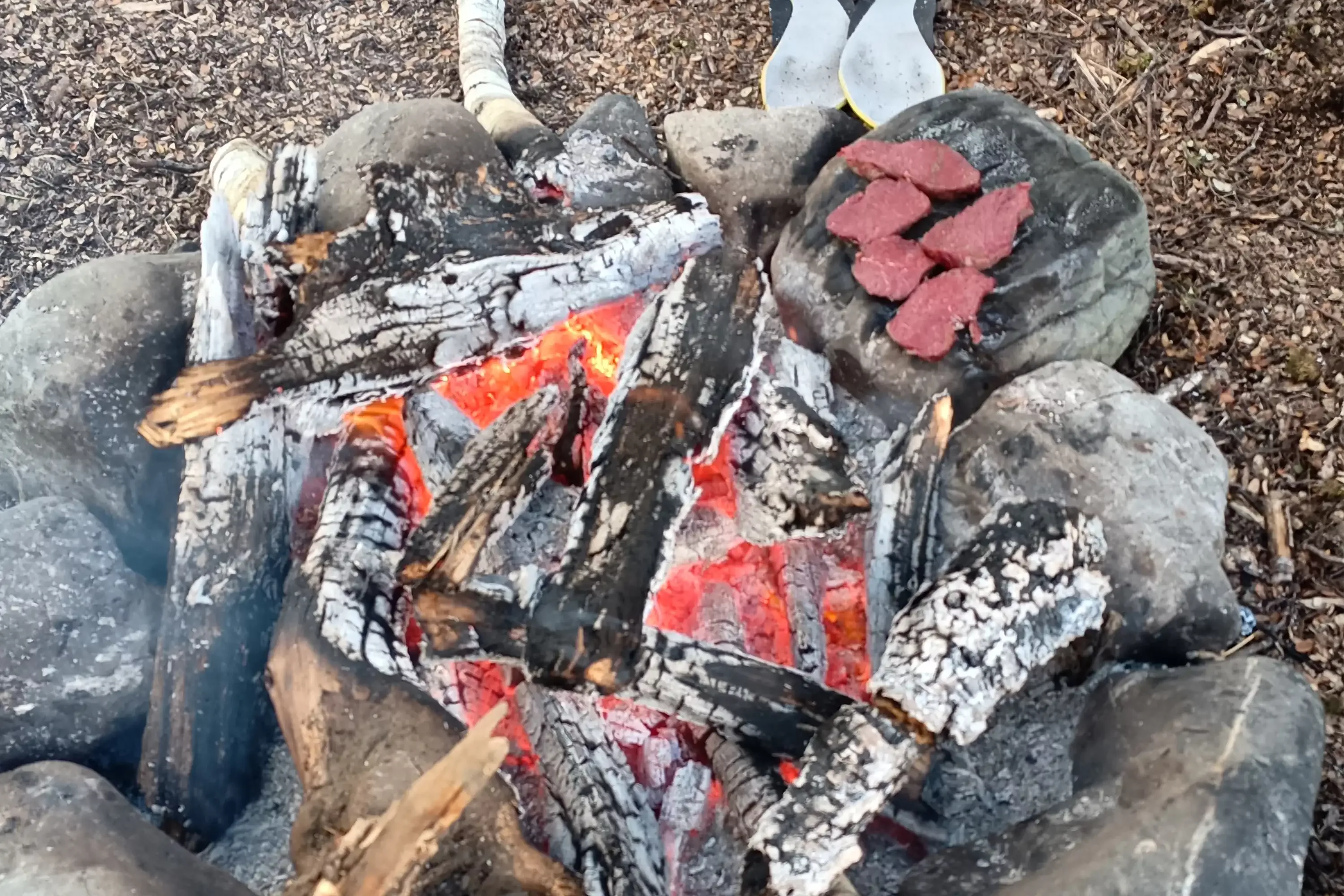 With full bellies and recharged souls, we individually broke away from the fire and turned in, each of us not wanting the day or the traverse to end. Today was also Chris's birthday- I couldn't think of a better way to celebrate turning 60 for him. Happy birthday koro.
Day 6
Friday 17th saw me being thankful for spending 50 years on the third rock from the sun. I couldn't think of a better way to celebrate this milestone. Keighlib and Michael had gotten away early to hunt their way to the pickup point, the remainder of the team a couple of hours behind them. Again, the distance to our pick up point was 6km as a crow flies and undertaken on formed DOC track and river bed. Although the mood was good our hearts were heavy, we knew our time together was coming to an end, I personally felt myself dragging my heals, trying to lengthen my time in the mountains with this wonderful group of human beings.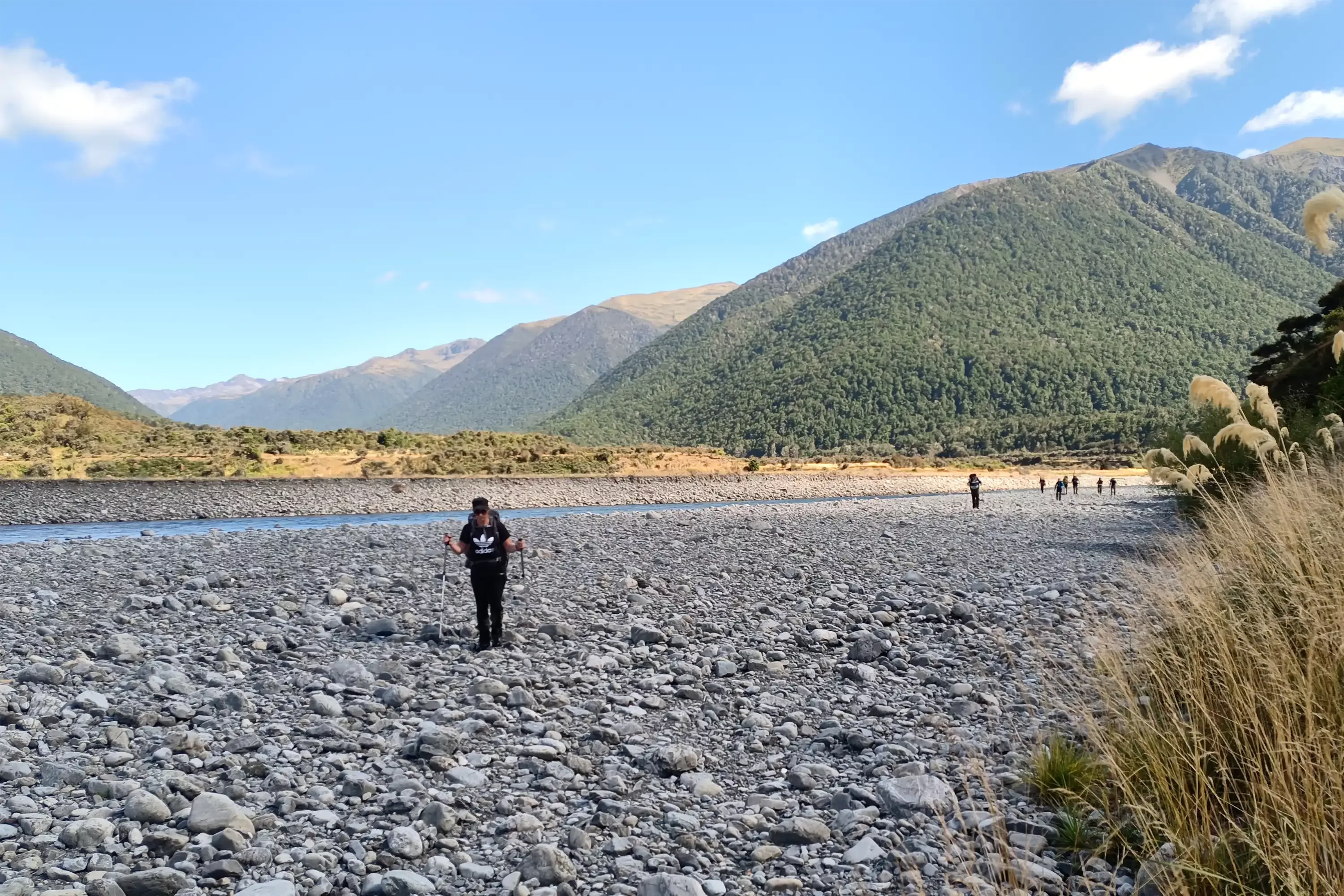 Crossing the Boyle River and making our way to the Lewis Pass Highway, we were greeted by Keighlib and Michael who had a smile as wide as the Nile, he had secured a couple of Canada Geese and was looking to cook them up for the team on our return to lake Coleridge. For Michael these geese represented his ability to provide for his tribe (that tribe being us). This ability to provide for your whanau by hunting and gathering is a mana enhancing pursuit and readily available to us as New Zealanders, being of Chinese descent Michael represents living proof mana enhancement occurs regardless of race religion or creed. Well done brother. Whare was early at the pickup point as 15 weary souls embarked on our short trip to Hanmer Springs and our accommodation. My Jo was waiting for us as we entered the town and lead us into the Pine Valley Cabins and a warm shower. With the sun shining, we took advantage to dry out our shelters and sort equipment. That done a debrief beer and pizzas closed out the field component of the Southern Traverse 2023.
Little did I know, there was a surprise 50th birthday party for me in Hanmer with friends and whanau coming from far and wide to celebrate. It was doubly special to have my new traverse whanau with us to celebrate the day with me. Tired but elated, sleep came easy February 17th . February 18th saw us enjoy our final team breakfast in Hanmer before bidding farewell to the two Marks, Tim, Keighlib and Nathan who would not be returning to Coleridge with us on the bus. Mid-afternoon saw the splintered team arrive back in Coleridge and the Powerhouse Lodge. Tony headed to the river for a fish and secured a lovely Rakaia rainbow trout for tea, the remainder hung about the lodge and drank tea and coffee. Michael got the goose on the cooker and within 4 mins there was nothing left to speak of, the juice being mopped up by the team with bread! Travis got on the guitar and it seemed a fitting way to finish the traverse, beautiful music, surrounded by beautiful people in a beautiful location.
Until next year,
Hooky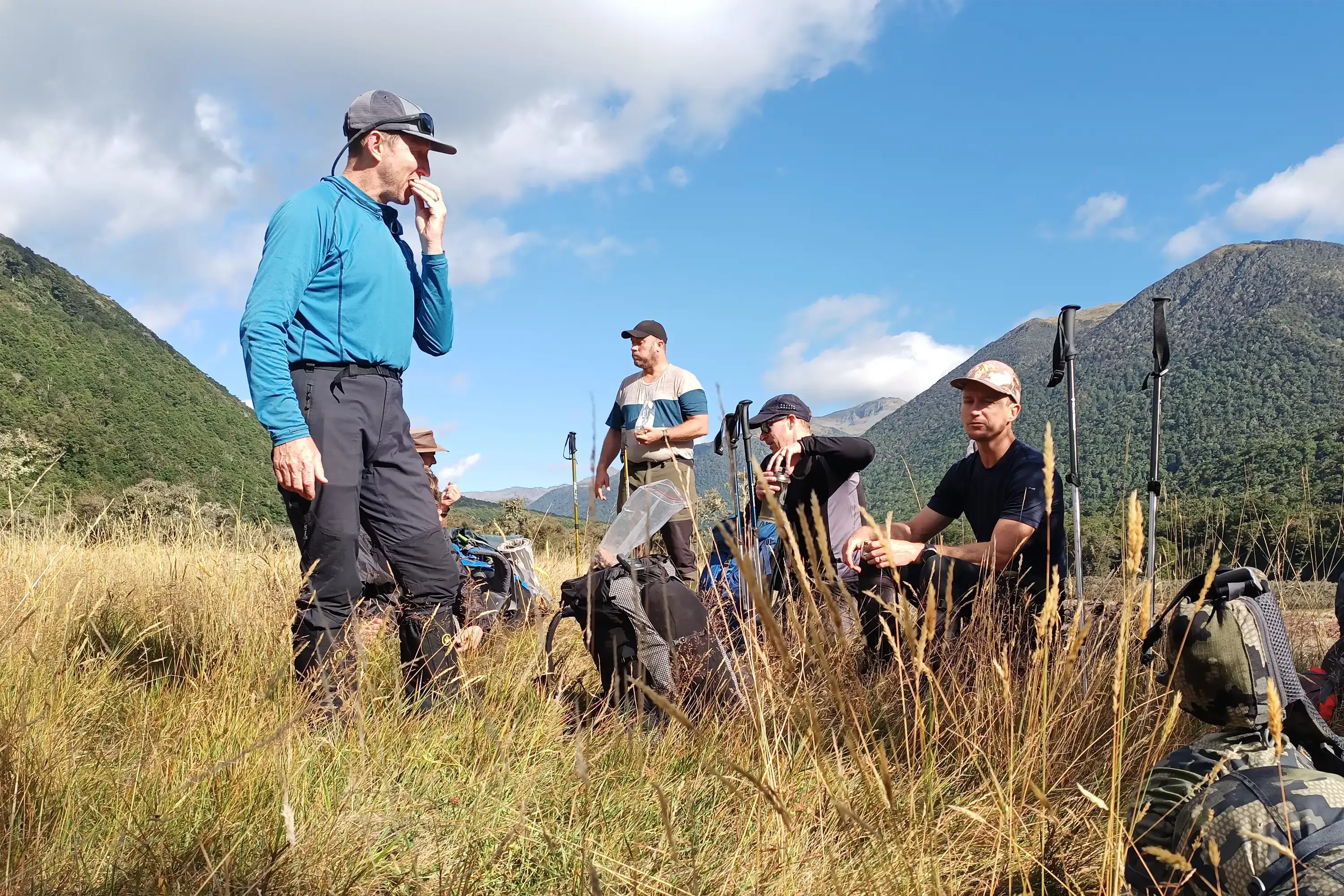 John's Southern Traverse Packing List
CLOTHING
Base layer 'Next to skin':
• Socks,
• Merino shirt - short or long sleeve. Please no cotton,
• Shorts / hiking trousers,
• Hat,
• Sunglasses.
Mid layer 'Insulation':
• Polar fleece / Marino jacket,
• Softshell / lightweight wind proof jacket.
Outer layer 'Shell':
• Wet weather jacket,
• Wet weather pants,
• Gloves windproof.
• Gaiters 'optional.'
Here's some handy hints on layering. Spare. I tend to keep this in my sleeping bag and will change into this if I'm wet.
Stored in a dry bag:
• Thermal pants & shirt,
• Down / synthetic jacket. Can be used as an extra insulation layer when you're static or worn around camp at night,
• Spare socks,
• Ear plugs. I'll bring some Army issue grade 5 ear plugs along as I think we'll need them.
FOOTWARE
• Boots either leather / synthetic mix.
EQUIPMENT
• Pack 60-75l, with a pack liner,
• Sleeping bag - minimum three season,
• Sleeping mat,
• Cooking system. If you don't have one them team will be happily share,
• Water bottle / bladder - I tend to carry a 2 litre bladder and an a extra collapsible bottle for at camp,
• Personal first aid with any personal medication. Dave and I will carry a group first aid kit as well,
• Head lamp with spare batteries,
• Toiletries including insect repellent,
• Sunscreen / lip balm is a must on those exposed river beds of the Canterbury High Country,
• Walking poles 'Optional but advisable' Hiking pole tips click here,
• Lightweight shelter. If you don't have one don't worry. Between us all, there will be plenty of shelter to get us all out of the elements.
Here's a handy checklist from DOC that may be of assistance to you during your preparation. Here's one from MSC too.
Hey team, I'll leave it there for now. If there was one tip I could give you it would be, "Don't pack for your fears."