TIME: 4.5 hours one way
DISTANCE: 12.81km one way
LEVEL: Experienced
WHY LAKE ANGELUS HUT?
What do you look for when looking for a hike or a mountain to conquer? Does it need to have trees, steep sections, flat sections, gravel road, off-road, bush bashing, lakes or huts? My go-to combination is a beautiful hut with a side of tarns. That's the ultimate combo in my opinion and if you think the same, keep reading!
TRY THE ROBERT RIDGE ROUTE
Nelson Lakes National Park is in the South Island of New Zealand, at the northern end of the Southern Alps and it has been hiding a treat, and that treat is called Angelus Hut. There are a few different routes you can take to get here but the track I went with was the Robert Ridge to Lake Angelus Hut Route.
I wanted to be on the ridge the whole time and take in as much of the scenery from height as I could. It's a personal preference but for me I'd rather do the hard grind right off the bat and then endure the slow and steady incline rather than a flat path finishing in a steep ascend. I'm a hard and fast hiker so on the long tramps I really have to pace myself. So let me be the one to tell you, PACE YOURSELF. Take in the views, take breaks, explore the huts along the way and truly experience the journey because it is just as good as the destination.
The Robert Route to Lake Angelus Hut path starts with a leg burner, gaining elevation quickly with every calf-crushing step. So be prepared to wipe those beads of sweat dripping down the brow - unless you are one of those people that are lucky enough to not sweat.
I'm not one of those people. So, with sweaty backs, brows and bodies we slowly but steadily made our way up the steepest section of our journey, trying to distract ourselves from how heavy our bags were with a mind game of hangman. Yes, I said hangman. Let me tell you, it's way harder playing when you have to keep all the letters you've said in your head rather than on paper. But working the mind muscles while we were working the body muscles made the time pass a little quicker and if you need a new hiking game. Give it a go.
TIP: It's not too bad to keep track of things when you pick words that are 5 letters or less.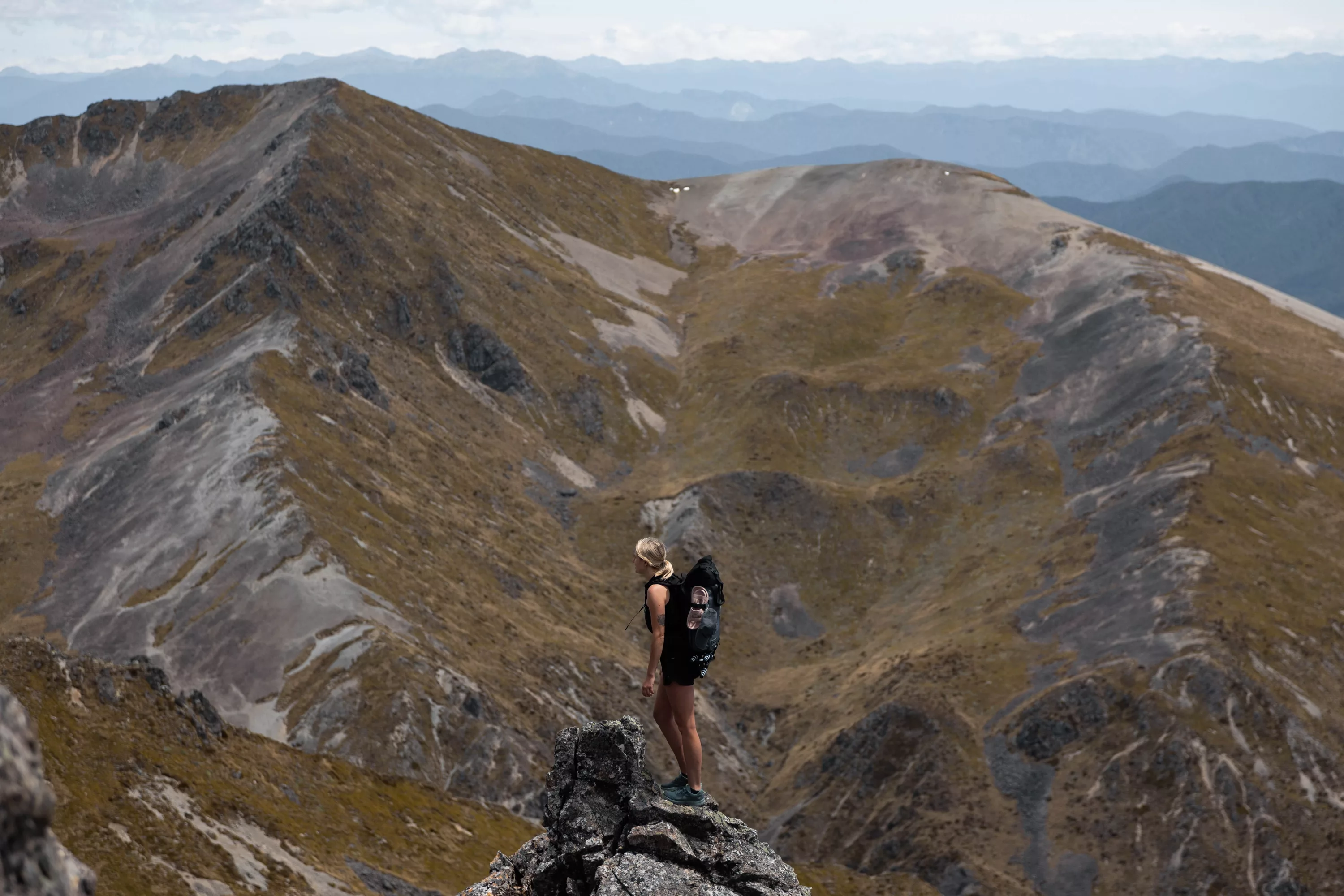 TIME TO RELAX, AT RELAX SHELTER
After the steepest part of your hike, you have a chance to relax for a mini break at the Relax Shelter and soak in some history of the area and mountain itself which is quite interesting. But seriously though, when you get there RELAX, your little tired legs will need it for the rest of the journey.
This is a super popular hike, especially the Robert Ridge Route, but it's important to note this is a summer route as it is quite exposed in areas and you would need proper training to attempt this in winter. But because it is the best summer route to take, you'll see a few other hikers along the way but anyone who is game enough to attempt this stunning hike is worthy of its path.
From the Relax Hut it is a pretty easy-going trail but long trail with a wide-open area and because of the wide path it is quite exposed so plan your lunch breaks. We stopped for lunch about halfway through and had to duck behind some big boulders to get some coverage from the raging wind. People with long hair can relate when I say, trying to eat while your hair is slapping you in the face and getting a piece of hair with every bite may be the most annoying thing on the planet. So, find some shelter and eat your lunch in peace, because no one likes being hangry.
The weather in the mountains is unpredictable, and if you hike you already know this, but if you don't then always be prepared and bring appropriate clothing for all conditions on exposed ridges like this. It may be summer but I can feel like winter within seconds. Also, wind chill can make it feel like winter and it can be brutal. The only time I've ever bailed on a hike before was because it was 80-100k winds and I had to crouch down to avoid LITERALLY getting blown over but this is a story for another time.
HALFWAY TO ANGELUS HUT
After lunch it's a warming feeling to know we are halfway to Lake Angelus Hut but also kind of daunting to think that what we have already done, we have to do again. Luckily this really is the easy end of the hike. There still are some exposed sections, a little bit of scrambling and some uneasy rock underfoot but the orange markers along the trail will really be your saving grace. They are placed perfectly that it would be near impossible to lose your way. So, keep those eyes peeled.
How do you feel about false peaks? Because I have strong feelings of hate towards them, so here's me warning you: There are false hills and you will think Angelus Hut is over the next one about 4 times, so you can't say I didn't warn you. Try to enjoy the journey as much as the destination and you'll never be falsely deceived by these misleading peaks that will crush your soul just a little.
To help distract the mind the 360-degree views of epic scenery and occasional crystal blue tarns will feed your eyes and your soul for long enough to get you through. Once you pass the route leading off to the right heading towards Speargrass hut you are getting close.
Make sure you have a route mapped out on topo map or on your phone because you always want to make sure you are on track. There's a sign that says 30 mins to Lake Angelus Hut but honestly, 90% of it is downhill so it's a sight for sore eyes and it's more like 15 mins than 30.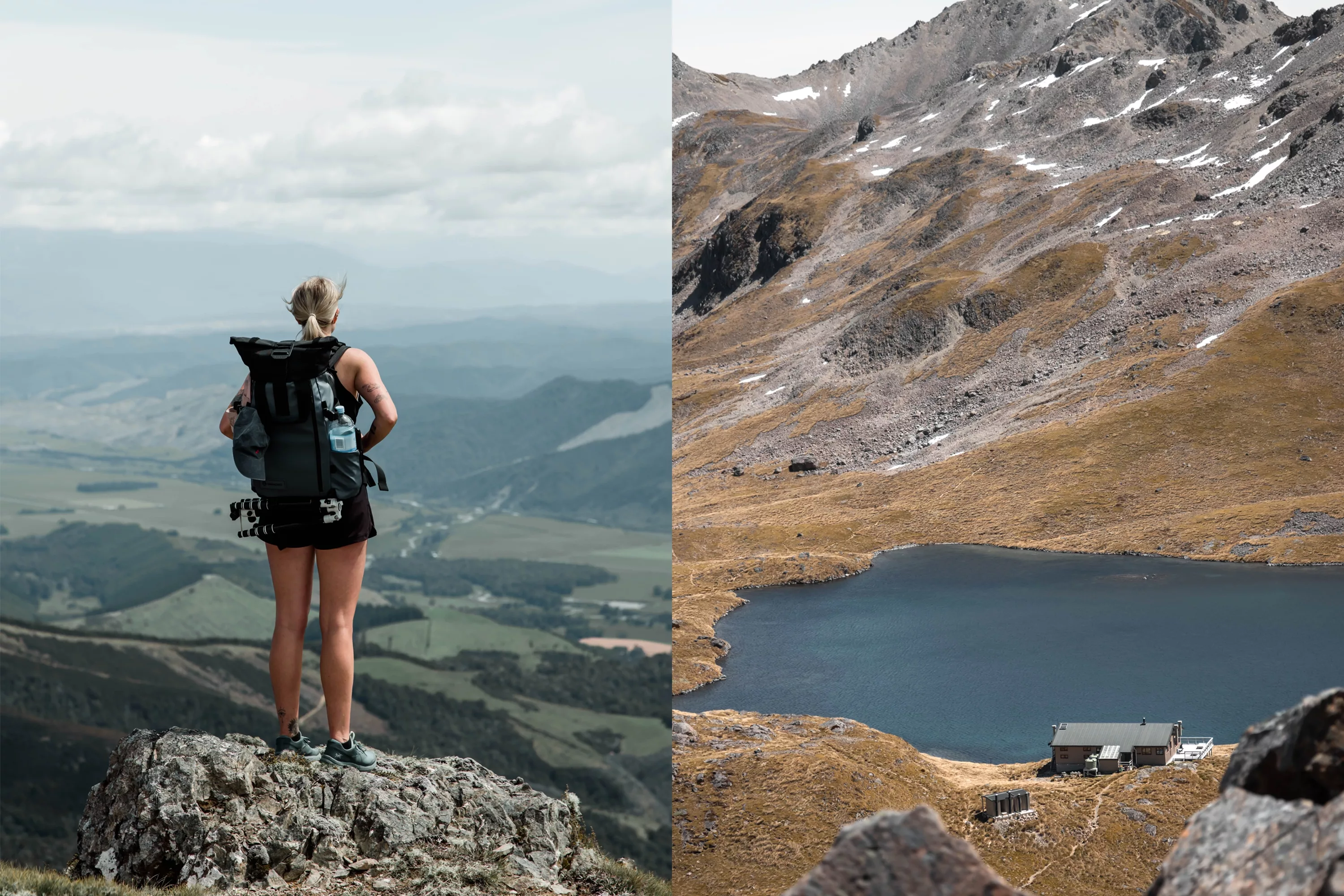 SEEING LAKE ANGELUS HUT
I don't think there is a better feeling in the world than seeing a hut after you've been walking for hours. That moment of relief is just pure joy. It was a pretty full hut when we arrived but it is a paid hut so you know you'll have a comfy space (anything is comfy when you've walked 12km to get there) waiting for you. I'm glad we set off early because it was nice knowing we had a bit of time before sunset to chill out and, of course being a photographer, obviously leaving enough time to go gallivanting out in the mountains. So knowing I had a few hours before golden hour just to chill really gave me the second wind I needed. Also, plenty of time to feed the belly because again, no one likes being hangry.
We took off our shoes and boiled up some water to dig into our Back Country Meals as my stomach was growling. Mushroom Bolognaise hits different when you've worked for it, knowing I'll also dig into my Back Country Brownie after my sunset mission.
If you have the energy I really recommend going for a little exploration around the tarns and even up to Angelus Peak if you are game. If another 7km return sounds like a nightmare to you, stick to the couple of hundred meters to visit the Hinapouri Tarns from above and if you genuinely feel that the hut is the most you can do in one day, don't be disappointed because it's so incredibly beautiful at the hut you don't need to go anywhere to get the best seat in the house when the sun starts to set. So, get in early and just enjoy the whole time there because it's a tough hike and this view is your reward.
We ventured out across the valley to the Hinapouri tarns from above and it did not disappoint. I spent a few years in Canada and this whole place gives you north American big mountain vibes and I LOVED IT! I decided this was the best spot to witness the sun say goodbye one last time, because I knew in the morning I would spend it around the tarns right outside the hut. I captured a few photos here and then headed back to the warm hut to dig into some much-needed sugar, wine and card games. (Wine is a must on all overnight hikes)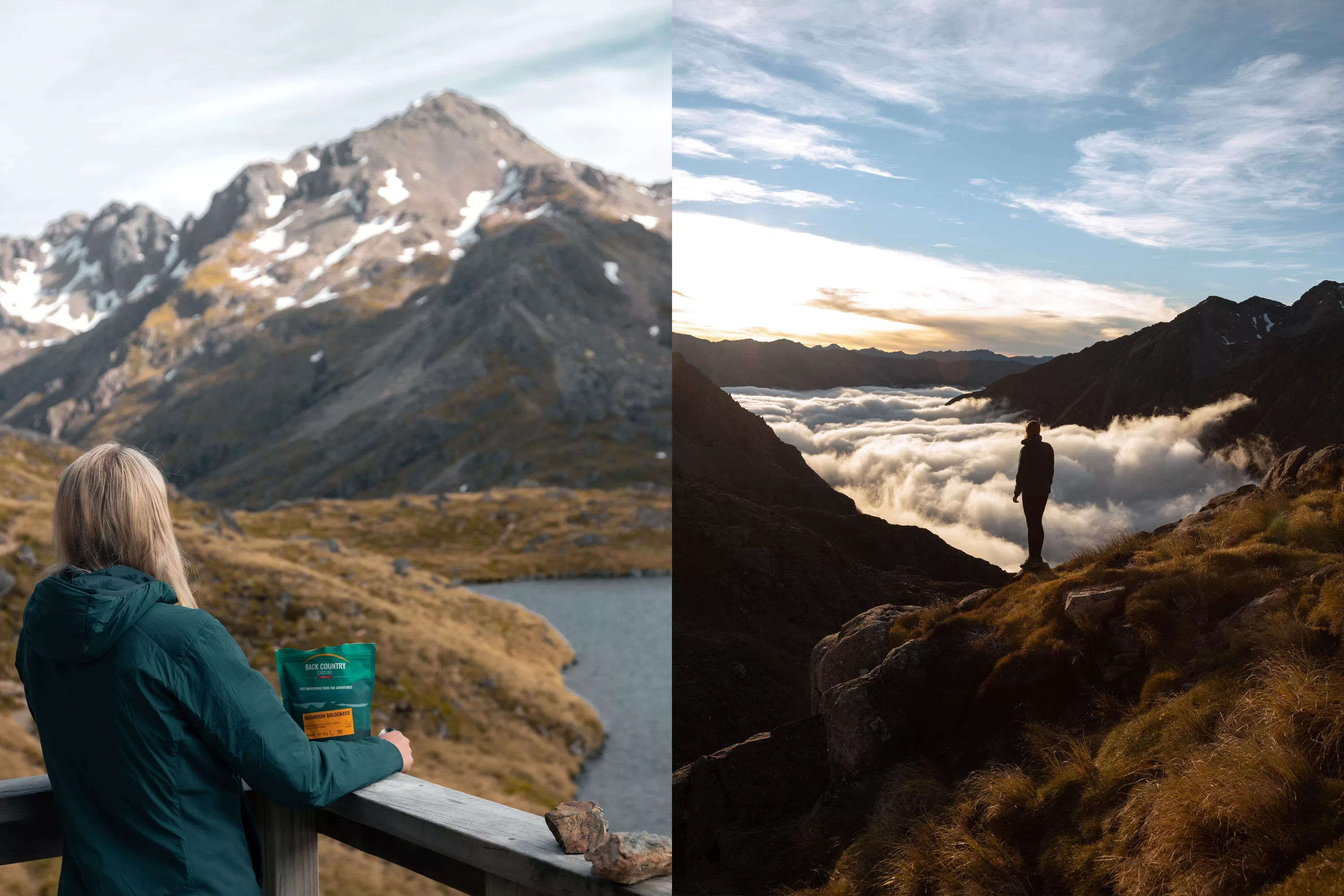 GETTING UP FOR A SUNRISE SHOOT
Now being a photographer, you know I get up for sunrise on every hike NO MATTER WHAT because you never know when mother nature is going to praise you with a show, and boy oh boy am I glad I woke up this morning. Now, when I say I wake up for sunrise every hike, I do but I also go back to bed pretty quickly if it's not really putting on a show and that's kind of what I did this morning. My alarm went out and I rolled out of bed with one eye closed and grabbed my camera, went outside and didn't really see much going on. So, I crawled my tired body back into my warm cosy bed and some shut-eye for another 10 minutes.
My first mistake was not peeing when I was up originally but I can't sleep when I need to pee and this huts toilet are outside. So back off I went to the bathroom and just as I was approaching the toilets, I saw this INSANE inversion happening on the other side of the mountain behind the toilets. So I RAN back inside to get my camera gear, trust me nothing wakes me up faster than a beautiful sunrise. Wide-eyed and out of breath, I ran passed the bathrooms and over the hill to soak in those beautiful rays reflecting off the cloud inversion.
A cloud inversion or temperature inversion is when the normal temperature distribution of air – warm at the bottom, colder as you go up – becomes inverted or flipped upside down. This means you have a cold layer of air trapped at ground level, overlain by warm air making the clouds sit low in the valley, covering the floor but exposing the mountains above.
After running around all morning like a headless chicken shooting, I eventually made my way back to the hut to gear up for the journey home, starting with food! My favourite thing after photography!
If you are doing a hike in the Nelson Lakes region, this is the one to do. Happy hiking.