I felt the pull of adventure and the need to do something big and scary, something that would really test me and provide a story I could share to inspire others. As I stared at the South Island map on our living room wall an idea started to form. How about I traverse the country from West to East? Could I even do it? It's such a big crazy idea! Do I have the skills, knowledge, time? There were so many questions, but more than that though, there was a deep knowledge that this was something I needed to do, a life-changing adventure.

On 29 January 2022, I set off to cross the country on a human-powered mission from the West to the East Coast of the South Island, using the 45th Parallel South as my guide. I was followed by Ben Wallbank, an award-winning videographer with the idea to capture the expedition and create a film to empower other women to get and take on their own fears and grow through outdoor adventures.
The trip lasted 26 days, covered over 600km, with over 300km on foot, 22km of paddling and around 270km of cycling. But of course, these numbers don't tell the stories, the highs, the lows and the drama…and yes, there was drama!
So how do you go about taking on a massive month-long expedition? Firstly, there were the practicalities like packing for hiking a trip of this size. I needed to secure time off work, for me, this meant taking two weeks leave in advance and one week unpaid. Then figuring out if I could make the logistics work. My friends are used to me dreaming up big ideas and I am incredibly lucky to have awesome people that love to get involved and support my adventures. This was a trip and a story of two hardy souls in the wild - with a massive crew of supporters and sponsors who are wholly responsible for enabling us to pull this off.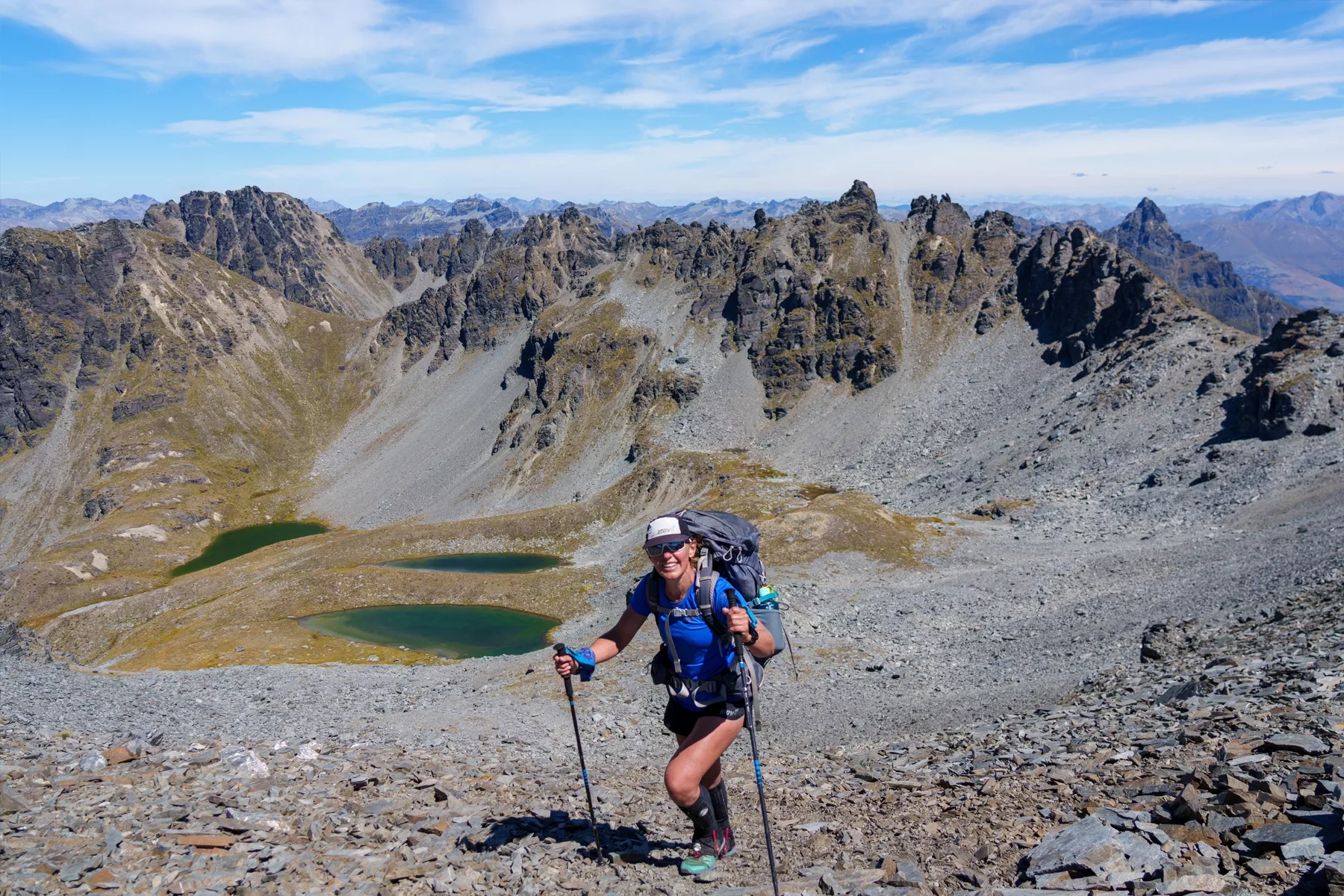 THE WHY BEHIND THE 45TH PARALLEL TRAVERSE
But first, why did I decide to cross the country under my own steam? I value challenge, personal growth and adventure, and I absolutely love being out in nature. But there is something deeper there as well, a desire to push my boundaries to see what I am capable of. At my very core, I am a wild adventurer, I look at maps and get excited at the places I could go and the things I could see. When I look at those contour lines, I see possibility, excitement, hard work and ultimately an experience that I know will leave me a better person than the one who went into the trip. I will come out the other side stronger, wiser, more confident and with a deep feeling of gratitude and fullness of heart that only being wild can bring.
When I first devised this plan and started plotting the line across the country, I was scared. While I love the outdoors, challenging terrain sets off all sorts of alarm bells in my head and I often have to work through intense fears to achieve my goals. Fiordland, my chosen starting point, has some of the most rugged, remote and unforgiving terrain in New Zealand. It is mind-boggling in its scale and grandeur and not a place where too many people go off-track. My route through this beautiful and brutal terrain was to be all off-track, with some sections that have never been completed before.
So why choose something so hard, so off the beaten track? It was exciting to think that I would be forging a path where few had gone before me and even fewer women. I have been through hard things in my life. The fact that I was even planning this trip felt somewhat miraculous to me. After leaving a long-term abusive relationship spanning over ten years, I was a shell of myself. If you had stood before me at that time and said I would be crossing the country while hiking, paddling and cycling, I wouldn't have believed you. The relationship had left me with PTSD, and the fearless girl I used to be had been turned into a woman crippled by anxiety.
Not one to let other people or circumstances define me, I have spent the last seven years rebuilding my life, my self-belief and overcoming fear. I got a second chance at life when I left that relationship and the wild adventurer that had been buried began to blossom. The traverse was a culmination of all the work I had done, and a signal to myself that I was strong enough and brave enough to forge my own path.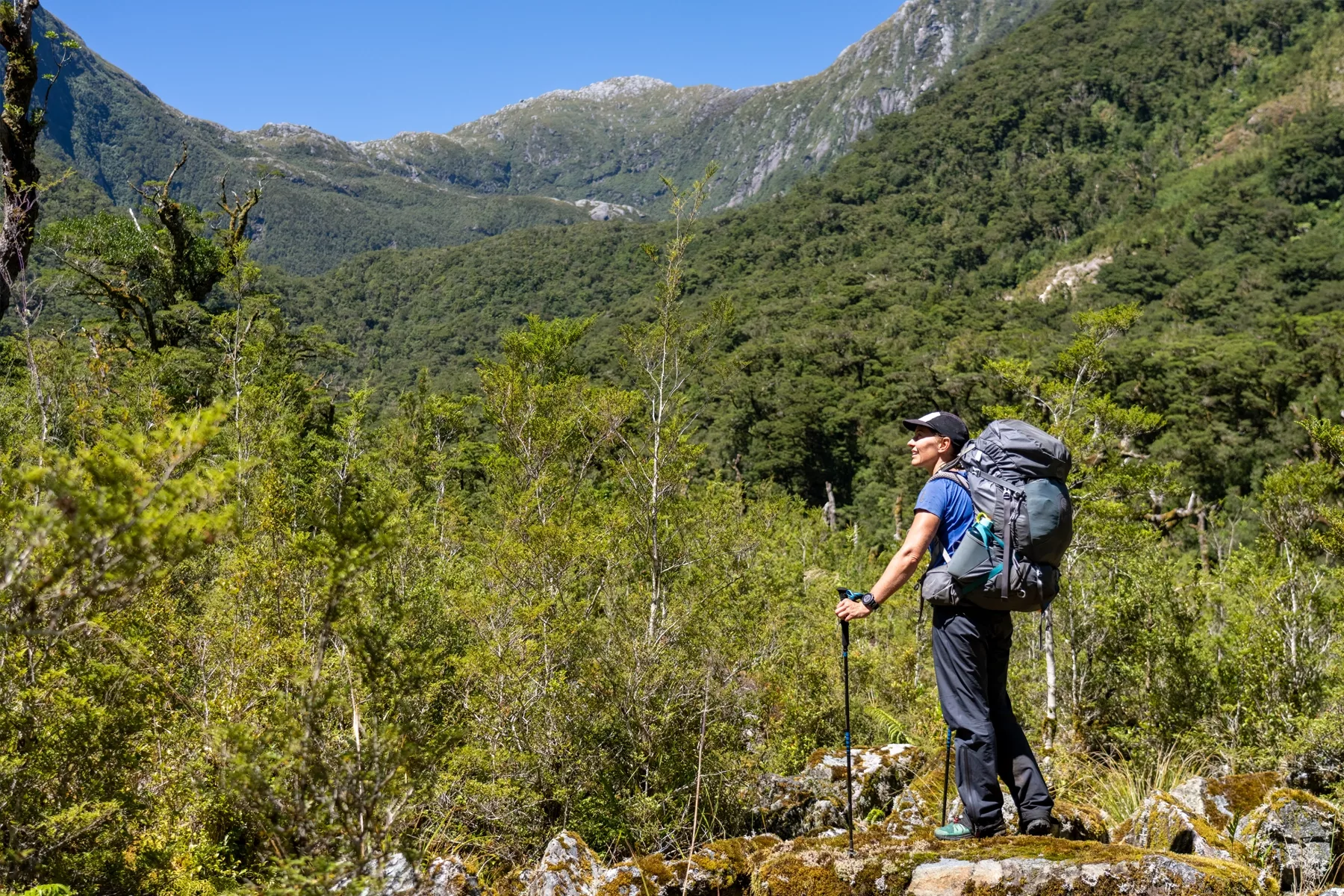 THE BEGINNINGS OF AN EPIC ADVENTURE
With the leave secured, it was time to figure out the route. Ben suggested using the 45th Parallel - the halfway point between the Equator and South Pole as the guide for the trip. With this as a guide, I plotted a line across the country, as near as possible as I could while allowing for a trip that would take a maximum of four weeks - all the time I could secure off work! The final route would see us travel through the depths of Fiordland, across Lake Te Anau, Lake Wakatipu, through Otago via cycleways to finish at the beach in Oamaru, just South of the 45th.
I don't know how many times I was told by others the trip would be hard. I knew it was going to be hard, but I also know that I have the mental and physical strength to deal with hard times. When you've experienced hard times in your life, your understanding of how much you can handle increases.
It's funny though the way people talk about hard things, as if discomfort is something to be avoided. I firmly believe that we all need to embrace challenging situations because overcoming challenges, in my opinion, is one of the most rewarding experiences life can offer. Hard times are simply part of the journey. To go and see extraordinary places comes at a price. You have to work for it, and if you do, you are rewarded with hallowed ground that few get to see or experience.
Navigating and bush-bashing were probably the biggest challenges of the traverse in that they are time-consuming while also being incredibly physically and mentally tiring. We coined a phrase in the early days of the traverse 'Fiordland, not what it says on the map!' as the map is really only a guide, and what you'll actually find on the ground is anyone's guess! Sidling that should have been spur climbing, slips that dropped off over dizzyingly steep and vast bluffs, streams that were either massive waterfalls or didn't seem to exist at all were par for the course and made for exciting, exhausting and sometimes terrifying travel.
THE BEST PART?
Given the vastness of the experience, it may or may not be surprising that I can say there are no true favourite moments. We can look back on each day with such fondness and great memories. Even the hardest moments are highlights because they were part of the journey and the story. Fiordland will always hold a special place in our hearts for its wild, untamed, relentless brutality and beauty.
The vastness of the depths of that tiger country is so hard to put into words, it really has to be seen to be believed. We feel incredibly grateful to have had the opportunity to journey through this most special part of New Zealand. Otago was like coming home, back to familiar terrain. Barren, tussock and rock topped mountains as far as the eye can see, with scrambly, rocky ridges. This is the type of country where your heart can be in your throat one minute as you negotiate steep, exposed ridges, and the next minute you can be running down a spur with the abandonment of a child, whooping and hollering in a barely controlled fall.
The final few days on the bikes were really special too, marked by a different type of adversity as we rode head to the wind. The breathtaking Dunstan Cycleway, with massive climbs and consequential cliffs that skirted the edges of the narrow trails, was exhilarating. The Otago Rail Trail was a relative cruise where we could sing along to a favourite playlist and eat all the food from the cafes along the way. The Danseys Pass where we spun up the hills and enjoyed the drama playing out in the sky. With rain falling, the clouds billowed and raced, as the wind chased them across the sky in a dramatic show, casting shadows and giving us glimpses of the valley below and the mountains around.
Finally, the Alps to Ocean Cycleway undulating through ever more cultivated lands brought us firmly back into civilisation winding through the streets of Oamaru to finish at the sea, our journey from Coast to Coast complete.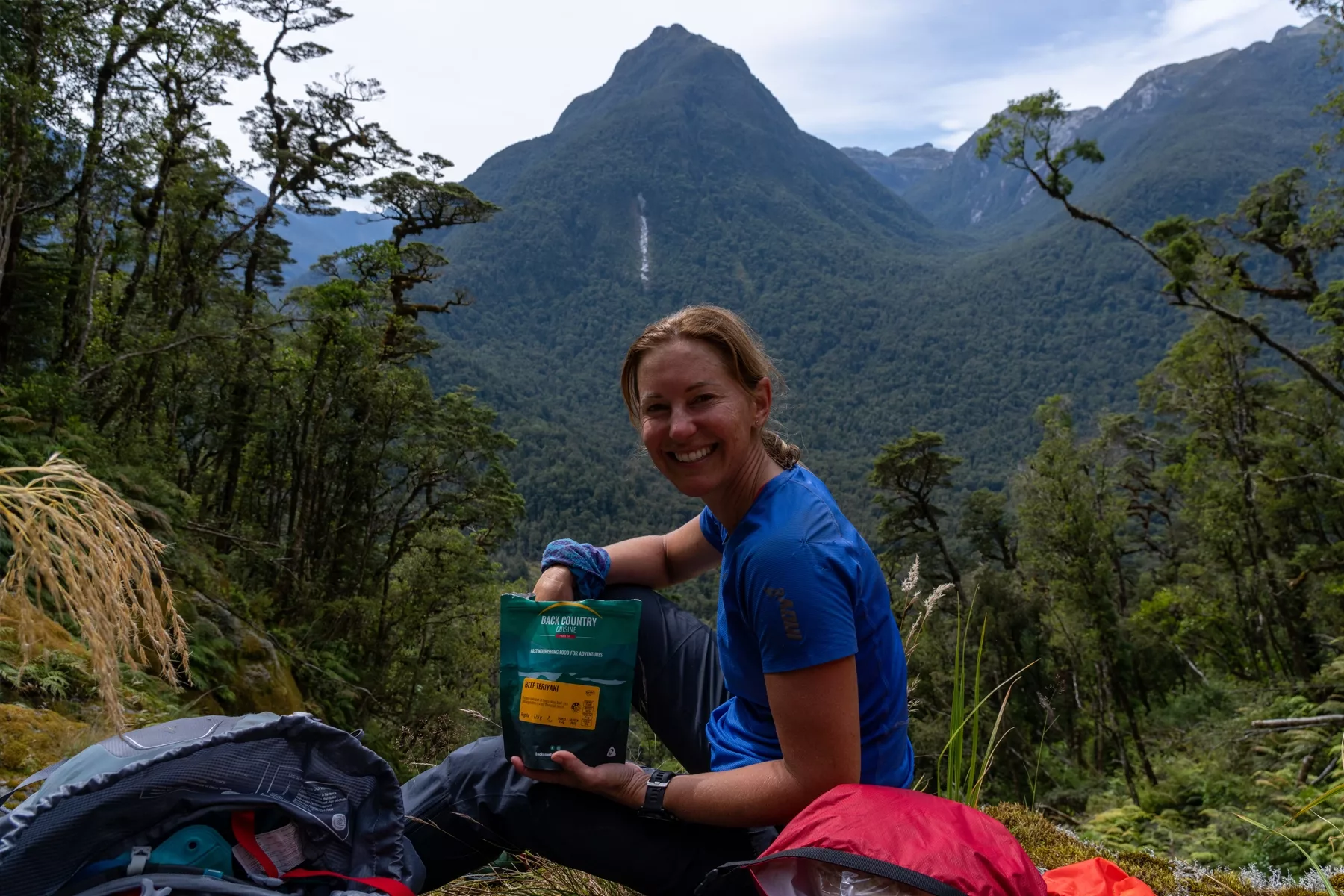 WHEN ALL IS SAID & DONE
Coast to Coast along the 45th parallel South, it is a journey that still feels more like an unbelievable dream than a reality. I didn't really have any expectations going into it other than it would be an extraordinary journey. The true reality of just how vast, beautiful, brutal, and breathtaking this amazing country of ours is would be my biggest takeaway, and it really must be seen to be believed. So many memories, so many emotions, but prevailing above all else is gratitude and a deep understanding of the great privilege that I had to move across the country, powered by my body.
LOGISTICS
Behind the scenes, we had a group of friends managing the expedition logistics when we were out on the trails. We had friends skilled with reading weather giving us those updates, various friends meeting at different spots, one friend doing all the social media posts that I sent daily from my InReach, and another friend overseeing it all, coordinating and making sure everyone and everything was where we needed it when we needed it! There was a Facebook group that had literally hundreds of messages in it as these amazing people kept updated, solved problems on the fly, and ensured that all we had to do out in the field was put one foot in front of the other knowing that everything else was covered.
SPONSORS
We couldn't have done this trip without all our amazing sponsors, and I'm so grateful to all our partners who believed in me and the story and jumped on board. Sorting funding and sponsorship, alongside all the planning and training required for this trip, became almost like a second full-time job.
It's always scary sending off an email to potential sponsor, and the first few emails are always sent with heart racing and a 'what will people think of me?!'. Sharing my story and my why required me to be vulnerable. When you ask for something you are also opening the door for people to say no to you - and some people did! I firmly believe that the companies that supported us have the same values and could see that what I represent is at heart who they aim to serve in the outdoor community, making us a good fit for a partnership.
I also created a Give a Little Page where we gratefully received donations from friends, family and members of our community who saw the value in the trip and wanted to support the creation of what we believe will be a special film tracking the journey. Finally, I was grateful to receive a scholarship with funding going towards the trip and the film.
All my brand sponsors came from companies with products that I used before our trip and fully believe in as some of the best gear out there for people who adventure, this makes it pretty easy to share and promote the products because I do whole-heartedly believe in them and will continue to promote them on future trips - and there are definitely more big adventures to come!