Living in the South Island, I am spoilt by the endless snowy peaks in which to summit but it has always been my mission to explore the beautiful peaks of the north too, in particular Mt Taranaki, a dormant volcano.
Coming out of winter, things were quieting down for me so I made the decision to tick something off my NZ bucket list. So with flights booked, bags packed, and camera charged, I was off. The thing about being a landscape photographer and an outdoor lover is that the weather isn't always on your side but you make do with what you get and it wasn't like I could really reschedule because I only had a few days off. The weather wasn't looking great when I landed so the hike to Taranaki got pushed back a day.
MY MT TARANAKI ADVENTURE BEGINS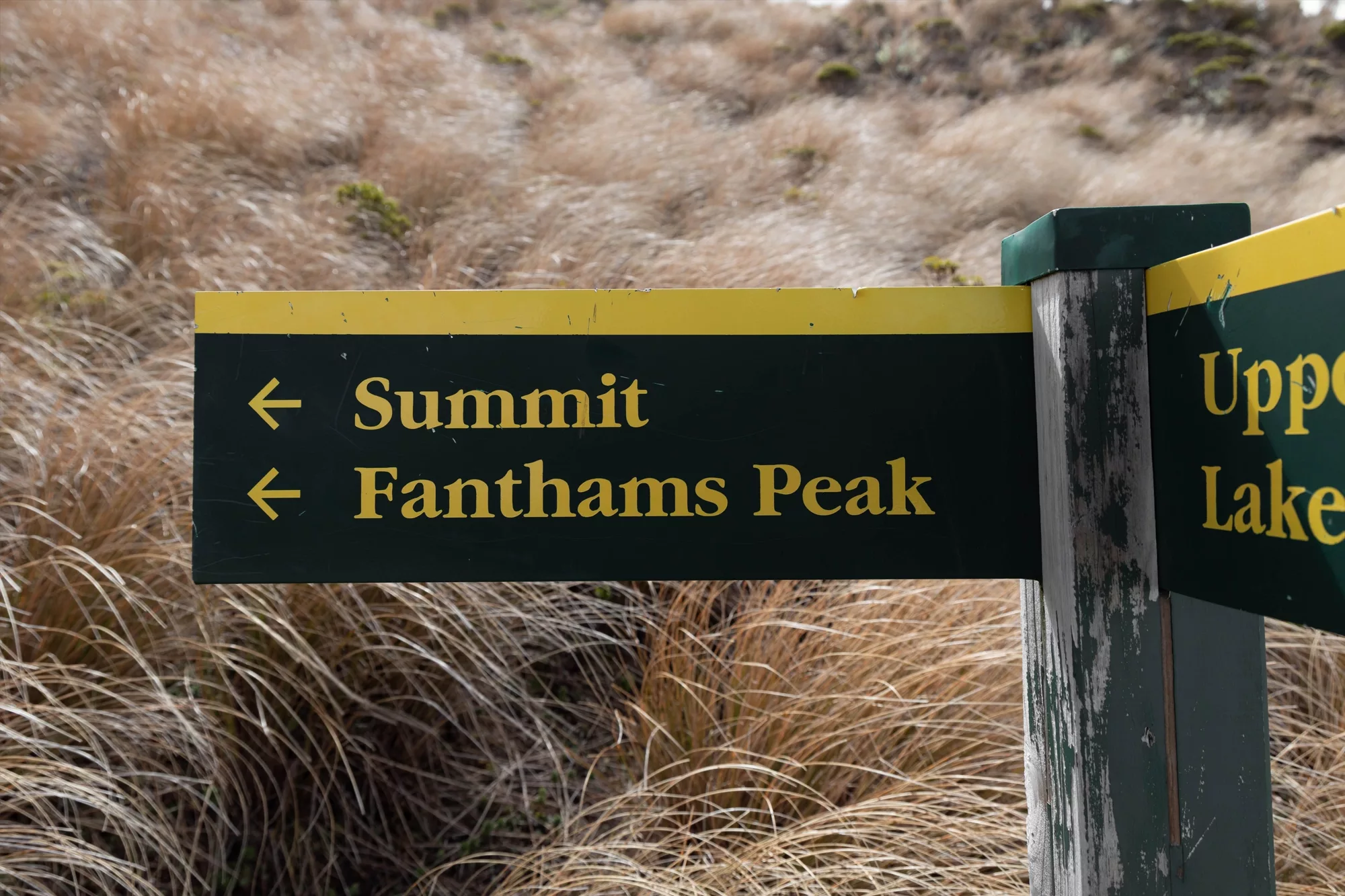 I flew into Wellington and then drove 4.5 hours to the base of Taranaki in New Plymouth and stayed out there for the night. After a solid sleep and eager to get on the hill, I set off early into the mountains. Now I know this is a volcano but this is the exact shape that you think of when you think of a standard volcano and so that means it just goes directly up. She was steep!
Starting in the humid rainforest meant I was already dripping beads of sweat but this is what I love, I love the grind it takes and am constantly impressed by the amount of pain we can put our bodies through in order to achieve a goal in mind. Though the bush line was steep it was okay, with a few pit stops in-between to catch my breath and recharge with snacks and water.
The real challenge started when I hit the scree which is a collection of broken rock fragments at the base of a cliff or other steep rocky mass that has accumulated through periodic rockfall. Scree is the definition of one step forward and two steps back because the rock is so loose and the terrain is so steep that your foot literally just sinks and slides back down. It's truly physically and mentally exhausting to climb on.
I'd recommend bring poles for this one if you have them because I'll be the first to say, I didn't and I regretted it IMMEDIATELY! So learn from my mistakes and bring or hire poles. Your knees and patience will thank me.
Considering the weather still wasn't great, I couldn't see a whole lot for most of the hike but got small snippets of scenery here and there and from the parts I could see, it was stunning. The moss that was covering the rocks was so vibrant green, it gave me such strong Iceland vibes. It was a nice distraction from listening to my own deep breathing.
Considering there isn't much of a path, I really don't think you'll find it hard to make your way up because there's orange markers guiding you ever so slightly along the way. So if you aren't good with directions or you keep your head down while your walk, like me, than you'll be okay. Your biggest issue is just finding a solid piece of ground to stand on to catch your breath.
SYME HUT AHOY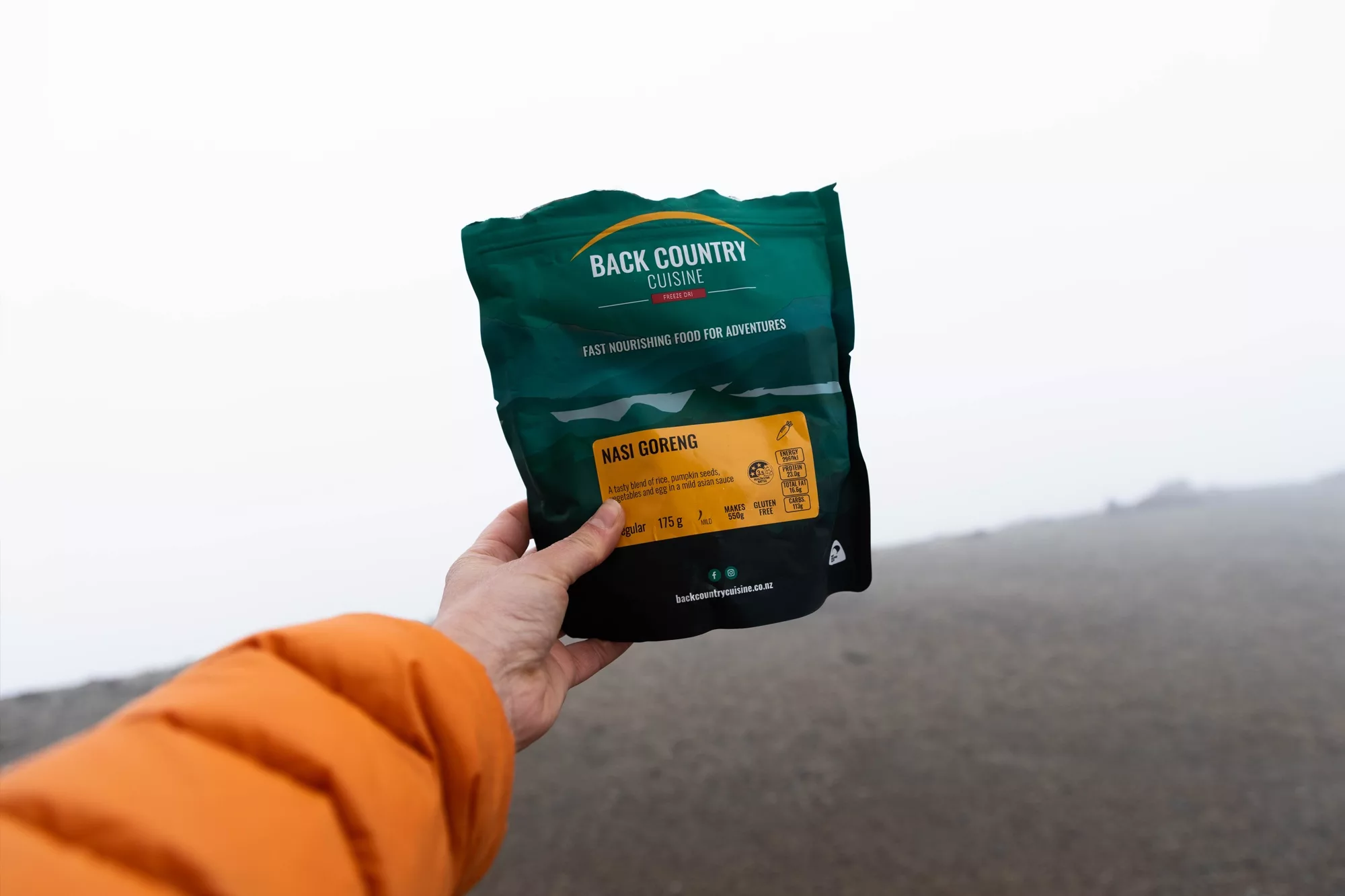 3.5 hours later, a wet sweaty back, tired jelly like legs and walking into a white out (a white out is when it's so cloudy you can't see in front of you, hence white out) all I can see is a faint outline of a hut but the relief of seeing my home for the night was all I needed to get my legs into action to make it that little further.
Praying the cloud would clear for sunset, I set up camp in the hut and stuck into some of my favourite hiking meals, Nasi Goreng and my new favourite carrot cake dessert from Back Country Cuisine. This way I was prepared with a full belly and full camera battery ready to shoot the sunset. Unfortunately the cloud didn't clear and my thoughts of getting any type of Astro photography tonight was fading away.
Waking up every hour on the hour to check if the cloud had cleared I really wasn't feeling positive when still at 2:30am it didn't clear. But by 3:30 I got up one last time and it had cleared enough that I could for the first time actually see the peak of Taranaki. I thought I may as well try and shoot now because the stars will be gone soon and you have to work with what you have. So back inside I went to put on a million layers of clothing because it was FREEZING and windy, the worst two combinations. The wind was so cold it was freezing immediately when it hit a surface. But you can't progress while sitting in your comfort zone, so out I went and got shooting.
I spent the remaining two hours of darkness jumping up and down to keep warm and shooting the image I had in my mind since starting this trip. I wanted to keep shooting into sunrise but my camera lens actually froze and everything I was shooting was blurry and frosted. So I cut my loses and headed inside to get an hour of sleep until sunrise and hoping my camera defrosted by then.
HIKING MT TARANAKI DAY TWO
Sunrise came around and luckily my camera has come back to life because the sunrise was stunning! That golden glow was spreading far and wide and I was ecstatic to finally see the view properly and couldn't believe where we were, considering the view was non-existent yesterday. Now to refuel with some breakfast in hopes to actually summit the volcano.
The cloud was coming in and out so I waited about two hours in hopes that it would fully clear but it never did. Now there's a few things to remember when being in the mountains, mountains can generate their own weather patterns/systems and so you need to be super careful and be ready for any kind of weather. The summit from the hut to the crater is more aggressively steep than what I had done yesterday and even though I was prepared with ice axes and crampons, I made the decision to head down because I didn't want to risk my life. So it's way better to be safe than sorry and it just means next time round, it will make summiting that much more rewarding.
I'm so thankful I got to experience this and I would highly recommend it to any outdoor lovers who love a challenge because I kid you not, my calves were literally sore for a week after! So good luck and happy hiking!